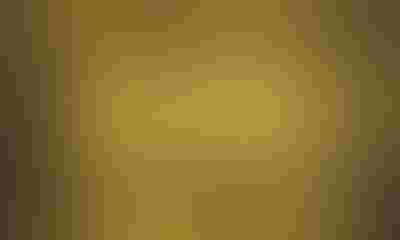 University of Missouri Extension agronomists are reporting diplodia and other corn ear rot diseases in parts of the state.
MU Extension corn specialist Greg Luce says infected corn requires special grain handling.
Diplodia ear rot is a common corn disease that occurs when there is excessive moisture during and immediately after corn silking and a dry period.

Diplodia corn ear rot. Photo credit: Paul Bachi, University of Kentucky Research and Education Center,Bugwood.org
That is what much of Missouri experienced this season: dry weather in June followed by excessive moisture in July. Diplodia ear rot is more severe when corn is planted following corn. But it can occur in rotated acres under the right conditions, Luce says. Corn without rotation, no-till or reduced-till fields, and susceptible hybrid genetics also increase risk.
MU Extension agronomist Anthony Ohmes said there has been minimal sprouting overall in the Cape Girardeau area he serves. Some parts of southeastern Missouri near the Bootheel received more than 10 inches of rain during a two-day period. Harvest has begun there, but Ohmes was unaware of buyers discounting purchase prices at this time.
What to look for
Husk back ears in several areas of the field to estimate the severity of diplodia ear rot, says Max Glover, MU Extension agronomist in Shelby County. Diplodia ear rot is easily recognizable.
-Ears appear rotted and show mold between the kernels.
-Ears also are lightweight.
-The disease usually begins at the base of the ear and progresses toward the tip. However, it sometimes shows only in the middle or top of the ear.
-Spore-producing structures called pycnidia appear as black specks on prematurely bleached husks, cobs and sides of kernels. The pycnidia can overwinter in debris that remains on the soil. Luce recommends rotating the infected field out of corn the next season to allow corn residue to degrade. Choose a resistant seed hybrid in areas where the disease appears repeatedly, he says.
How to handle grain
Diplodia does not produce a mycotoxin, so the unsightly corn is not toxic. However, buyers likely will discount the selling price.
Diplodia-infected corn harvested at 25% or more moisture content needs to be rapid-dried to 14-15% moisture or less to prevent sprouting, Luce says. He suggests drying below 14% to prevent other fungi from growing on damaged kernels.
Lightweight, low-test-weight corn should be kept cool (30 F), he says. Move the grain soon after the cold season and do not keep it stored into the summer.
Diplodia-infected corn kernels break easily. Luce recommends screening corn to reduce fines (small broken pieces of corn grain) and sprouting. If you suspect fines or sprouting, keep the grain separate from other grain. Do not mix infected grain with good grain, he says.
Other ear rots such as penicillium, gibberella and aspergillus species also have been found in Missouri fields in 2016, Luce says.
Source: University of Missouri Extension
Subscribe to receive top agriculture news
Be informed daily with these free e-newsletters
You May Also Like
---