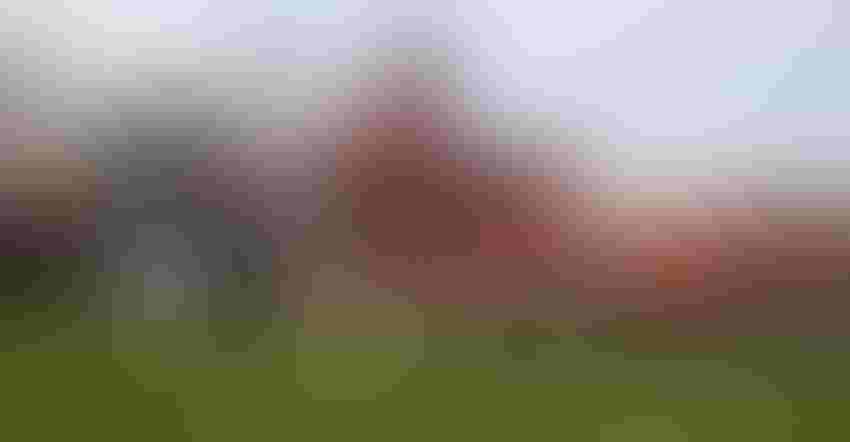 SEED COVER CROPS: Gary Cooper seeded a 13-way cover crop mix after applying poultry manure in a cornfield where Purdue researchers studied nitrogen rates vs. yields in 2017.
Applying poultry litter to crops is gaining steam as more is produced in Indiana, and as more growers realize it can provide various benefits. Some growers are also incorporating cover crops to sequester nutrients and produce additional nitrogen. With all this extra activity, can commercial nitrogen rates be reduced?
Purdue University agronomist Shalamar Armstrong and his graduate student, Houston Miller, made many trips this summer to Gary Cooper's farm in Newton County, Ind., to try to find out. Cooper cooperated to set up a trial where four different rates of commercial N were compared.
"What we saw in preliminary observations this year was that adding commercial nitrogen on top of manure and cover crops probably provided more of a yield response than we might have expected," Armstrong says. "We saw the highest yield when we added 180 pounds of nitrogen per acre through commercial fertilizer, with 54 as starter and 126 as sidedress N.
"However, the economic optimum was applying 138 pounds of commercial N per acre, with 54 pounds as starter and 84 pounds at sidedressing. We still thought the economic N rate might have been lower, but it wasn't this year," he says.
Four tons per acre of poultry manure was applied in August 2016. Armstrong estimates that added 240 pounds of nitrogen per acre, with plant-available N from the breakdown in year one being 120 pounds per acre.
Cooper followed the manure application by seeding a 13-way mix of cover crops. These included buckwheat, oats, cahaba vetch, sunflowers, sunn hemp, yellow blossom sweet clover, crimson clover, sorghum-sudangrass, purple top turnip, radish, cowpeas, pearl millet and rapeseed.
The researchers measured cover crop biomass at 1.4 tons per acre on April 10. They estimated that the cover crops accounted for 42 pounds per acre of nitrogen uptake.
More questions
So why did commercial nitrogen boost yield last year more than might have been expected following manure applications and a successful cover crop? "There are a couple of obvious possible reasons," Armstrong says. "We might have overestimated the amount of nitrogen that was actually available to plants the first year from the poultry manure.
"It's also possible that leaching and denitrification with the rains last spring accounted for more nitrogen loss than we would normally expect." 
One of Armstrong's goals is to determine how nutrients, including nitrogen, cycle when manure and cover crops are in the system. He learned last year that apparently less nitrogen was available from the manure and cover crop sources than he might have thought. That only applies to last year, he notes. It could be different in another season.
"That's why we're planning on working with Mr. Cooper again," he says. "We want to see how next year's results compare to 2017."
Armstrong notes that to make the most meaningful comparisons would mean including an area where no cover crops were grown. "It can be hard to separate out what nitrogen is released from manure and which portion came from cover crops," he says.
Subscribe to receive top agriculture news
Be informed daily with these free e-newsletters
You May Also Like
---