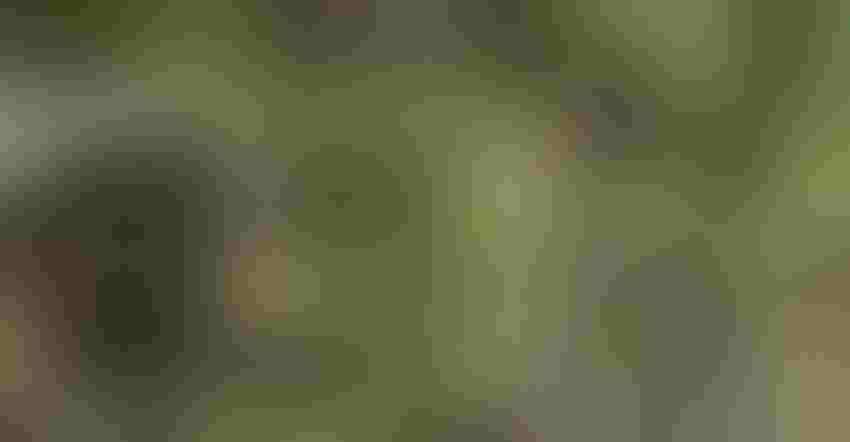 NO LEAVES: Look closely at the plant in the lower center of the picture. It has an ear much lower than other ears, but it has an ear. The leaves are just stubs, chewed on by deer while still in the whorl.
Tom J. Bechman
Fields that yield 300, 400 or 500 bushels of corn per acre in contest plots make headlines. Everyone seeks high yields, seeing just how far they can push the corn plant to produce. Dave Nanda says sometimes examples that you can find in fields with more down-to-earth yields highlight a corn plant's will to reproduce in just as an amazing fashion.
"Corn plants don't care how many bushels you harvest or how much revenue you take in," says Nanda, director of genetics for Corn Genetics Direct, sponsor of Corn Watch '20. "They simply care about making babies. The goal of any corn plant is to produce as many viable progeny as it can. The plants don't know that the seeds produced on hybrid plants won't be planted. Their goal is to raise the next generation."
If you can supply everything plants need to produce as many viable kernels, then you will get the kind of yields many people seek, Nanda notes. That's because those are the same conditions conducive to producing as many progeny as possible.
Corn overcomes to produce progeny
How powerful is a corn plant's ability to survive and reproduce? Nanda found great examples in the Corn Watch '20 field this year. The field was bordered by woods. Even 60 to 70 rows into the field, deer fed early in the season on young plants in patches. When later leaves emerged from the whorl, some only had stubs 2 or 3 inches long at each node.
"Some of these plants still produced tassels and ear shots," Nanda says. "And they put on ears, or attempted to do so. When plants are injured early, it opens the door to fungi, which cause smut. So, some of the plants wound up with fungal growths where ears should have formed."
However, plants not infected by smut still produced ears. Even a stalk topped off just above the ear by continued wildlife feeding later produced an ear. It didn't appear to be a large ear, and when the husks were pulled back, the actual ear was even smaller. But it had kernels.

STILL MADE KERNELS: Call this a nubbin, if you like. It came from inside husks that looked like they were holding a bigger ear. Deer fed on the plant when it was young, removing all but a couple of inches of leaf tissue near each node.
"We found a 3- or 4-inch ear once we pulled back husks and shucks on one plant [above]," Nanda says. "But kernels on that length of ear pollinated and will produce. They won't contribute a lot to yield versus a regular-sized ear, but it will be harvestable.
"The amazing thing for me to observe, even after almost 60 years working with corn, is what abuse it can take and still produce viable babies. We call them kernels, but to plants, they are progeny. It's amazing to see nature at work, even under the most challenging of circumstances."
Subscribe to receive top agriculture news
Be informed daily with these free e-newsletters
You May Also Like
---