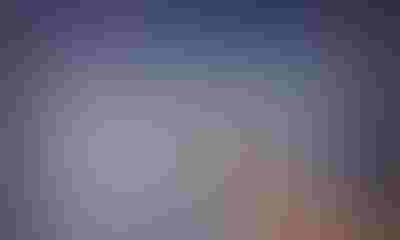 The Indiana Prairie Farmer and Purdue University plot at the Throckmorton Farm was harvested last week. It was a small field-size trial in corn with two different hybrids. It was similar to a trial one year ago, where lack of calibration of the second hybrid led to errors.
Related: There is yield monitor calibration, and then there is real calibration

More meaningful information: Yield information has more validity when the yield monitor was calibrated correctly.
It also meant Bob Nielsen, Purdue University Extension corn specialist, couldn't do as much analysis on the plot as had been intended. Because the combine was only calibrated on one hybrid, and error went from 0.5% to as much as 2.5% on the second hybrid, yields for the second hybrid were off. The goal had been to match the two hybrids with soil types to see which one performed better on certain types than the other, if there were any differences.
This type of comparison is crucial to determining if you could expect a payoff using the multi-hybrid planter concept now on the market. Would it pay and return your investment in the extra cost of the planter if you could switch hybrids in the middle of the field where conditions changed?
What Nielsen explained a year ago was that while he can clean up the data and remove things like weed patches or drowned-out spots, if the calibrating wasn't done in advance, he can't correct it later. So he wasn't able to make those hybrid vs. type of soil comparisons a year ago.
This year the goal is to do the same things. The plot has lower and higher ground. So this time Nielsen was present as the plot was run to help calibrate properly.
Related: Yield Monitor Calibration Crucial to Knowing Yields
He created two products in the yield monitor (Ag Leader monitor). That allowed him to calibrate and then run all of one hybrid as product A before switching to a second hybrid and calling it hybrid B.
There was a difference in moisture between the hybrids, so Nielsen says it's a good thing the combine was recalibrated.
Subscribe to receive top agriculture news
Be informed daily with these free e-newsletters
You May Also Like
---