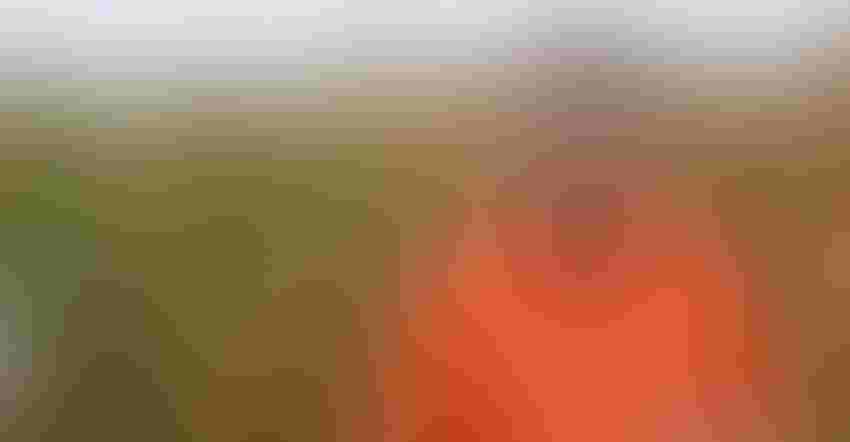 EXPLAINING HYBRID TYPES: Gary Prescher is the product development agronomist for Syngenta working with the Golden Harvest seed line. He explains corn types and their role in seed selection.
Corn seed selection time has grown more complicated over the past decade. And while the proliferation of biotech traits is part of the issue, the selection challenge is also made possible through the work of dedicated plant breeders.
"Plant breeders continue to work with different plant characteristics to optimize performance across soils, management styles and growing conditions" says Gary Prescher, product development agronomist, Syngenta Seeds. On a walk-through of a Syngenta development facility near Stanton, Minn., Prescher shared insight on breeding trends that start with the foundational genetics of the plant, which are key for top productivity.
He notes that plant breeders are working on root development, leaf types, ear types and other base traits that, when combined with on-farm management, can produce the results specific farms need. For example, a livestock producer raising corn for grain or silage, having little time for crop management, has a different hybrid need than a cash-grain producer, who can take the time needed to tend to the crop.

TWO TYPES, TWO RESULTS: There are two types of "flex" ears here. The wider-girth ear on the right will tip back less under stress and is known as a "semi-flex" or "girth" ear. The flex ear on the left is more sensitive to condition changes and is called a "semi-flex length-type" of corn; it can produce a bigger kernel.
In the selection process, the first step is determining your corn management style. From there, you'll find a range of choices from plant breeders. Then layer in the crop trait packages that work for your operation. You may be selecting different maturity ranges to match your own harvest plan. Or you want to push up populations on the farm, but don't have time to manage that intensely. There are hybrid-specific plant and ear types that meet those different needs.
Prescher shared a few thoughts on the issue along with imagery (seen in this story) to show what he means.

DETERMINANT EARS: The ear on the left is from a plot planted at 20,000 population, the one on the right from a plot planted at 40,000 population. There's little difference in the ears. Each has about 500 to 600 kernels, and both are durable producers regardless of conditions.

Determinant ear types
Some hybrids have a determinant ear type. This is a limited flexing ear that looks the same whether you plant it at 20,000 population or 40,000 population. "The determinant ear is going to produce 500 to 600 kernels per cob, no matter the range seeding rates. " Prescher says. This will not always be a top yielder, but consider it a strong defensive utility player on the farm.
Hybrids with determinant, or fixed-ear, type will throw the same size ear with variable fertility levels and practices, and across maturities. Its consistency is what many producers like, especially those that don't have the time to hand-tend (or manage the crop throughout the growing season) that corn crop every week during the growing season.
The racehorse
The full-flexing ear provides the highest yield potential in the bag for seed companies. This is the hybrid that responds to changing conditions and management levels— both good and bad. But it's also an ear that can have up to 1,000 kernels at pollination time.
"The flex ear is one of my top yielders in contests," Prescher explains. "But it also needs attention, or to be highly managed through the growing season." He explains that this type of corn hybrid responds to in-season fungicide, micronutrient and nitrogen applications, and provides top yields when all the weather and agronomic factors line up.

RACEHORSES NEED ATTENTION: These ears show different responses to population. Each ear has up to 1,000 kernels, but they also require the most management. The ear on the right was under more stress through the growing season.
The flex-ear type of hybrid, with its higher kernel count, opens the door to high-yield results if it matches your management style. And for many producers, using precision ag tools and in-season crop scouting, it pushes yields higher on some of their acres.
Semideterminant types
Corn breeders are constantly busy looking at ways they can enhance productivity in new ways. One area is the semi-flex ear. This is a kind of in-between choice for hybrid selection, where the ear usually has about 700 to 800 kernels and will respond to variable-rate seeding and in-season fertility approaches. However, it is a more "durable" hybrid if conditions change in-season.
There are two types of "semi-flex" ears. The first is focused on length and is a longer ear, with 16 or fewer rows that can also produce a bigger kernel. This version tends to tip back some if conditions go south later in the season, but has been is a solid performer across the industry.
The second, and one called "semi-flex girth," is a fatter ear, with 18 or more rows and a deeper kernel. It, too, is a 700- to 800-kernel ear in the semi-flex line. This girthier ear type adds genetic diversity to a grower's portfolio and may perform more consistently under changing conditions.
Every seed company has a range of choices; the key is knowing your management style and conditions, and working with your seed sales person to match your needs. Rest assured, there's an ear type that's best-suited for your growing approach and conditions. Then consider what trait packages you can layer in, and added seed treatments and other choices to help preserve that yield investment.
Subscribe to receive top agriculture news
Be informed daily with these free e-newsletters
You May Also Like
---