Corn diseases becoming bigger production factor
Corn diseases becoming bigger production factor
• Weather conditions in 2010 were very hot and dry, ideal conditions for the development of Southern corn rust.• The arsenal of fungicides available for foliar diseases in corn continues to grow and now includes Tilt and other propiconazole products, tebuconazole products, Stratego, Stratego YLD, Headline, Headline AMP, Quadris, Quilt, Quilt Xcel, Evito, and Evito T.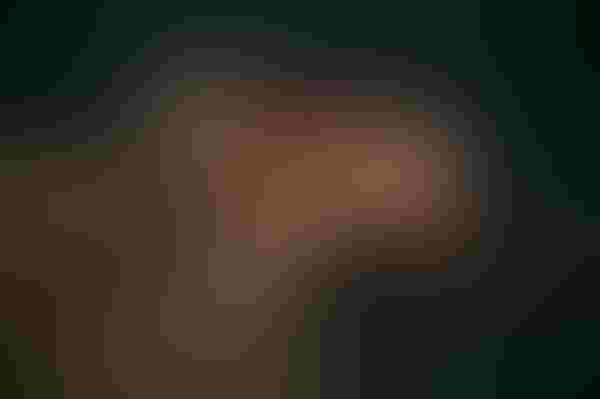 Diseases, nematodes and aflatoxin all have become increasingly important factors in corn production, especially as rising prices have made it more feasible to treat for such problems.
"These are all critical aspects now," says Bob Kemerait, University of Georgia Extension. "There is an awareness of nematodes on corn now, and we have tools for managing them. We also have fungicides for managing corn diseases."
Looking back at 2010, it was a tremendous year for Southern corn rust, says Kemerait. "Seven years ago, my recommendation would have been that you don't need to spray fungicides on corn, but things have evolved to the point to where you can see a 25-bushel increase with a single fungicide application," he says.
Weather conditions in 2010 were very hot and dry, says Kemerait, ideal conditions for the development of Southern corn rust.
"Southern corn rust was terrible last year. If you grow soybeans, you know that soybean rust was inconsequential in 2010, but it's a different fungus. Southern corn rust likes hot, dry conditions, and it was a major player across the country last year."
The arsenal of fungicides available for foliar diseases in corn continues to grow and now includes Tilt and other propiconazole products, tebuconazole products, Stratego, Stratego YLD, Headline, Headline AMP, Quadris, Quilt, Quilt Xcel, Evito, and Evito T.
Since 2009, says Kemerait, the Georgia Corn Commission has sponsored a sentinel plot monitoring program for the early detection of Southern corn rust. Because the disease is unable to survive for any length of time in the absence of a living host, it does not successfully over-winter in Georgia after the last corn has been killed by cold weather.
"It is unlikely any corn survived killing frosts in early December 2010. Therefore, Southern rust must become re-established in our state each year, typically by airborne spores from southern Florida, the Caribbean, and Mexico," he says.
Annual tests
Each year, the University of Georgia establishes sentinel plots across the state that include two corn hybrids, one which is susceptible to both races of Puccinia polysora (Southern rust pathogen) and one which is only susceptible to the new race of P. polysora. Leaf samples are collected weekly from each of these plots and are analyzed for rust diseases and also for leaf blights at the diagnostic clinic in Tifton. The results are distributed to county agents and also posted on the Internet at www.sbrusa.net.
"We establish plots, mostly in commercial fields, with rust-resistant lines planted side by side with non rust-resistant lines. We monitor those plots every week watching for Southern corn rust. About the 190th day of the year was the average first date we found the disease. That means for most counties, and for most of our sentinel plots, we started picking up both the resistant race the susceptible race on about July 9.
"At the end of the season, for the most part, it didn't matter which variety you had out there, rust was on all of them. This means that the second race, which was new to us in 2008, is here to stay. In a few counties in the northeast part of the state, we didn't have as much rust. But in the Coastal Plain, we had a lot of rust throughout the season. The resistant varieties are reducing the amount of rust, but not the incidence of rust — there's still a lot of the disease out there," says Kemerait.
Four years ago, fungicide options included Quadris, Stratego, Headline and Tilt, he says, but the choices have now increased. "We now have Quilt Xcel and Headline AMP. What's nice about these products is that they are a combination of a protective fungicide with curative activity."
Southern rust is a very aggressive disease of corn, says Kemerait.
Significant yield increases were not detected in every corn fungicide trial conducted by the University of Georgia in 2010. However, in at least one trial at the Stripling Irrigation Park in Mitchell County, a single well-timed application of Headline or Headline AMP increased yield by nearly 25 bushels per acre, he says. Other labeled fungicides were not tested at this location, but would most certainly have protected yield as well, says Kemerait. Fungicides also protected yield in other trials in the state.
"The fungicide either went out at first tassel or we came in at first silking, approximately two weeks later. At the end of the season, it looked bad no matter what was sprayed. But as far as yields, by spraying a single, well-timed fungicide at first tassel, we made 22 bushels per acre. The first tassel Headline and the first tassel Headline AMP were exactly the same with a 22-bushel yield increase.
"If you waited until silking, which may have been my recommendation watching the rust come in, you still made more corn, but you lost bushels by not making that first at-tassel application. And you didn't lose as much with Headline AMP.
"By spraying a protective fungicide and delaying that application, you did not have the curative activity to protect that yield. By spraying one with curative activity, you had some leeway if you were a little bit late, and you protected the stalk."
Depends on yield expectations
Whether or not you should spray fungicides on corn depends upon your yield expectations, growing conditions, and the disease potential based on Sentinel plots, says Kemerait. "But what I can tell you is after 2010, an aggressive year, I feel much more confident about those early first-tassel applications. It's not a hard and fast recommendation, there are other things to consider, but it worked."
For a long time, says Kemerait, Extension specialists said that nematodes didn't matter in corn because nematicides were so expensive compared to the price of corn. "We now see that managing nematodes with a product like Telone can buy you 25 bushels per acre at least. But Telone isn't the only product available.In addition to Telone II, growers will have Counter 15G, Avicta Complete Corn, and Poncho/Votivo for consideration to use for management of nematodes in their corn fields.
"We know Telone and Counter are good products, but what about Avicta and Poncho/Votivo? Evicta is a seed treatment that contains a nematicide. Poncho/Votivo is not a nematicide, it's a biological product. Both products do have a response in plant growth. It remains to be seen how well they do in tough nematode situations."
Nematodes are taking a larger part of your yield than was first realized, says Kemerait. "Managing nematodes with a nematicide is going to be an appropriate action given the price of corn we now have and the management we use. If we put the inputs out there for 200-bushel corn, why let disease and nematodes take it?"
Aflatoxin is a major problem for corn and peanut production in Georgia, says Kemerait. Extreme heat and drought during the growing season, insect damage, and improper storage all can increase the risk of contamination with aflatoxin. High temperatures in 2010 certainly increased the risk for corn and peanut production, he says.
Syngenta Crop Protection has now acquired Afla-Guard, which is a non-toxigenic strain of Aspergillus flavus that can compete for colonization of the corn or peanuts with the native, toxigenic strains found in the field.
"Afla-Guard is applied at some point between the V10-V12 and R1 growth stages, or approximately 14 days prior to tasseling up to the onset of silking. The rate for application is 10 to 20 pounds per acre of product. The efficacy of Afla-Guard to minimize the levels of aflatoxin in corn in Georgia continues to be evaluated. The University of Georgia will develop detailed recommendations once a larger data set is available."
Subscribe to receive top agriculture news
Be informed daily with these free e-newsletters
You May Also Like
---