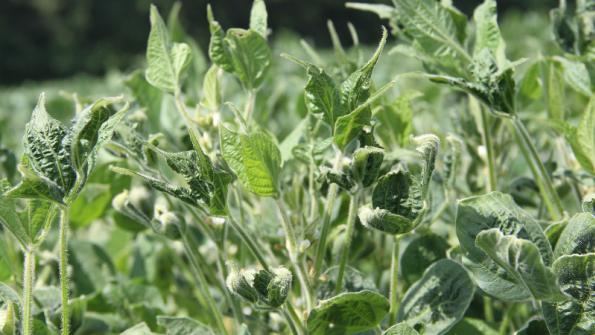 Mostly friendly growing conditions for corn and soybeans in 2017 didn't mean weed control was any easier. 
"Weed control in corn hasn't changed a lot recently," says Tom Barber, University of Arkansas weed scientist. "The trick is buying enough time to get back into the field with a timely post program.
"We did learn lessons this year, but every year is different. One thing about this past growing season was that the weather was tough to overcome early — to get the corn planted and follow up with a pre-emerge, or at-planting, herbicide."
By the time corn reached V-3/V-4, "I think we had some larger messes, with regards to grown-up fields, than I've seen in a long time," Barber says. "We had serious issues early and, normally, that means there will be some yield loss. I've shown data every year, and that doesn't seem to change: The early-season competition with weeds results in corn losing some yield."
RESIDUALS ARE KEY
Moving forward, "the plan doesn't really need to change. We could use a little more help from Mother Nature, but what's necessary is a pre-plant, or at-planting herbicide with a residual component." 
Residual herbicides at planting "are key to maintaining a critical weed-free period so the crop can emerge and grow without competition and maintain its highest yield potential. If we have another wet spring, these residuals will buy time to get back in the field in a timely fashion, by V-4 (or 12-inch-tall corn), with our post- program, which includes atrazine. We've been recommending this two-shot program for several years, and we've seen the benefits."

Dicamba-damaged plants following in-field testing at the research station in Keiser, northeast Arkansas.
In 2017, "some guys tried just using a pre-, spending a lot of money upfront on that program, and then walked away. The problem is, with all the rain we had, we saw most of our preemerge programs break at three to four weeks. That's pretty early when you've put an expensive preemerge system out at planting. There's a good chance you'll have to come back with a post application, even if you spend all that money early."
 What program has Barber found useful? "For me, it's sensible to go out with Dual II Magnum, Degree, Outlook, or Zidua/Anthem, which will provide good residual activity on pigweeds and grass, then follow up in a timely manner. You have to base it on when weeds come up. 
"If you're pegging it to V-3/V-4, just follow with a post program that includes atrazine. In many cases Roundup plus Bicep II Magnum is enough. Where morningglories are becoming more a problem, include an HPPD herbicide such as Capreno or Callisto (Halex GT) etc.
TWO-SHOT APPROACH
"For us, a pre- program alone doesn't work," Barber says, "and a post- only program doesn't work, because generally the weeds are too big by the time the application goes out. We need a two-shot approach. The first pre- application should take care of pigweeds and grass control, then you can come back with a broad spectrum postemergence program."
What was his best treatment in corn plots this year? "Everyone had some escapes, and there was a rather messy corn crop overall. That goes back to the weather and lack of timely applications.
"Because of that, my best approach was a three-way application. I'm struggling to get growers to make two applications in corn, much less three. But we started with an upfront preemerge (Dual II Magnum) — and it doesn't have to be expensive, just something to help with grasses and pigweeds — and came back with Roundup plus 2 quarts of atrazine. The third application was Roundup and something with Callisto or Halex GT before the corn was 20 inches tall."
DICAMBA IN CORN
Since everyone is focused on dicamba, what about its use in corn?
One of the big differences, Barber says, is that dicamba is not a foundation herbicide in corn. 
"In the past, we've recommended dicamba in our postemergence program with atrazine. It can help when there are heavy morningglory or pigweed issues. We don't rely on higher rates of dicamba alone in corn because other products are available, and some injury can be sustained." 
Barber and colleagues also recommend a lower rate of dicamba in corn than in Xtend crops. "It's usually 1/4 pound AI instead of 1/2 pound AI, which is what is labeled for Xtend soybeans and cotton. 
"In Arkansas, if the April 15 spraying deadline holds for 2018 — meaning there is legislative approval — that will apply to all dicamba products, whether being used on corn, grain sorghum, Xtend soybeans, or cotton. Actually, during the first week of October, we were writing up and sending in the MP44 information for publication. Currently, I'm leaving dicamba in the corn recommendation section, with a note that there is a potential April 15 cutoff date, and to check the Arkansas State Plant Board website for updates."
FUTURE SOYBEAN TECHNOLOGIES
What about future soybean technologies? "The Xtend and Enlist technologies are the 'new' weed control platforms in soybeans and cotton," Barber says. "The Enlist technology has been planted on more cotton acres than soybeans, because we are still awaiting China export approval. 
"I expect Enlist acres to increase some in cotton, but probably not soybeans. If we get approval from China, I think the Enlist technology will get much more consideration."
Enlist is a triple-stack, with tolerance to 2,4-D, glufosinate, and Roundup, allowing "more options," Barber says. 
"On the Xtend side, we're being told that by 2019 or 2020 we'll see a triple-stack soybean line tolerant to Roundup, dicamba, and Liberty. XtendFlex cotton is already tolerant to those three. 
"The next thing promised in soybeans is Balance, or MGI, with HPPD tolerance. The benefit of those is up front, with residuals to control pigweeds. That's where their strength lies."
Subscribe to receive top agriculture news
Be informed daily with these free e-newsletters
You May Also Like
---