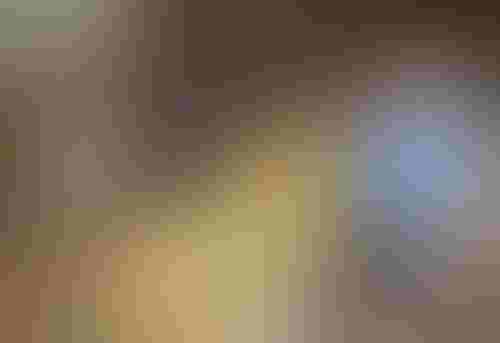 If you are a corn grower busy planting the crop now, you don't have time today to think about estate planning and preparing ahead for the inevitable day when you'll be buried. Looking ahead, however, someone else will choose your casket for you and make a lot of other decisions if you don't do the planning while you're still around.
Here's something to consider if you haven't picked out your coffin yet. How would you like to be buried in a coffin shaped like an ear of corn? Yep, such a possibility does exist. You can bid on one of these coffins built at Iowa State University by an African folk artist. It is being auctioned online by a group of ISU students to raise money for a good cause.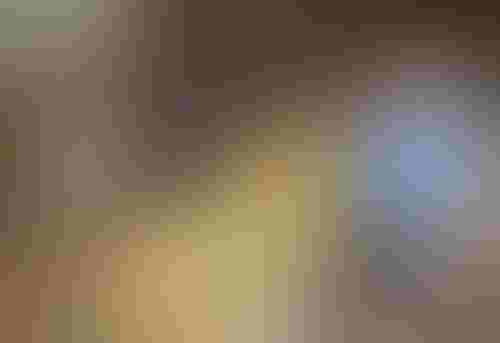 GOING OUT IN STYLE: ISU engineering students will auction a Ghanaian folk art coffin to help fund the building of a village dam in west Africa. The coffin is made to look like an ear of corn.
Teddi Barron, an editor with Iowa State University's News Service, sent us an unusual press release she wrote last week about this unique and very worthy fundraiser the group of ISU students is "undertaking" -- so to speak. I've known Teddi for a long time and appreciate her contributions to Wallaces Farmer over the years. This is indeed one of the more offbeat stories she's written in her journalism career.
Artwork is a painted coffin shaped like an ear of corn
The group of ISU engineering students hopes that auctioning a rare work of folk art can help fund construction of an earthen dam to provide a water supply for an African village. The artwork is a painted coffin in the form of an ear of corn. It was sculpted by Ghana's leading fantasy coffin artist, Eric Adjetey Anang, when he was artist-in-residence in ISU's art and visual culture department in September 2014.
Fantasy coffins are a traditional folk art unique to the Ga people of southern Ghana. Fantasy coffins are functional, customized coffins sculpted and painted to be figures or objects that represent the deceased. For example, a fisherman might have a coffin in the shape of a fish.
The fantasy coffin will be auctioned by the ISU student chapter of Engineers Without Borders (EWB-ISU) April 20-30 through eBay's "Giving Fund," an easily accessible auction site for nonprofit fundraising. All proceeds will help fund the EWB-ISU's project to engineer an earthen dam in Ullo, Ghana.
Connections made between these people were by fate
Serendipity or coincidence best explains the unusual connection between the artist, the engineers and the small village in Ghana. After completing projects in Mali and Belize, the EWB-ISU students sought a new project. EWB is a nonprofit, humanitarian organization that designs and implements community-driven, sustainable engineering projects worldwide.
~~~PAGE_BREAK_HERE~~~
The engineering students heard about Chris Martin, an ISU associate professor of art and visual culture, and Tammi Martin, an ISU administrative specialist, who returned in 2010 from a two-year stint as Peace Corps volunteers in Ghana. The Martins connected them with a fellow volunteer and his wife from the village of Ullo. Located in drought-prone northwest Ghana, the village of 800 lacked a water distribution system.
ISU students saw the need for a dam and irrigation system
"We learned there was a great need for sustainable water distribution for the community's daily activities and for their agricultural fields," says EWB-ISU member Joe Gettemy, a mechanical engineering major from Marion.
"Initially, we planned to construct wells. But when our assessment team arrived there last summer, the village had just learned that a government project would install a well. So, the team totally changed gears," he adds.
In talking with villagers, the students recognized the need for a dam and irrigation system for local fields. They gathered as much data on rainfall, weather and topography as possible and identified areas appropriate for dam construction.
Artwork was created by a visiting African artist to ISU campus
Meanwhile, Chris Martin, who teaches wood design, hosted Anang's visit to the ISU campus in Ames. Anang created the ear-of-corn fantasy coffin while demonstrating his traditional woodworking processes to Martin's furniture design classes.
"Ghanaian fantasy coffins are exhibited in museums and galleries all over the world," Martin says. "Anang's work is highly sought after by collectors of contemporary ethnic art. He is recognized for keeping this art form alive." Anang, Martin and the ISU College of Design donated the artwork to EWB-ISU to raise funds for the Ullo dam.
Returning to Ghana, ISU students will gather data, finalize design
Although Ebola-related travel advisories in Africa precluded the engineering students from traveling to Ullo this summer, they'll return during winter break to finish surveying, soil testing and designing. "We have a general idea of what the dam will look like and the equipment needed to build it," Gettemy says. "In December 2015, about six of us will return to Ullo, gather exact data and finalize our design."
Here's how you can donate, and also bid on the coffin: The students have raised $5,000 so far, but need an additional $10,000 for the first phase of the dam project. Team members are responsible for their own airfare and extraneous expenses.
The fantasy coffin will be available for bids April 20 to April 30 on eBay. General information is on eBay. Bidding starts at $500. To bid, complete the online form at ewbisu.org/about . For additional information, contact Gettemy at 319-651-8086 or [email protected].
For more information, see these reports:
"Ghanaian craftsman sends the departed off in style" Philadelphia Inquirer, Aug. 2, 2014
Going out in Style" CBS Sunday Morning, March 17, 2013
"ISU will host internationally known fantasy coffin artist of Ghana Sept. 15-19" ISU News Service
Subscribe to receive top agriculture news
Be informed daily with these free e-newsletters
You May Also Like
---