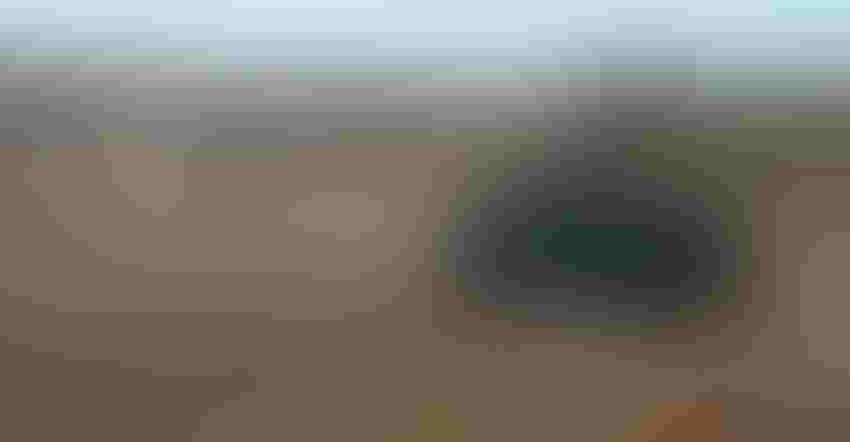 1ST PLACE: Combines harvest one of the Wiles brothers' fields in southeast Nebraska in October. The Wiles brothers placed first in the state in the 2019 National Corn Growers Association yield competition.
Tyler Harris
Although he's no stranger to high-yielding corn, when asked about his strategy for growing 300-bushel corn, Marvin Wiles is quick to say, "The No. 1 thing is probably luck."
"We've caught some rains, we've had some good fortunes through the years, and we've won some national contests," says Wiles, who farms with his brother, Glenn, near Plattsmouth, Neb. "We've had some good, consistent yields and good germplasm."
That may be fair to say for someone who is strictly rainfed, but raising 299.9-bushel-per-acre corn in a year such as 2019 in southeast Nebraska is nothing to sneeze at. The Wiles brothers placed first in Nebraska in the 2019 National Corn Growers Association yield competition dryland no-till category.
"We had a lot of trials and tribulations because of the Missouri River and lost a couple of plots to ongoing flooding," Marvin says. "We felt we were pretty fortunate to end up with the yields we had, especially with the flooding we had in southeast Nebraska."
"For any of the planting sins most growers experience each year, whether we didn't close the seed trenches very well, didn't have good seed-to-soil contact, or had compaction, the saving grace in 2019 was timely rainfall," says John McNamara, the Wiles brothers' agronomist. "It was generally cooler. We had good pollination weather. If the plants were rootbound as a result of compaction, it didn't matter because it kept raining. Timely July rain is the aloe of all dryland crop production woes."
Of course, when you reach those kinds of yields consistently, management still plays a role.
The Wiles brothers favor higher populations for high-yield plots. Their winning plot was planted at 44,000 seeds per acre, using a familiar 110-day hybrid — Dekalb DKC 60-88. For comparison, their normal river bottom fields are planted closer to 36,000 seeds per acre, while their hills are about 32,000 seeds per acre.
An early start
While some growers struggled to get corn in the ground in a timely manner in 2019, the Wiles brothers were able to take advantage of a dry window early on, and they finished planting corn in April.
"In the National Corn Growers Association yield contest, you're competing with the best of the best across the country," Marvin says. "Growers farther south have more heat units. We have to push for early planting, because we're already behind the other competitors. If you're going for higher yields, you have to be on the early side to capitalize on growing degree units."
They were fortunate to finish planting early, but with 2019's extreme weather, there were some weather-related challenges — particularly when it came to nitrogen applications.
While it may seem more costly in the short term, McNamara and Wiles prefer multiple applications for the most efficient plant nutrient uptake, and the greatest return on investment.
"There were times we couldn't get in with ground rigs on some fields," Wiles says. "If you're trying to raise 300- to 350-bushel corn, you can't play catch-up. We put down a good portion of nitrogen preplant — in the 170-pound range. Then we came back with a coulter machine and put on 100 pounds of 32% N. We've also used airplanes to topdress urea. It depends on the conditions."
Wiles notes they also do extensive grid sampling and variable-rate apply phosphorus and potash to maintain the levels required to maintain those high yields.
"Years ago, when I was a young agronomy student at UNL, they recommended you maintain phosphorus levels at 15 parts per million. Now, we'd like to see it at 25 and up," he says. "With the germplasm and high yields we have today, we need quite a bit more potash. The recommendation used to be down in the 130 ppm range. We try to keep potash up over 300 ppm. Maintaining phosphorus and phosphate is levels is absolutely critical in high-yield areas."
Managing stressors
In high-yield environments, a number of stressors can whittle away at yield — including diseases. For early-planted fields, the Wiles brothers applied FMC's Ethos, a fungicide-insecticide combination, in-furrow. They often apply a fungicide at VT — in the case of 2019, Syngenta's Trivapro.
McNamara notes there are benefits, in addition to protecting the plant from fungal diseases.
"If you keep that manufacturing plant in the top third of the corn canopy efficiently conducting photosynthesis, manufacturing glucose, and maintaining chlorophyll content, the remainder of the plant should remain structurally intact," he says. "Fungicide applications make sense when you have genetics more prone to lodging and greensnap and are weak in the knees. Even with good genetics for those things, fungicide application still make sense."
And, McNamara says, fungicide treatments have gone down in cost.
"In the past, it cost around $30 per acre for an aerial fungicide application," he says. "Now it's closer to $20 per acre. With $3.50 corn, I need a 5.5- to 6-bushel-an-acre increase to cover that. Historically, we've seen a 13- to 14-bushel increase in yield from fungicide applications. One of the best investments I think growers can make is in a fungicide application at VT."
At the end of the season, Wiles prefers to harvest their high-yield plots earlier.
"On high-yield plots, you've got to plant pretty thick, and you don't want to risk late-summer or early-fall high winds," he says. "If you have a 300- to 350-bushel crop, you want to harvest as quick as you can. We usually harvest at 20% moisture, so you may have to run it through a dryer or a bin with lots of air flow. We just can't wait for it to get to 15% because we're going to increase harvest losses as the stalk dries. What we're after is getting the most we can get off that acre."
About the Author(s) Tyler Harris is the editor for Wallaces Farmer. He started at Farm Progress as a field editor, covering Missouri, Kansas and Iowa. Before joining Farm Progress, Tyler got his feet wet covering agriculture and rural issues while attending the University of Iowa, taking any chance he could to get outside the city limits and get on to the farm. This included working for Kalona News, south of Iowa City in the town of Kalona, followed by an internship at Wallaces Farmer in Des Moines after graduation.
Coming from a farm family in southwest Iowa, Tyler is largely interested in how issues impact people at the producer level. True to the reason he started reporting, he loves getting out of town and meeting with producers on the farm, which also gives him a firsthand look at how agriculture and urban interact.
Subscribe to receive top agriculture news
Be informed daily with these free e-newsletters
You May Also Like
---