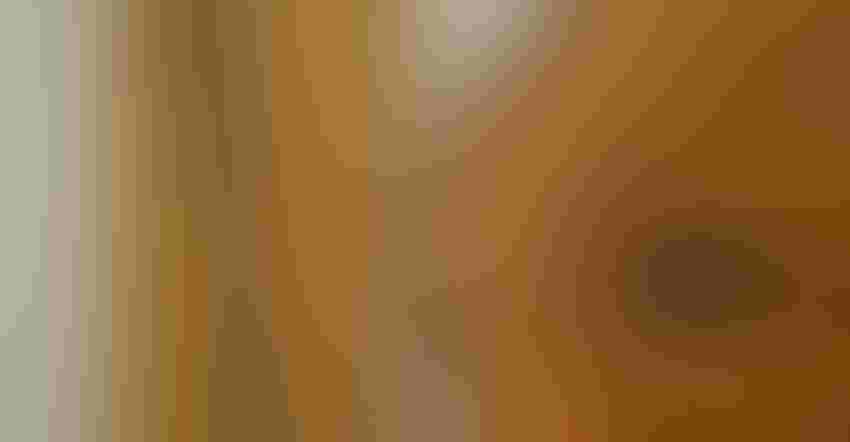 BOARD TALK: This board talks through this picture. Note the discoloration caused by the nail. The tree grew around the nail, which was inserted decades before this board was cut.
Most farmers who have dealt with timber buyers know they get edgy about buying trees that might have been in a fence line or livestock pasture. The stock explanation is that they're concerned about nails that might have been pounded into the tree and that the tree grew around.
In this case, it's not a gimmick to knock the price offered for a tree. You may assume it's because they don't want saws hitting nails when ripping boards, and that is a concern. But the picture above illustrates another concern. If a tree grows around a nail, the nail typically leaves its mark. The mark isn't always just where the nail entered the tree. Staining from the nail across the grain over decades can result in a lower-quality piece of lumber. Note the nail in a cross-section of the stump on the right and the length of the stain on a board at the left, cut from the tree.
Jeff Boyer, superintendent of the Davis-Purdue Agricultural Center near Farmland, mounted this display on the wall of the farm's new conference room because he believes it tells an interesting story. The center celebrates its 100th anniversary this year, with a field day planned for Aug. 31.
Forestry has always been a big part of Davis-Purdue, Boyer says. The original property was gifted to the university because the owner wanted a virgin woods preserved. She donated it in honor of her late son.
The 50-acre stand of virgin timber contains trees estimated to be up to 400 years old, Boyer says. No cutting or alteration of any kind is done in this woods. The display here was created after a tree died and fell over. The nail is likely an original marker from when each tree was marked and catalogued by a Purdue scientist, probably nearly 100 years ago. 
Subscribe to receive top agriculture news
Be informed daily with these free e-newsletters
You May Also Like
---