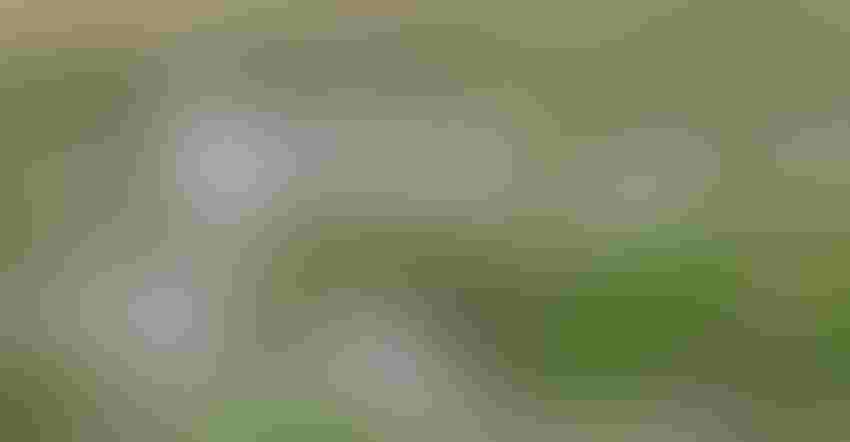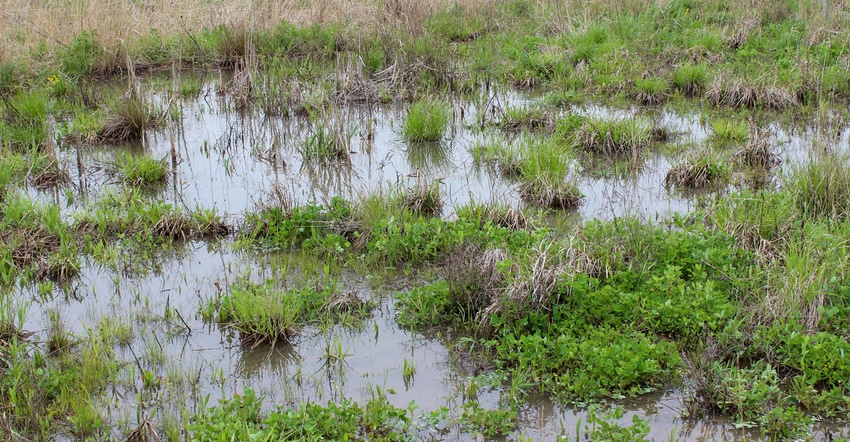 WATER RETENTION: Wetland restoration at the Forrest Woods Nature Preserve in Pauling County, Ohio, includes creation of depressions that collect rainwater, slowing its release downstream.
Photos by Gail C. Keck
In addition to farmland conservation practices that protect water quality, efforts to restore or enhance wetlands are helping improve water quality in Lake Erie and other bodies of water throughout Ohio. The H2Ohio water quality initiative, introduced last year, provides funding for a variety of wetland projects in the Western Lake Erie Basin, with plans for additional project funding across the state. Projects are also being funded by conservation groups and a variety of other local, state and federal programs.
The Black Swamp Conservancy, for example, has been working on habitat and wetland restoration work since 2013. The organization is a land trust formed in 1993 to preserve agricultural land and natural areas in northwest Ohio. Since then, it has protected nearly 20,000 acres of land in 16 counties. "We've been building our skill set, and in the past several years we've really been focusing more on wetland restoration projects," explains Rob Krain, executive director.
NATIVE SPECIES: Along with restoring wetlands, the Black Swamp Conservancy is reintroducing native tree species at Forrest Woods Nature Preserve.
Black Swamp Conservancy's largest wetland project is at Forrest Woods Nature Preserve in Paulding County. "The center of that property is one of the finest remnants of the historic Great Black Swamp," Krain points out. The conservancy has been expanding the preserve by purchasing adjacent land, and it is currently using H2Ohio funds to restore additional wetland areas.
Most of Black Swamp Conservancy's wetland projects are on ground the land trust purchased at fair market value and then restored, Krain explains. They look for land in the flood plains of the Maumee River and Sandusky River basins. Frequent flooding that makes land less productive as farm ground also makes it more suitable for wetland restoration. Although farmers are sometimes concerned that wetland construction will cause water backups on nearby crop fields, projects are designed to prevent that, Krain adds. "We want to accept their water."

UPSTREAM EFFORTS: Marie DeLarme Creek, swollen here from recent heavy rains, drains a watershed of about 15,000 square acres. It flows through the Forrest Woods Nature Preserve, so the preserve helps filter water before it joins the Maumee River.
Filtering mechanism
Creating wetlands in strategic locations can help filter out nutrients and sediment from water before it moves on downstream. For instance, one of the Maumee River's tributaries, Marie DeLarme Creek, flows through the Forrest Woods Nature Preserve. The creek drains a watershed of about 15,000 square acres. "That gives us an opportunity to do some of that nutrient and sediment capture before it gets into the river," Krain explains. "If it gets into a large system like the Maumee, it's really, really hard to pull it out."
The work necessary to build or restore a wetland varies depending on the site, but creating a wetland that functions well usually takes some planning and effort, Krain says.
In addition to severing drainage tile, a site might need topographic changes to create depressions for vernal pools and drier, upland areas. Straight ditches are re-formed to create more natural, meandering paths that slow down water flow. Then, vegetation is managed to introduce and encourage native species while eliminating invasive species and weeds. "The weeds the farmers are worried about are the same ones we're worried about," Krain explains. Avoiding release of sediment and nutrients during construction is also a concern, he adds. "We don't want to cause upfront harm for a longer-term goal."
CLEAR BENEFITS: Maintaining vegetation in drainage ditches helps remove sediment and nutrients from water.
Wetland work waits
The H2Ohio initiative includes projects within the Ohio Department of Agriculture and Ohio EPA, as well as efforts by the Ohio Department of Natural Resources focusing on wetlands. The ODNR projects will help expand the permanent natural water-quality infrastructure of wetlands to address Ohio's nutrient pollution issues, explains Sarah Wickham, ODNR chief of communications.
ODNR was allocated $46.2 million for Phase 1 of H2Ohio and immediately got to work identifying high-impact wetland creation, restoration and enhancement projects. These projects focused primarily in the Maumee River and Western Lake Erie Basin watersheds, and in the watersheds of several top-priority inland lakes that have experienced harmful algae blooms in recent years. ODNR initiated approximately 24 wetland projects before the COVID-19 health crisis took hold in Ohio earlier this year.
Despite major budget cuts across state agencies, ODA has allocated $50 million for Ohio farmers to improve conservation practices this year through the H2Ohio initiative. $30 million comes from the H2Ohio initiative, with the other $20 million coming from Ohio's Clean Lake 2020 Plan or Senate Bill 299.
Before the March 30 deadline, nearly 2,000 farmers submitted applications to enroll more than 1.1 million acres in the Maumee River watershed program.
Details of ODNR's H2Ohio projects underway can be found at h2.ohio.gov/natural-resources.
Keck writes from Raymond, Ohio.
About the Author(s)
Subscribe to receive top agriculture news
Be informed daily with these free e-newsletters
You May Also Like
---