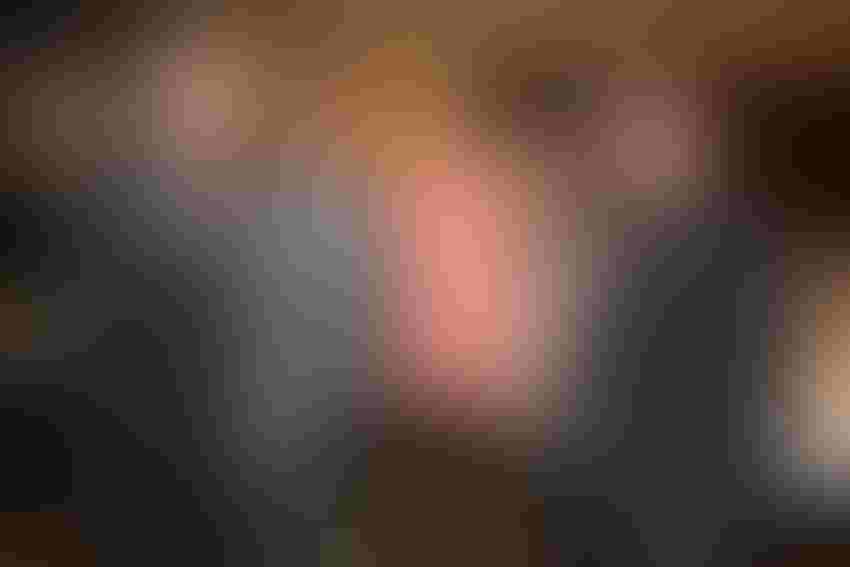 WAPA leadership includes from left – Chair Mike Kelley; 1st Vice-Chair Bruce Coburn; 2nd Vice-Chair Kurt Squire; Treasurer Kim Keyawa-Musselman; and President-CEO Roger Isom..
The gist of the messages shared during the 2017 Western Agricultural Processing Association (WAPA) annual meeting held this summer was a call for action for the association and its 235-plus members to tackle the top issues facing the California tree nut industry as it grows by leaps and bounds.
During the 8th annual WAPA event held at Monterey, Calif., Board Chairman Mike Kelley said the California tree nut industry has doubled in size since 2005. During this expeditious growth, top issues include a wide range of issues including heat illness, California's higher minimum wage law, PM dust standards, and others.
Kelley said WAPA is primed to handle these challenges and others.
"Since WAPA represents all tree nut crops on legal and regulatory issues this makes WAPA more valuable…WAPA is integral to our success."
Besides serving as WAPA's chairman, Kelley is the full-time president and chief executive officer of the Central California Almond Growers Association.
Roger Isom, WAPA's president and chief executive officer, also touted the need for active involvement by every member.
"When you see 'Call to Actions' (WAPA e-mails), it's important because it's our future. We're starting to see all tree nut sectors working together on mutual issues (which is) making a difference," Isom explained.
WAPA membership includes mostly active members along with associate members. According to the WAPA website, the association represents tree nuts including almond huller and shellers, and processors, plus pistachio, pecan, and walnut processors on regulatory and legislative issues.
Economic crystal ball
Lunch time speaker Mike Swanson, a Wells Fargo agricultural economist and consultant, shared several glimpses into his farm economy crystal ball.
"We are going to see more technological yield gain in the global markets than population gain in the foreseeable future," said Swanson, who is not expecting near-term rising commodity prices for corn, soybeans, and specialty crops.
This is due, he says, to softening increases in the global population rate over time with today's rate around 1.1 percent. This will translate into less demand for farm commodities.
"By 2050 we will be down about .5 percent in population growth rates," Swanson said.
Turning to California agriculture, he says growers will compete with a strong dollar for the foreseeable future.
Money flow
Swanson said, "It's not about (our) agriculture, not about their (global) agriculture, or trade agreements. It's about the opportunity for the flow of money around the world. You'll have to deal with it for three to four years at least."
He noted that the Chinese are the "single biggest buyer" of many California exports and are a "huge market" with long-term opportunities.
Biochar
Other WAPA annual speakers addressed energy and by-products designed to improve agricultural production. Matt Hart of West Biofuels based at Woodland, Calif. discussed biomass gasification including making biomass products from tree nut shells and hulls, and wood.
Among the bi-products include biochar.
"The reasons why everyone is excited about it (biochar) is because it can improve the quality of soil by adding carbon," Hart said. "We can retain water at the root zone reducing the need to irrigate; and minimize the amount of fertilizer leaching so hopefully you can reduce fertilizer (needs)as well."
FSMA implementation
Several regulatory specialists discussed the implementation of the Food Safety Modernization Act, including the new federal law's seven rules, including the Produce Safety Act.
Mary Ellen Taylor, communication specialist at the U.S. Food and Drug Administration's (FDA) San Francisco district office, said 3,000 deaths have occurred from contaminated food (over time). Food products implicated in outbreaks from 2008 to 2012 included meat, eggs, leafy greens, nuts, and vine crops.
For the water provisions in the new law, Taylor said agricultural water has been one of the most contentious regulations of the proposed standards under FMSA.
"FDA is looking to make the standards easier to comply with and less costly. However industry and government both understand that it's important that standards for water have some frequency of testing due to the fact that water may have microbes – biological contamination" Taylor said.
Subscribe to receive top agriculture news
Be informed daily with these free e-newsletters
You May Also Like
---