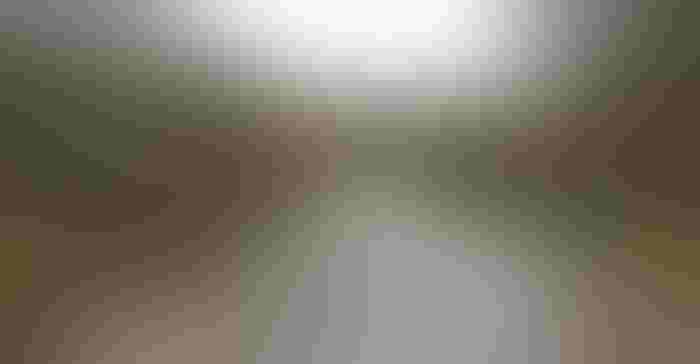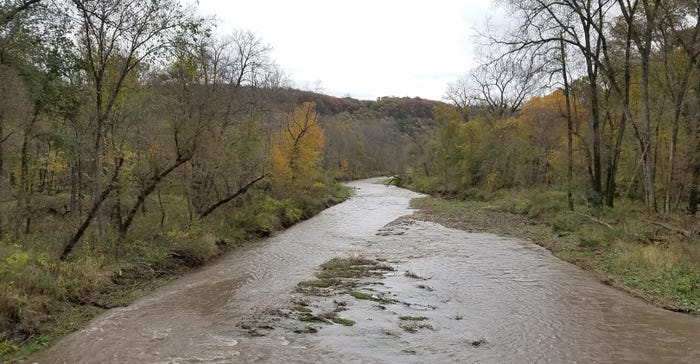 Dense forests and heavily timbered regions are not typically the first thought when considering the natural landscape of Iowa. From east to west, the state transitions from forest to plains and prairie, and much of its land is dedicated to row crops and open pastures.
While he doesn't expect Iowa to make rash changes to land use, William "Billy" Beck, Iowa State University Extension forestry specialist, would like Iowans to better understand where trees can contribute to the state's ongoing water quality conversation. Beck is an assistant professor of natural resource ecology and management, and a member of ISU's Conservation Learning Group. 
"Iowa is typically thought of as a prairie area, but there are and have always been riparian forests [trees growing along waterways, ponds and lakes] in the state," he says. "Trees stand as silent sentinels along waterways, quietly slowing water, absorbing nutrients and water, and aiding water infiltration. But we don't have a lot of data about how these mechanics work in Iowa." 
Overlooked practice 
In recent years, a lot of attention has been paid to water quality in Iowa. Efforts by organizations such as the Conservation Learning Group have improved understanding of practices that contribute to improved water quality. The Iowa Nutrient Reduction Strategy has also quantified goals for reducing contaminant levels in waterways. One recent focus in water quality improvement practices has been implementing edge-of-field structures such as bioreactors and saturated buffers. 
"In the quest to increase agricultural productivity from Iowa's rich soil, we've become expert in managing water saturation and getting it off the land and into the streams quickly through the effective use of tile drainage systems and channelization of water flow," Beck says. "These are well-established practices within the ag industry, which need to be understood and addressed through edge-of-field practices to help minimize and mitigate nutrient runoff. And one edge-of-field structure that doesn't garner a lot of attention are the natural tree stands already established between fields and waterways." 
Many don't consider how trees growing along the water play into the water quality equation. And it's evident that not many farm operators would consider investing in new stands of trees without substantial justification. "Establishing new tree plantings can be challenging, especially without guidance from a professional forester, which is one of the things I do as a part of the ISU Extension program," Beck says. "In addition, there are cost-share funds, resources and expertise available to help ensure successful projects." 
Trees part of ag system 
"Another challenge with trees is grasping what can be a complex value chain that ranges from environmental and aesthetic benefits, which are slow to develop and difficult to monetize, to what seems to be a general lack of information and awareness about the market value of trees and timber in Iowa," Beck says. "Trees are often seen as a nice thing to have, but not as an integral part of the agriculture system. Better research and information relevant to Iowa will help change this situation." 
Looking forward, Beck would like to conduct research to study the contribution trees make to water quality improvements at the watershed level. He believes that quantifying the impact trees have on filtration, flood control and reduction, and streambank erosion prevention will increase support for strategic forest protections and installations. 
"It's crucial that we learn more about how trees fit into the larger water quality picture," he says. "Trees absorb and use a tremendous amount of water and nutrients. The canopies slow the progress of rainfall to the ground, distributing the water volume that must be absorbed over time, and provide important stabilization of soil along waterways. The next step toward increasing the perceived value of trees in the environment is to measure and communicate these impacts." 
Improve, protect water quality 
Beck recently participated in the Forestry and Water Quality Summit organized by ISU Natural Resources Extension and the Iowa Department of Natural Resources, and facilitated by Iowa Learning Farms. The meeting brought together water quality and forestry experts from across the state to discuss and outline goals for Extension research in these areas. There was a strong consensus that more information about the watershed scale impact of trees in the Midwest is needed. 
Another area for further study is the contribution trees make to carbon sequestration. "We know there are contributions, but we need to model it for the various parts of the state, taking into account different land types and land-use histories," Beck says. 
In urban and rural settings, people tend to think of trees as an asset that provides shade, fruit, timber and habitat. Beck is taking on the mission to add to that list and bring more attention to the role trees are already playing in the water quality and conservation ecosystem in Iowa.
"Trees are powerful resources that are often overlooked and undervalued," he says. "I intend to change these perceptions through research and increased outreach to stakeholders in Iowa's ag and conservation communities."  
Conservation Learning Group is a collaborative team in Iowa, established to advance training, outreach and research across land uses and production systems to increase overall sustainability of ag and natural systems for multiple generations to come. CLG draws on experts in various disciplines to deliver engaging science-based outreach to farmers, agricultural advisers, landowners, decision makers, youth and communities. To learn more about CLG, visit conservationlearninggroup.org.
Ripley is an Iowa Learning Farms conservation outreach specialist. 
Subscribe to receive top agriculture news
Be informed daily with these free e-newsletters
You May Also Like
---