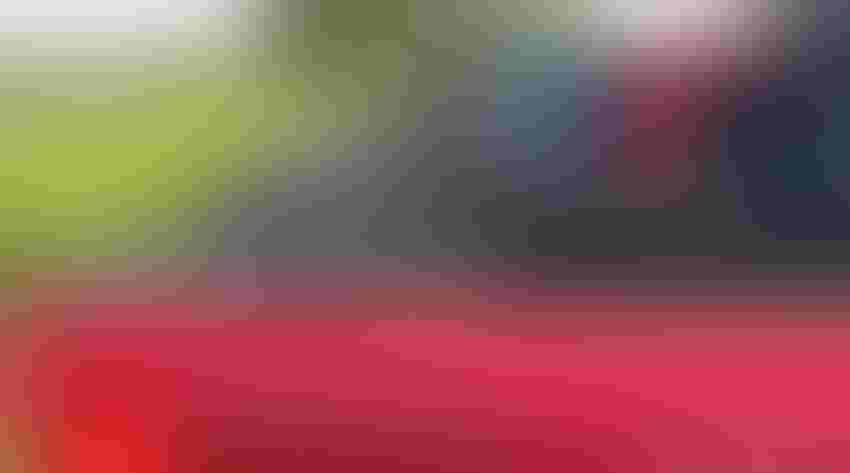 A row of Ford F-150 Lightning electric trucks is displayed at a farm in Sonoma County, Calif. Gov. Gavin Newsom issued an executive order requiring that all vehicles sold in the state be zero-emissions by 2035.
Tim Hearden
The co-author of a study detailing California's would-be electricity shortfall suggests the state will eventually have no choice but to roll back a mandate that all vehicles sold be zero-emissions by 2035.
Wayne Winegarden, a senior fellow in business and economics at the Pacific Research Institute, says that "reality is hitting us in the face" regarding the feasibility of fully transitioning to electric vehicles in the next 10 years.
"I tend to be an optimistic person, but … 2035 or 2045, from a planning perspective, is not as far off as people think," Winegarden told Western Farm Press. "In Germany, when reality hit them in the face, they turned on their coal plants.
"Maybe the miracle leap in technology will happen," he said. "But just because you go to Vegas and bet the rent money and win doesn't mean it was a good idea to bet the rent money, and that's indeed what we're doing."
Winegarden's remarks followed his Pacific Research Institute report in June asserting California will fall 21.1% short of the electricity required to meet the state's 100% electric vehicle mandates. In September 2020, Gov. Gavin Newsom issued an executive order requiring all new passenger cars and light trucks sold in California to be zero-emissions vehicles by 2035.
"California's green energy mandates will require families and businesses to consume more energy from the electricity grid instead of fossil fuels, making it less likely that we can generate the necessary power," concluded Winegarden and co-author Kerry Jackson. "These policies jeopardize California's energy security and, without a miracle leap in technology, set us up for future energy shortages."
'Eliminating' oil
Newsom's office did not respond to Western Farm Press' request for comment about the PRI study. The governor said last year the state is "eliminating our dependence on oil and providing a blueprint for the entire world on how to aggressively fight the climate crisis while growing the state's clean energy economy."
The study from PRI, a California-based free-market think tank, explored whether implementing the EV mandate, along with other green mandates, would create avoidable energy shortages. In the report, titled "Sapping California's Energy Future," the researchers posited:
Two-thirds of current electricity comes from disfavored sources – including hydroelectric power, which doesn't count as renewable. Nearly 60% of current state electricity generation comes from natural gas and nuclear power.

Total electricity generation will be 21.1% short of projected demand, assuming that other state residential electricity consumption remains flat—the trend since 2006.

The actual electricity generation deficit will likely be much worse, as the PRI report does not factor in additional demand to meet other green mandates, such as prohibitions on gas-powered heaters and air conditions. 

To meet government-imposed renewable energy transition deadlines, California will have to expand its annual addition of renewables by 86%.
"We've had about a 15% reduction in total GHG (greenhouse gas) emissions since 2008, so we are reducing the amount of emissions we put out there, but we're doing it because of natural gas," Winegarden said. "Now we're grasping defeat out of the jaws of victory. Between nuclear and natural gas, we could have a reliable grid that is sufficiently reducing emissions.
"But we've got groupthink going on and there's blinders on," he said. "We want to be all electric, and we don't want to burn any fossil fuels."
Ag embraces tech
The study comes as much of California's agricultural sector has embraced technology, with electric tractors now almost ubiquitous in fields and orchards. Some growers in the windy Salinas Valley responded to blackouts in recent years by installing microgrid systems and large-scale solar arrays to power their operations.
But ag's transition to electric vehicles has been slower. Wilbur-Ellis, a San Francisco-based farm products manufacturer, bought its first 10 EVs for its fleet of 2,800 trucks last year. Ford Pro, a unit of the Ford Motor Co. that serves commercial fleets, has been providing charging stations and a cloud-based telematics system to entice reluctant companies to purchase its electric Ford F-150 Lightning trucks.
Winegarden contends that farmers will get "the short end of the stick" from the EV mandates as they see their costs rise and their energy source become less reliable.
"When you look at the unreliability of the grid now, it's going to be problematic," Winegarden said. "When the rolling blackouts hit … they will have a disproportional impact on rural areas.I would anticipate that the ag sector in rural areas are going to feel pain from this to a disproportional degree.
"When you look at electric vehicles, where we are today based on the technology we have today, they're a lot less practical vehicle for farmers, professionals and also personally," he said. "With a 300-mile range and 40 minutes to an hour to charge the vehicle, that's just not sufficient."
A national poll in May by two free-market advocacy organizations – the American Energy Alliance and the Maryland-based Committee to Unleash Prosperity – showed that wide majorities of respondents favored affordable energy over climate policies that would raise energy costs and limit consumer choices, The Hill reported.
Costs rising
California already consistently ranks among the highest in terms of electricity costs, with the average residential electricity rate more than 70% higher than the national average, according to the newspaper.
Winegarden and Jackson argue that California should repeal its green mandates and instead promote market-based climate policies. They say Sacramento should embrace technologies that are efficient today and promote innovations to create a low-emission energy system.
"Energy policy should not be crafted based on the whims of a few hundred policymakers who want to design the future," they asserted. "Sacramento must prioritize promoting innovation to meet California's clean energy goals while keeping energy abundant and affordable."
Subscribe to receive top agriculture news
Be informed daily with these free e-newsletters
You May Also Like
---