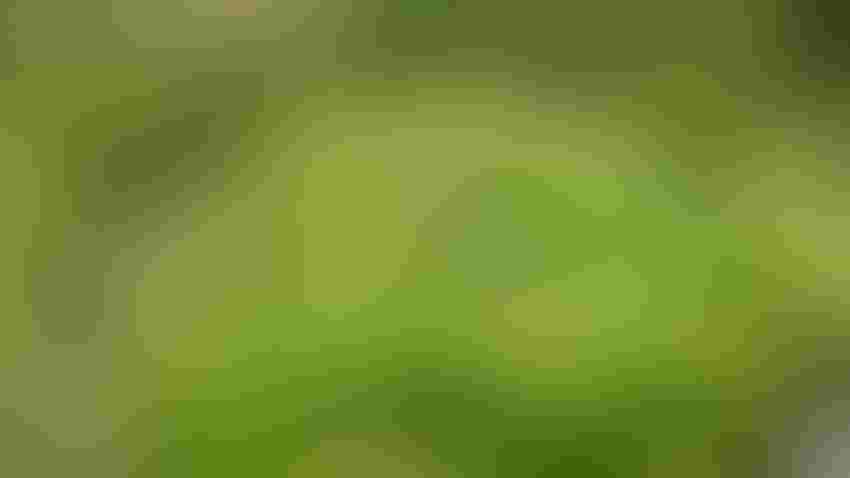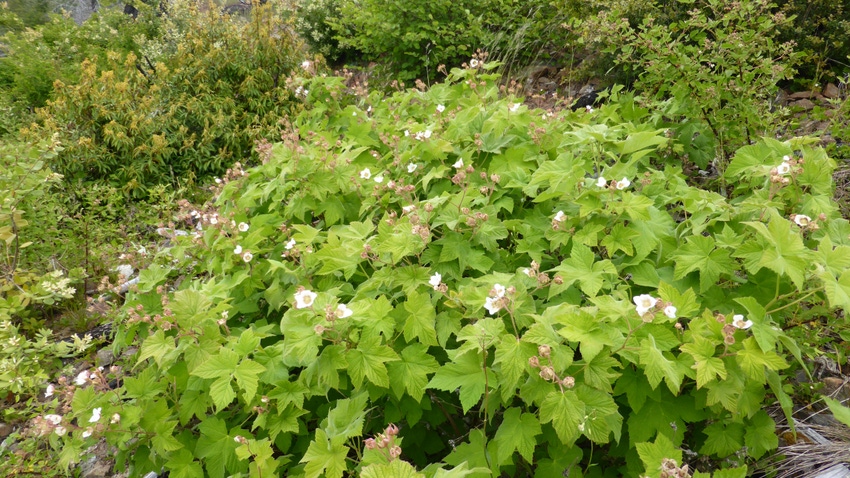 Flowers like the thimbleberry, shown here, grow back soon after wildfire and provide pollen and nectar for wild bees.
Sara M. Galbraith/Oregon State University
In 2020, the Cameron Peak and East Troublesome wildfires – the largest in Colorado history – burned more than 400,000 acres west and southwest of Fort Collins. Since then, researchers at CSU have been working to understand how these high-elevation fires have impacted ecosystem recovery.
To share some of this research with the public, CSU's Geospatial Centroid and Radical Open Science Syndicate (ROSS) will host From Burn to Bloom: The Art + Science of Wildfire Recovery on Saturday, Aug. 19, at Odell Brewing Company. Burn to Bloom attendees will have the opportunity to make art while learning about post-fire science.  
While investigating the effects of the 2020 fires on water quality in the Poudre River watershed, Matt Ross, associate professor of Ecosystem Science and Sustainability and faculty director of the Geospatial Centroid, a hub for geospatial work on campus, saw an urgent need to connect his colleagues doing similar work across the university. Through a grant from the Office of the Vice President for Research, the Centroid hosted a series of workshops, convening researchers studying everything from post-fire vegetation regrowth to the effects of forest fire on trout populations. 
Caitlin Mothes, research and program coordinator at the Centroid, developed an open-source interactive web application that connects all the disparate post-fire data generated at CSU. Ross wanted to find a new, interdisciplinary way to share this research with the broader public.  
"Part of our work at the Centroid is to visualize complex geospatial data," Ross said. "Data visualization is an effective way of communicating, but it is not always affective, it doesn't always bring in people who don't have an interest in the topic. We wanted to know, 'how can we increase engagement with more people to communicate the complex responses that landscapes have to fire?'"
To find the answer, Ross and his colleagues are inviting the public to join CSU researchers and organizations working in fire mitigation, recovery or conservation for an afternoon of learning, making and reflecting. 
Smokey Bear
The Colorado State Forest Service, based in CSU's Warner College of Natural Resources, will bring Smokey Bear for selfies and demonstrations.
Some scientists are building their own artistic activities, like Yoichiro Kanno and Dan Preston from the Department of Fish, Wildlife, and Conservation Biology. Alongside graduate students Emma Svatos, Taylor Stack and Fernando Carvallo, they will share how the fires have affected riparian ecosystems while participants make prints from blocks carved by Svatos.
In a transdisciplinary experiment, scientists and artists will co-create activities. Art and Art History Professor Erika Osborne collaborated with Daniel White, a Ph.D. candidate in the Department of Civil and Environmental Engineering, to develop a "river resiliency charm bracelet" activity. White investigates why certain areas around streams and rivers bounce back more robustly and quickly after fires. Inspired by some of the terms associated with White's research, like "pearls" and "beads," Osborne suggested gathering materials to make charms and then finishing them over open fire. White will share his research findings with event attendees while Osborne guides them in bracelet making.
While wildfire is inherently destructive, the researchers' findings hold valuable lessons about adaptation and recovery. Inviting scientists and artists to work together on creative communication has opened new possibilities for engaging the community on a subject that could otherwise seem daunting or even depressing.  
"Science is traditionally expressed and shared through peer-reviewed publications. This is tremendously limiting if one considers the vast realm of science and the unlimited potential for diverse communications," said Sophia Linn, head of the Geospatial Centroid and co-organizer of the event. "Inviting scientists to work directly with artists to express their work together is very exciting — and will ultimately make science more accessible to the public and to diverse learners."
RSVP for the event here.
Source: Colorado State University
Subscribe to receive top agriculture news
Be informed daily with these free e-newsletters
You May Also Like
---