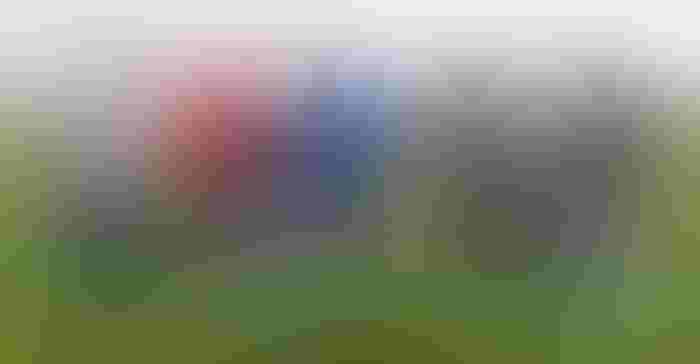 The Rufenacht family looks at conservation stewardship as a package of practices that will ultimately allow for the next generation to continue farming. You know they're doing something right when the farm is chosen as a stop on the Ohio State University's President's Tour. They've also hosted local ag science classes for more than a decade. And visitors from Israel, Lebanon and Jordan have come as part of the Corn Growers International group.
For all their conservation efforts, the Rufenacht family is being honored with a 2017 Ohio Conservation Farm Family Award. The award will be presented Sept. 21 at the Farm Science Review. Kim Bowles from the Fulton Soil and Water Conservation District nominated Rufenacht Farms for the award.
Two brothers, Jim and Cork, and their sons run the operation, which includes about 3,300 acres of cropland and 3,200 head of Holstein beef that are feed out each year.
Jim and Cork's parents, Maynard and Bernice, started the farm in 1947 with about 190 acres. Through the 1960s they expanded it to include about 400 acres. Jim joined the operation full time in 1972 and Cork in 1978, each bringing in more farming acres.
Conservation at forefront
Over the years, the family has put a lot of hours into ditch bank maintenance. Several miles of buffer strips help protect the waterways.
Being in Western Lake Erie watershed, Jim says controlling manure is paramount. They have nine months of storage for liquid manure and will build a solid stack manure facility within a few months.
"Conservation is important to us to be able to pass it down generation to generation by being good stewards of our ground and water," Jim says. "We want to be able to haul manure at the optimum time – controlling when and where we place it," he says.
Jim sons, Jason and Cory, along with Cork's son, Brian, all work together, but they each have specialty areas. Brian is the accountant and helps Jason with precision agriculture. Cory's in charge of the livestock.
Jason, who says he's most focused on drainage and equipment maintenance, describes their land as very flat. "We have 30-acre fields with only 6 inches of rise across the whole field, which allows for a lot of ponding," he explains. "So for us, tile is real important. It helps us get in earlier in the year. And we install our own, so the payback is quick."
The tile system includes drainage control structures, which allow water flow to be shut off. This keeps nutrients in the ground, while retaining water for crop growth," Jason says. "It's beneficial both environmentally and economically."
Soil testing of the farm's heavy and tight soils is based on soil types in 2.5- to 5-acre grids, and is completed every three years on the acreage.
"We are nitrate-testing prior to sidedressing corn," Jason says. "That way we are not overapplying, but are not starving our crop either. If you're not testing, you're guessing. Farmers have been guessing for years — and we're pretty good at it — but if testing helps to pinpoint the needs of the crop, that's better use of nutrients."
The farm has been applying nitrogen by variable rate for 18 years, Jim says.
"Everything we are putting on is banded — nitrogen in a row that's going on with the planter," Jason explains. "And at sidedress or late in the season after the nitrate testing, we're applying with a Y Drop applicator."
He says that increases the odds that applied nitrogen enters the root zone because it surface-applies nitrogen just 2 inches from corn roots. "It's placed where plants can use it, and it keeps it from leaching off," Jason says.
The farm has no-tilled soybeans for many years, Jim says, while corn is minimally tilled with a disk ripper, leaving residue on top at all times.
Cover crops are next for this farm family. They've been dabbling in it for a few years, but are really looking to set up a system of cover crops. "We've experimented with cover crops through the winter and harvesting in spring for feed," Jason says. "That doesn't leave us with the residue, but we have manure to replace the organic matter we lost."
Cover crops have included rye, some radishes and even wheat. "Wheat as a cover seemed to work pretty well," Jason says.
Looking back and ahead
Jim and Cork continued to farm with their dad until buying him out in 1988. Three years before, they made the decision to get out of milking cows, which they both agree was a smart move. They went into hogs until starting to phase them out in the mid-1990s. Jim and wife Linda live in the house he grew up in. Cork and wife Peg bought a house a half-mile away.
When they bought the farm at auction, Cork says, there was a silage pile that didn't sell. "So the auctioneer bought it for $25 and gave it to us."
It was the beginning of raising Holstein beef cattle. "We started feeding cattle by default," Jim adds. "It's become our niche."
The roof on the old hog barn was raised, and it now houses machinery. The family also owns a grain drying business, which has a solar system set up to produce the energy it needs. Custom harvesting and planting is also part of the operation's portfolio.
As the supervisor for the Fulton Soil and Conservation Districts, Jim says it gives him the chance to talk to people about conservation. "We are always open to having conversations with anyone who wants to learn more about what we are doing," he says. "We are all about giving our next generation the chance that our dad gave us, which we enjoy. We are fortunate to have three sons that are interested in farming; that's a real gift to us."
Rufenacht Farms
The family: Brothers Jim and Cork Rufenacht started farming in the 1970s, and now the farm also includes three sons, Cory, Brian and Jason. Jim and Linda's son Cory and his wife, Kylie, have three sons, Titus, Jarett and JT, and one daughter, Liza. Jim and Linda's son Jason and his wife, Shay, have two sons, Grayden and Callen, and a daughter Railey. Cork and Peg's son, Brian, is part of the farming operation, while daughter Cara and her husband, Joe, live in Pittsburgh and have a daughter, Ellery.
The farm: About 3,300 acres of row crops in Fulton and Henry counties are used for production of corn, soybeans and wheat. The farm feeds out about 3,200 head of dairy beef steers annually. Conservation practices include cover crops, filter strips, drainage water management and conservation tillage.
Nominator: Kim Bowles, Fulton Soil and Water Conservation District administrator
Leadership: Farm Service Agency committeemen, Foods Resource Bank local growing project and board of directors, soil water conservation district supervisor, local Ohio Extension Advisory Board, Farm Credit Services Advisory Board, local Vocational Agriculture Education advisory board, church youth group sponsors, church elders, deacon administration, and leadership committees, and junior high basketball coaches
Community outreach: The farm was used to conduct county soil judging for the last two years. The farm has participated in on-farm research trials with OSU Extension and Pioneer Seeds. The farm hosted local ag science classes, a group from OSU on the President's Tour, and a Corn Growers international group. Public officials also toured the farm.
Subscribe to receive top agriculture news
Be informed daily with these free e-newsletters
You May Also Like
---