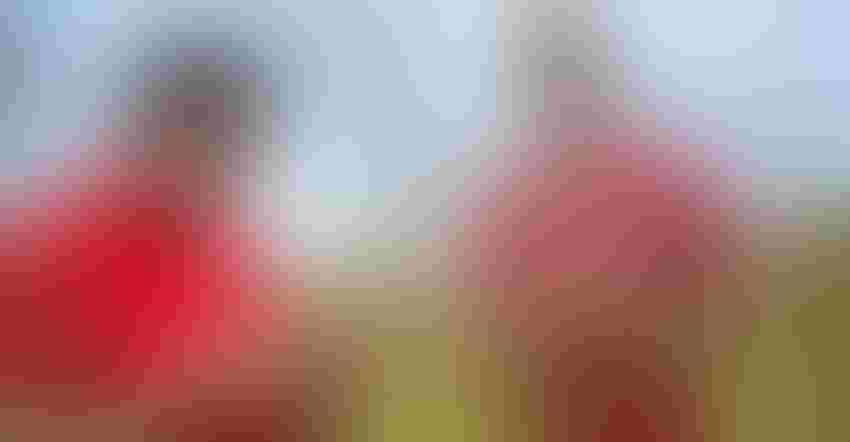 WHAT IS A FIELD EDGE? Mark Licht (left) is an Iowa State University Extension cropping specialist who is evaluating an established vegetation plot with Adam Janke, Extension wildlife specialist. The work is focused on redefining the value of field edges.
Courtesy of Iowa State University
For decades, field edges have been delineated by fence lines, property lines, roads, streams and water bodies, landscape features — and sometimes simply tradition. While this has worked well for many years, any farmer can intuitively tell you which parts of any production field are the best and worst in terms of yield and profitability — even if they don't have empirical data to prove it.
Advances in our understanding of performance in more granular parts of farm fields through precision agriculture technologies and conservation practice research have enabled a more selective definition of what makes up the performance-related edge of a given field, and the edges of areas that may not be worth planting.
Mark Licht, an Iowa State University assistant professor and Extension cropping systems specialist notes, "Precision technology is rapidly improving and is creating more fine-tuned ways to look at field profitability than was possible even 10 years ago. Identifying low-profit areas and farming around them — just as we do with forests and ponds — is not a huge departure from tradition, just a new opportunity to increase farm and field profitability based on newly available techniques and data."
Case studies offer guidance
A recently released case study and teaching kit from Iowa State University's Conservation Learning Group provides students, farmers and landowners an opportunity to learn about practices and approaches to farming in Iowa that can improve yields and productivity by removing some less profitable field zones from production.
Redefining the Field Edge: Watershed-Based Conservation Case Study Training Kit is one of four educational packages from CLG designed for high school and college agriculture and environmental science classrooms. The case study is also an excellent tool for farmers, landowners and agriculture professionals to use in exploring "what-if" scenarios, and discover approaches relevant to specific farms and fields.
Redefining the Field Edge includes four unique farmer profiles based on field research done in Iowa. Each profile presents information regarding real landscapes, such as prairie potholes and other wet areas that tend to perform poorly. The subject farms are located near Manson, Eagle Grove, Marble Rock and McCallsburg in north and central Iowa.
"We hope that many farmers will be able to see themselves in at least one of these case study profiles," Licht continues. "Underproducing areas in fields have been a long-term issue in Iowa, and many practices such as surface drains and even tile systems have failed to achieve consistent improvements in productivity. The resources and profiles in this case study offer the opportunity to use real-world data to assess the costs and benefits of specific practices that could then be applied to any farm with similar areas."
Resource for tomorrow's farmers
While the case studies from CLG should be very helpful for working farmers and landowners, they also provide educators with a set of resources to engage and challenge students looking to become part of the farming economy.
With a focus on managing profitability, the case study includes teacher and student reference materials, data sources and reports from real working farms that can be used for reference and resource. Students are challenged to make decisions to increase profitability while managing soil health, nutrient losses and wildlife impacts.
Return on investment or savings?
The total cost of taking land out of production and seeding it to perennials is a common concern to be addressed. The case study offers tools, such as the Nutrient Tracking Tool; and a series of yield and input cost tables to help clarify the total cost equation that includes reduced inputs, establishment and maintenance of perennials, and reduction in total crop yield — but most likely an increase in yield per producing acre.
"It isn't a simple process to predict a return on investment because there are many moving parts and variables, such as input costs, storms and drought that will have an impact; but over time, taking these wet or underproducing areas out of active use should improve overall financial performance. Ultimately we anticipate that precision segmentation of fields and not farming certain underproducing areas will lead to more profit," Licht says.
Precision tools amplify results
Defining new field edges based on profitability is one thing being enabled by new precision agriculture tools. Conversion from average productivity over a wide area to profitability in a much smaller footprint is simpler with analytic tools that take precise maps, inputs and yields into account.
"Farmers intuitively know which field areas are high- and low-profit zones; but quantification has been difficult, and therefore not typically used to make the tough decision of taking working land out of production," Licht says. "We now have better ways to make quantitative decisions that can improve profits and efficiencies."
Conservation for every farm
"We feel the case studies are an excellent complementary resource to the Whole Farm Conservation Best Practices Manual that was recently recognized with a Certificate of Excellence from the American Society of Agronomy," Licht says. "Farmers may use these programs and tools to explore options for how to best manage their land and farms. Our hope is that the case studies and other resources from CLG will help reduce uncertainty and encourage more deployment of conservation practices that benefit the farmer and the environment."
Both the case study and the whole farm manual are available for free online:
• Whole Farm Conservation Best Practices Manual
• Redefining the Field Edge: Watershed-Based Conservation Case Study Training Kit, conservationlearninggroup.org. Look for the "Training" heading, then scroll down to the "Educators" section.
The preparation of the case studies involved support from the USDA Natural Resources Conservation Service (NRCS) and North Central Sustainable Agriculture Research and Education.
Conservation manual recognized nationally
The Conservation Learning Group's Whole Farm Conservation Best Practices Manual was named the first-place recipient of a Certificate of Excellence for long publications in the American Society of Agronomy Extension Education Community Educational Materials Awards Program at the organization's annual meeting.
The whole farm manual is designed to facilitate conservation practice decision-making by landowners and farmers through step-by-step guides relevant to many different topologies, soils, cropping systems and goals. During the first 18 months, more than 1,950 copies were distributed through the ISU Extension Store, and an additional 10,000 copies were distributed to NRCS district offices throughout Iowa.
The Whole Farm Conservation Best Practices Manual covers in-field topics including tillage management; cover crops and diverse rotations; and edge-of-field practices such as wetlands, bioreactors, saturated buffers, controlled drainage and prairie strips. The manual also provides detailed information regarding implementation and expected outcomes, as well as comprehensive graphic decision trees to aid farmers in determining the best approaches for each area on their farm.
The manual is a full color, 61-page publication created through a consensus-building process in partnership with landowners and farmers, the Iowa Department of Agriculture and Land Stewardship, Iowa NRCS, Practical Farmers of Iowa, Iowa Soybean Association, National Laboratory for Agriculture and the Environment, Iowa Agriculture Water Alliance, Soil and Water Conservation Society and ISU Extension and Outreach.
"We are honored to have our work recognized by the ASA in its Educational Materials Award Program," Licht says. "The manual is designed as a hands-on guide for farmers and landowners to use in assessing which conservation practices may be appropriate for their land, cropping system and operational objectives. We have received substantial feedback from farmers and agronomists, who have utilized the decision trees and worksheets from the manual to determine how to move forward on implementing conservation practices with confidence."
Ripley is Iowa Learning Farms manager and a Water Rocks conservation outreach specialist.
Conservation Learning Group is a collaborative team established to advance training, outreach, and research across land uses and production systems to increase overall sustainability of agricultural and natural systems for multiple generations to come. To learn more about CLG, visit conservationlearninggroup.org.
About the Author(s)
Subscribe to receive top agriculture news
Be informed daily with these free e-newsletters
You May Also Like
---