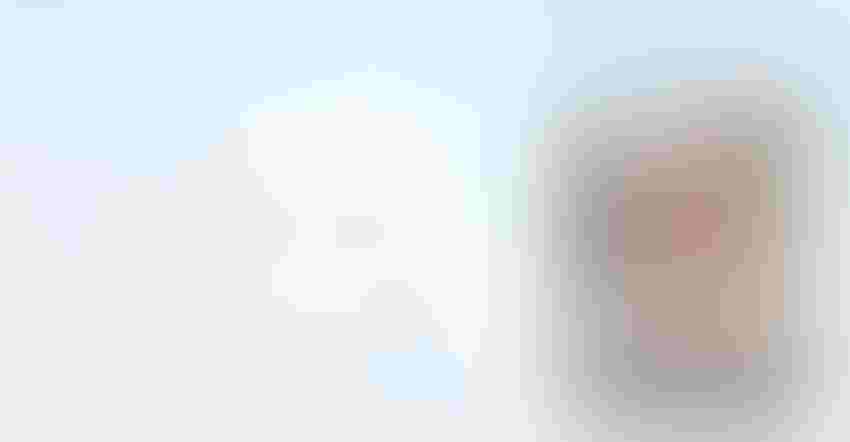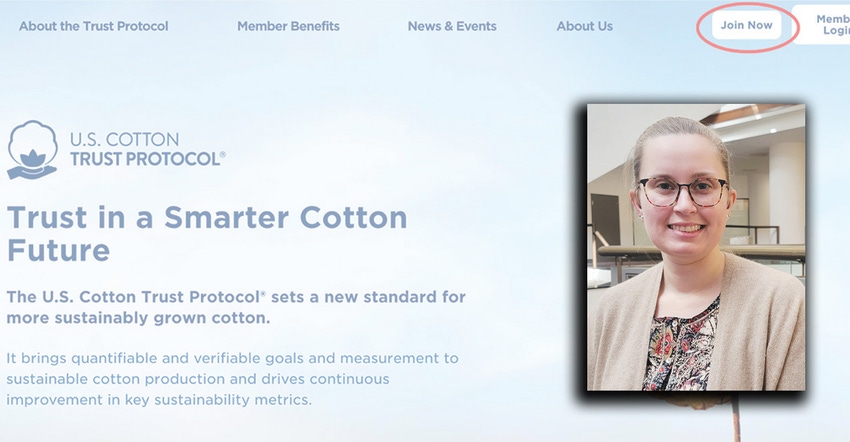 U.S. Cotton Trust Protocol/Shelley E. Huguley
Sustainability makes "good business sense," said cotton farmer Katy Holladay. It's also something clothing brands are requiring on behalf of their customers. But who will bridge the gap between brands and consumers and the family farm? She said one avenue is the U.S. Cotton Trust Protocol. 
She enrolled her family farm in 2021. "We saw it as a good opportunity to show we are sustainable and that we are looking to improve our operation, meet certain benchmarks or guidelines, and follow certain principles." 
But she said the protocol is also an opportunity to show, "that American cotton is what you want to be buying — specifically, our cotton, of course — but American cotton. U.S.-grown cotton is what we want our market to be buying." 
The U.S. Cotton Trust Protocol, "brings quantifiable and verifiable goals and measurement to sustainable cotton production and drives continuous improvement in key sustainability metrics," according to the protocol website. 
ngoing conversation 
Growing up, Holladay said farm sustainability was instilled by her parents, Shawn and Julie. It was "always a part of the conversation," she said. 
"Recently, we've started hearing more about sustainability from the marketing side, the brand side. The U.S. Cotton Trust Protocol is trying to bridge that gap," Katy said. 
See, Cotton producer pleased with third-party verification  
Holladay participated in a protocol grower panel at the recent Beltwide Cotton Conferences in San Antonio. She admits they though they are new to the program, they're joining the conversation.  
"It's important for us to be a part of that conversation, but we're still learning as well," she said.  
The enrollment process took Holladay a couple of hours to complete. Once enrolled, year-to-year re-enrollment will only require updating information. "There's the self-assessment, and then you have the field print analysis where you verify practices you are implementing on your farms. Eventually, there's a verification process, which we have not experienced yet." 
Nitty-gritty 
Holladay said she is the numbers person in their operation. Completing the protocol allowed her to see "the nitty-gritty data or the quantifiable side" of what they do every day. 
She said there are management practices they've discussed but never seen on paper, that haven't been verbalized scientifically until the protocol.  
See, Farmer shares reasons he joined Trust Protocol
Originally, practices such as terracing, creating field borders, and reduced tillage were completed to manage their operation. "But when we did the print field analysis, we started to see these are practices that are considered sustainable. So, we were like, 'We're doing these things, and we're going to continue to do them.'" 
She adds that the analysis also revealed areas for improvement and other farm practices they could apply. 
One challenging aspect of completing the protocol questionnaire was finding practices that apply to the Texas South Plains. "On the High Plains, we're a little more limited in some of the things we can list as sustainable because we're dry, we may not have the rain or moisture. 
"We're still working on understanding what the trust protocol is," Holladay said. "You're being asked to put your operation into very black and white terms and that's not how we farm. We don't know what's going to happen day to day or if we're going to have a crop until we plant the seed. So, it's asking us to say we do this or we do that, or we're going to do this. There are a lot of things we would love to do no matter what but sometimes we have to change course depending on if we get no rain or 16 inches,  which we experienced both of last year." 
Panel 
Holladay was one of three cotton producers who participated in the protocol panel at Beltwide. The following question was posed to the panel, "What does it mean to you that brands want to be 100% sustainable and for consumers to be able to purchase 100% sustainable cotton?"  
"It means we want to be involved because we want to sell our cotton," Holladay said. "We have to make it clear that we are doing a lot that is sustainable, but we need to find a way to verify that." 
Verification
Tomorrow, hear what Georgia producer Lee Cromley had to say about being randomly selected to go through the verification process. 
Subscribe to receive top agriculture news
Be informed daily with these free e-newsletters
You May Also Like
---