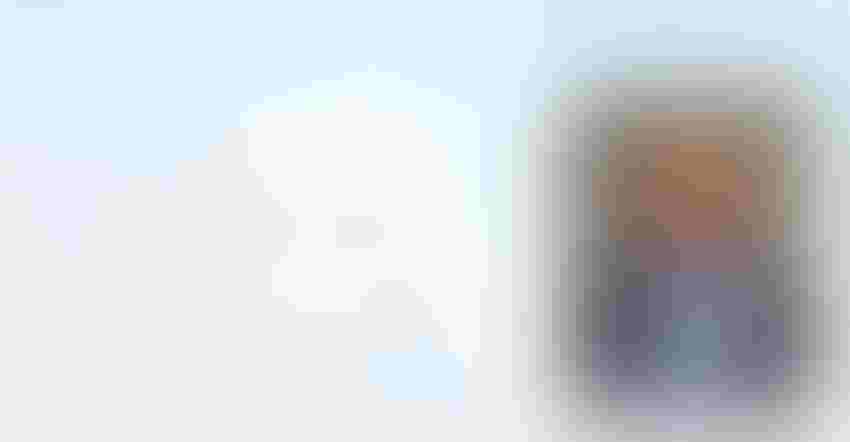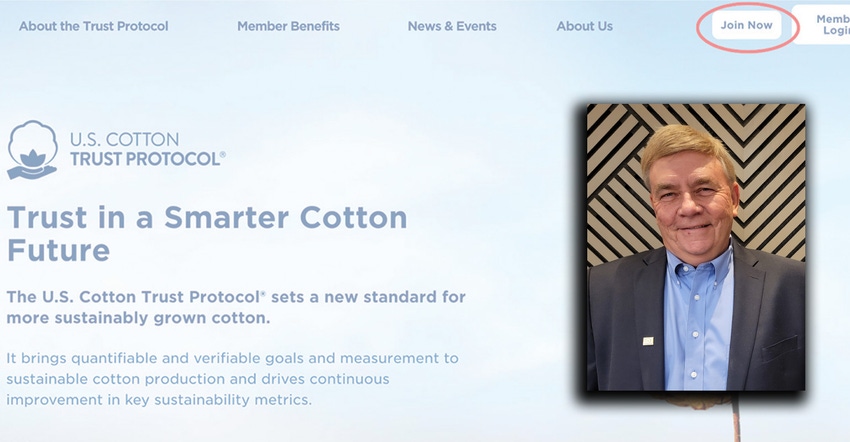 U.S. Cotton Trust Protocol/Shelley E. Huguley
A third-party verification of a producer's sustainable data and practices can be a stumbling block for many when it comes to enrollment in the U.S. Cotton Trust Protocol. But according to Brooklet, Ga., producer Lee Cromley, the verifier who visited his farm clearly noted that the goal wasn't to find reasons not to accept him into the protocol but to help him tell his story in a way that brands and retailers will trust.
"There are those who say this (protocol) is not important to the industry," Cromley told Farm Press at the 2022 Beltwide Cotton Conferences in San Antonio. "I don't think they understand that this is getting pushed on brands and retailers by stockholders. Major companies are saying, we want to have products and a company that is sustainable and viable. So, this isn't something that someone dreamed up. This is something that is getting pushed."
See, Farmer shares reasons he joined Trust Protocol
Cromley, who produces peanuts and cotton, participated in a grower panel at Beltwide. He stressed the importance of production transparency. "Either we take change by the hand or change is going to take us by the throat," he told the crowd.
Enrollment
The U.S. Cotton Trust Protocol, "brings quantifiable and verifiable goals and measurement to sustainable cotton production and drives continuous improvement in key sustainability metrics," according to the protocol website. 
Cromley enrolled in the protocol about three years ago. "To be honest, it was difficult for me to embrace the idea. As growers we are independent and sometimes hesitant to accept new things, and this was new to me."
His enrollment decision took time. It was "a bit of a process," to embrace the idea, he said. "A lot of people I respect kept telling me it was important, and I finally got on board with the idea."
There's been a shift in what consumers want to know about the products they purchase. "It's important that we respond to this changing world. Consumers are changing and change is just a part of life. This is new and different and it's a change in the way we market our cotton and put the cotton out."
Verification
Following enrollment, Cromley was randomly selected to have an auditor visit his farm to verify his information. Initially intimidated, he said the auditor was affirming and insightful.
"It's not in a farmer's nature to open your doors and say, 'Come on in.' It was intimidating," Cromley admits. But the auditor quickly put him at ease. "She said, 'I'm here to help you tell your story. I'm not here to fine you or throw you out of the protocol. I'm here to help make you a better producer.'
"And that's a big part of this," Cromley said. "We're doing so many good things and we can also learn some things we need to improve."
See, Protocol bridges gap between cotton producer, brands 
For example, Cromley, who's been farming for 40 years, said the audit revealed aspects of his farm he'd overlooked, increasing his on-farm safety and efficiency.
"We walked through the shop. I had two fire extinguishers, one at each door. I was right proud of that," he said. "The verifier pointed out that the fire extinguisher wasn't charged."
Then the auditor requested chemical data. "I kind of looked at her funny. My records are on labels. I take the labels off the containers and throw them in a drawer."
The auditor raised the question, "What if something bad happens and you need to have that information right then?" Cromley responded, "Well, I'll go through my drawer and look for the right chemical label. She pointed out a better way to organize the labels, putting them in a notebook in alphabetical order where I could find them quickly.
"It seems like a little thing but it's things that will be good for my farm."
At the end of the day, Cromley said he feels good about what the protocol requires. "This is really important. 90% of the growers I know are already doing most of what's required. That's the good news. We've got a good story to tell. We really do." The verifier's job is to help better communicate that story in terms that build trust across brands and retailers, he said.
"It was important to do for my operation and also for the industry at large. I know that if we don't embrace this change, we may be left out."
The deadline for enrollment is March 31.  To learn more about U.S. Cotton Trust Protocol, click the link. 
Subscribe to receive top agriculture news
Be informed daily with these free e-newsletters
You May Also Like
---