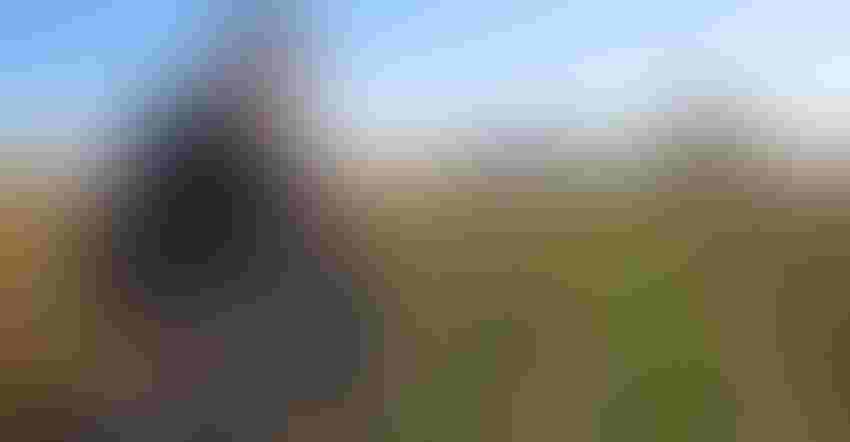 SPREAD THE WORD: "Faster adoption and wider use of water quality practices is needed in Iowa," says Al Schafbuch, a longtime no-till and cover crop farmer in eastern Iowa.
Whether Iowa farmers are moving fast enough in adopting soil and water conservation practices is likely to return as a topic of debate in the 2020 Iowa Legislature. Statewide progress in implementing the Iowa Nutrient Reduction Strategy to improve and protect water quality was the focus of one of the sessions at the recent Iowa Farm Bureau annual meeting.
A panel of experts discussed how Iowa can hasten adoption of no-till, cover crops and other practices to reduce erosion and stem the loss of nutrients from fields into waterways. The statewide Iowa Nutrient Reduction Strategy (INRS) has been in place since 2013 and has relied exclusively on voluntary practices. It has no specific deadline to meet its nutrient reduction goal.
The strategy has a goal of reducing by 45% the amount of nitrate and phosphorus moving into lakes, rivers and streams. Estimates show Iowa reduced phosphorus loads in waterways by 18.5% when data from 1980 to 1996 is compared to data from 2006 to 2010, a 2017-18 strategy update shows. Nitrate loads, however, increased 5.3% between those two periods, the same modeling data shows. New research from the University of Iowa shows Iowa's stream nitrate loads doubled from 2003 to 2019.
Reducing nutrient losses
Those numbers indicate Iowa needs to focus on reducing nitrate leeching from farm fields into waterways, said Matt Lechtenberg, water quality coordinator for the Iowa Department of Agriculture and Land Stewardship. "We need to be using more practices such as bioreactors and saturated buffers that filter the field drainage and runoff."
Water quality legislation enacted in 2017 provides $270 million in cost share over the next decade for projects that filter nutrients and reduce erosion. However, more funding is needed to speed the process of achieving the strategy's goal, as saturated buffers, bioreactors and other permanent practices are costly to install.
Earlier this year, the Conservation Districts of Iowa passed a resolution calling for farmers to be required to leave a 30-foot-wide grass buffer between row crops and streams. That proposal was considered by the State Soil Conservation and Water Quality Committee at its monthly meeting in December, but after much discussion the committee decided to reject it.
Committee members who spoke against the mandated buffer strips said the proposal may have admirable goals but would be difficult to implement. They decided to stay with recommending a voluntary approach to choosing and using water quality practices that are best-suited to individual field situations.
Buffer strips offer benefits of reducing erosion and supporting wildlife but might not reduce the amount of nitrate running underneath the buffer in tile drainage lines, noted Matt Helmers, Iowa State University professor of ag engineering and director of the Iowa Nutrient Research Center. A saturated buffer or a bioreactor is often needed to filter the water coming from drain tile before the water enters a stream or drainage ditch.
More work to do
Two other members of the panel at the Farm Bureau meeting were Shawn Richmond with the Iowa Nutrient Research and Education Council and Adam Schnieders, water quality coordinator for the Iowa Department of Natural Resources. They also emphasized that many more farmers need to adopt water quality protection practices if Iowa's NRS is to reach its goal.
While cover crops often get the most mention, the panelists agreed there are other helpful practices more farmers are successfully using to take on the challenge of improving water quality, including embracing the Four R's of nutrient management; right source, right rate, right time and right place are moving the needle forward. 
The evolution of innovative edge-of-field conservation practices is resulting in double-digit reductions in nitrates and some of those practices weren't even around when the Nutrient Reduction Strategy was put in place in 2013, such as saturated buffers and bioreactors. The panel at the meeting cited the need for the state to complete a baseline conservation survey, which will show the strides Iowa farmers have made in conservation since the 1980s and since the NRS has been established.
Some farmers in the audience voiced concern that if more farmers and landowners don't soon pick up the pace in using water quality practices on their land, more regulations on farming and mandates for using certain practices may be forthcoming.
More farmers need to get onboard
Al Schafbuch, farming near Dysart in eastern Iowa, has been using no-till and planting cover crops for a number of years. He says too many farmers are moving too slowly in adopting conservation practices that would help improve water quality in the state's rivers, streams and lakes. "I don't hear any urgency," he says. "We need to have enthusiasm and encourage farmers who aren't using these practices to get onboard."
With only 7% of Iowa farmland planted in cover crops, for example, "it will take 100 years to get this done," Schafbuch says. "We can't wait 100 years. The public is aware of Iowa's water quality problems and is watching and evaluating the progress. As farmers, we need to pick up the pace. Let's make something happen."
Schafbuch adds, "The conservation practices I use on my farm give me a lower cost per bushel and help my income. The Benton/Tama Nutrient Reduction Demonstration Project I am part of took water samples from one of the tiles on my farm that has been strip-till corn and no-till beans for 28 years, and has used cover crops for five years. The highest nitrate-N concentration number from April to September was 8.91 parts per million, with an average of 6.83 of the 12 water samples they took."
That's a good sign, as it is under the federal EPA allowable limit of 10 ppm for drinking water and it indicates the water quality practices being used on the land are effective.
Others at the meeting also voiced the need for more water quality protection practices and cited the side benefits. "We're convinced cover crops are improving our yields, especially on soybeans," says Jeff Cuddeback, a Washington County farmer. "There's no yield loss. Rather, we are seeing a yield gain and an improvement in soil health."
Trust fund proposal debated
Conservation, environmental and some ag groups want Iowa lawmakers to pass a sales tax increase that could be used to increase the cost-share funding available for water quality initiatives. About 60% of Iowans supported a proposed constitutional amendment in 2010 that would have created a natural resources and outdoors fund. But lawmakers have failed to pass a sales tax to provide funding. Increasing the state sales tax three-eighths of one cent would raise an estimated $188 million annually.
The formula proposed for using the funds is the reason many farmers and other water quality and soil health supporters do not support the proposed tax increase. Most of the increase in revenue would not go for water quality or reducing erosion. The way the proposed spending formula is written, most of the increased revenue would pay for land acquisition by counties and other agencies or groups for parks, outdoor recreation areas and wildlife habitat.
Helmers sees a silver lining in Iowa's late harvest in 2019, which has prevented many farmers from doing fall tillage. "Can we use the challenging fall to our benefit to try something new in the spring?" he asked the audience at the Farm Bureau meeting. "Maybe you didn't get those cornstalks tilled. That's a great opportunity to try no-till beans next year."
For more information, visit cleanwateriowa.org.
Subscribe to receive top agriculture news
Be informed daily with these free e-newsletters
You May Also Like
---