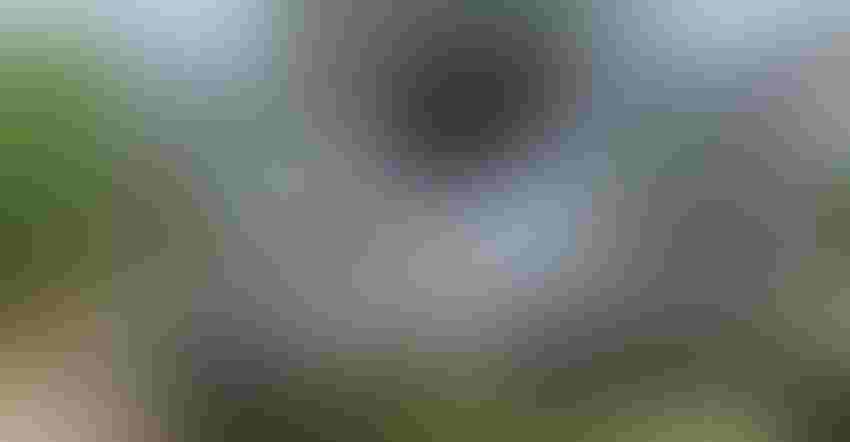 SOIL HEALTH ON MOVE: The southwest Indiana area NRCS Mobile Soil Health Education and Demonstration Unit has already made several stops, including at the Ceres field day near Perrysville.
Tom J. Bechman
Most people learn best by seeing and experiencing new things. They develop a comfort level with new technology or concepts by seeing the results of a live demonstration or watching a piece of equipment operate at a field day. It helps them imagine how something new might work on their farm.
With that in mind, the USDA Natural Resources Conservation Service's area soil health team in southwest Indiana designed and built a soil health demonstration trailer for showing, not just telling, the benefits of healthy soil. Similar trailers exist nationwide, but none of them can check all the boxes on the Indiana team's must-have list.
Jeff Woodward, area resource soil scientist, coordinated the two-year project. "The area soil health team has worked hard to make the Mobile Soil Health Education and Demonstration Unit a reality," he says. "It has already become an integral part of our public outreach to serve the customer, whether it's seasoned, veteran farmers; youth; beginning farmers; or visitors from other countries."
Conservation on wheels
What is a soil health demonstration trailer? First, it's a self-powered, stand-alone unit that can be pulled behind most pickup trucks. With a built-in generator and solar panel system, it can be used in the middle of a 100-acre cornfield or run off a power cord in a downtown convention center. 
It's wrapped in eye-catching photos that each convey a soil health message. When open, the trailer resembles a laboratory complete with a speaker system. Three separate demonstrations can occur simultaneously on each side of the trailer. A huge screen shows videos or real-time camera images to a large crowd. There's a variety of banners and posters, a water tank for demos and cleanup, and plenty of storage.  
The main attraction is the rainfall simulator that folds out from the back doors like a Murphy bed. It can show runoff and infiltration from up to five different soil samples. "For the demonstration, we select soil from different kinds of cropping systems, such as no-till with or without cover crops, conventional tillage, or long-term pasture," Woodward says. 
After it "rains," results are discussed, and sample pans can be turned over to reveal the differences in infiltration rates caused by types of soil, tillage and cover. The conventional-tilled soil is typically bone-dry on the bottom, while the no-till soil is moist throughout the profile.
"That's really the 'aha' moment," Woodward says. "This demonstration never fails to wow the audience when they see how infiltration, erosion prevention and soil biology go hand in hand."
Road show
The trailer was delivered in early August and immediately hit the road for some of the state's largest agricultural events, including southern Indiana's Regional Ag Forum, Ceres Solutions Knowledge Days and Becknology Days at Beck's.  
Dan Hovland, southwest Indiana NRCS-area conservationist, couldn't be more pleased. "This trailer is already so popular, I may need to hire a full-time driver to meet the demand for demonstrations," he says, laughing. "On a serious note, seeing is believing, and having a simple and effective way to show farmers how they can improve their soil's organic matter, productivity, water-holding capacity and resilience to climate extremes is a dream come true."
For more information or to request the trailer for an event, call 765-569-3551, Ext. 111.
Donovan is the NRCS district conservationist in Parke County, Ind.
Subscribe to receive top agriculture news
Be informed daily with these free e-newsletters
You May Also Like
---