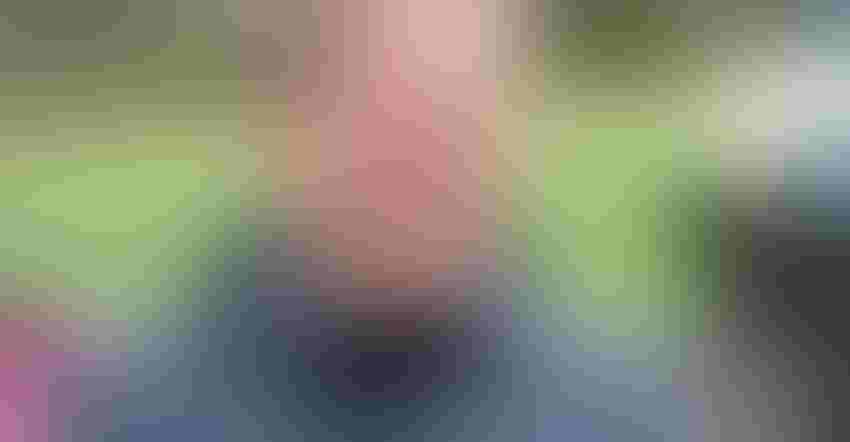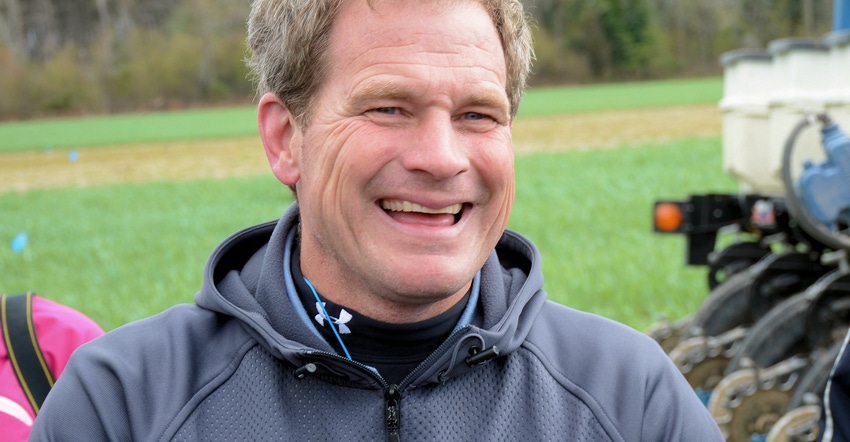 TRENDSETTER: Trey Hill got paid $150,000 earlier this year from Nori, a Seattle startup, who bought 10,000 carbon credits his farm produced. Nori sells these carbon credits on its online platform, which anybody can access and buy credits.
Photos by Mike Wilson
While the carbon farming market is still in its relative infancy, Rock Hall, Md., farmer Trey Hill already has $150,000 worth of reasons to be excited about its future.
That's how much he made selling carbon credits through Nori, a Seattle-based company, whose goal is to create a market for carbon credits, and anyone interested in buying them. 
In the past few months Farmers Business Network, partnering with Poet, along with Bayer and other companies, has started rolling out "climate smart" programs designed to pay farmers to take carbon out of the atmosphere by adopting no-till and cover crops.
Hill, who farms 10,000 acres of corn, wheat, and double-crop and full-season soybeans, has been no-tilling and planting cover crops for years. He enrolled 2,000 acres in Nori's Carbon Removal Marketplace, and earlier this year, the company paid him $150,000 for 10,000 carbon credits his farm produced over five years.
The credits, which Nori sells on its online marketplace, were sold for $16.50 a ton. Nori got a commission of $1.50, so Hill got paid $15 a ton. Depending on the ground and the practices used, Hill says that his land generated about a ton of carbon per acre.
He got involved with Nori four years ago after someone at Granular, the software company he uses for his precision agriculture, told him that Nori wanted to work with a large-scale farmer on no-till and cover crops.
Hill says that it took him two years to get his carbon certifications and he paid a third-party verifier to verify the practices.
All his data from Granular flowed through Nori, which used the USDA's COMET (CarbOn Management Evaluation) Tool to estimate the amount of carbon credits his practices generated.
CHANGING AG'S IMAGE: While the money was nice, Trey Hill says that selling carbon credits has helped to improve his farm's image.
Hill says that it was just a matter of getting his planting dates, yields, cover crop termination dates and other factors into the model, as well as remove any financial information, such as the amount of money he spends in inputs, out of the system.
"If you're cover-cropping and no-tilling, then it's definitely something to look into," he says. "For me, it was a good fit because we do cover crop everything; we no-till everything. So we're already practicing climate-smart farming, and we believe in it heavily. For me, it's been a very positive experience."
Developing carbon market
Farmers Business Network, which recently launched its FBN Gradable program with Poet as a partner, designed its program around providing a single farm-level score to make it easier for buyers to purchase premium low-carbon grain.
Farmers share information on their cultivation practices, including fertilizer, tillage and cover cropping, with FBN, which then processes that information using artificial intelligence, and validates and distills those practices into a single farm-level score. Participation requires an FBN membership, which is free. According to FBN, the farm-level score is the only information shared between Gradable and prospective buyers.
Steele Lorenz, the head of sustainable business for FBN, says that the program will likely have a couple hundred farmer participants by next year and possibly a few thousand by 2022.
"Grain buyers offer premiums directly to growers to win their premium grain. Your score depends on how efficient you can be with inputs while maximizing outputs. This means that whether you are reaping the rewards from years of conservation tillage practices or just starting out with precision nitrogen program, there is room for growers at all levels to participate," Lorenz says.
Bayer's Carbon Initiative, which requires a subscription to FieldView Plus, has 1,200 farmers participating thus far — in the U.S. and Brazil. Farmers will be planting cover crops and adopting no-till on their acres this fall. Using remote sensing to verify the practices, the farmers will be paid a flat rate based on the amount of carbon those practices have removed from the atmosphere.
Andrew Knepp, head of environmental strategy and industry activation for Bayer, says the project started several years ago and is launching first in the Midwest. Having the ability to remotely verify practices, including publicly available satellite imagery, was crucial for the program to launch, he says, because getting people to go to each farm is expensive and time-consuming.
"So, we're really just asking the farmer to point us in the direction of where's the field, show us the boundaries. We're connecting with them digitally on that," he says. "We want to see those two types of practices [no-till and cover crops]. Those are what we've identified in the previous work that we've done as being practices that we know and can quantify carbon sequestration."
Science is guiding the program, he says. Carbon registries like the Greenhouse Gas Protocol have established the protocols for amount of carbon sequestered.
"The ultimate challenge in this space is the volumes of carbon that can be generated in an agricultural setting are not necessarily huge in the sense that there is a carbon market. The value is not particular high," he says. "And so what we've looked at is finding a way to scale this work."
Cover crops and no-till can both sequester about sixth-tenths of a ton of carbon per acre, he says. So while that might not be lucrative enough for a single farmer or buyer, putting a lot of farmers and farm tracts together might entice more people to participate in the market.
Good for agriculture
Being one of the first farmers out of the gate, Hill has his own opinion on the carbon market.
"It's an egg and chicken-type market. You know, do you build the market of supply or do you build the market of demand? And right now, everyone is struggling with that," he says.
And not everyone will be sold. Will someone who does conventional tillage and produces a lot of grain think that $15 an acre is enough to switch to no-till? Maybe not.
He's also reluctant to use all his own acres in the program. He's only a hurricane away from flooded fields with ruts, he explains, and he wants to keep his options open in case Mother Nature alters his future farm plans.
The money he got was nice, though. He used it to purchase a roller crimper for his cover crops, as well as other implement attachments.
Participating with Nori, he says, has also improved his farm's image.
"It takes away that anti-farmer sentiment, puts us in a positive light, and I think that's good for agriculture as a whole," he says. "Based on what it's done for me and how it makes me feel, I think it would be good for agriculture as a whole."
Subscribe to receive top agriculture news
Be informed daily with these free e-newsletters
You May Also Like
---