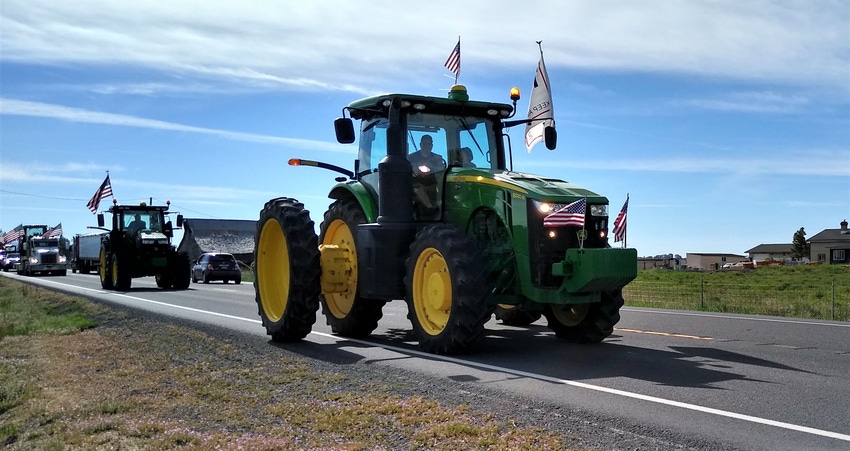 A tractor convoy was held in May 2020 to protest water cutbacks in the Klamath Basin. This year, a rapidly worsening drought has prompted the Bureau of Reclamation to cut its Klamath Irrigation Project water allocation to zero.
Tim Hearden
With an extreme drought in the West that's seemingly worsening by the day, the U.S. Bureau of Reclamation announced May 12 it will reduce the Klamath Irrigation Project's already minuscule initial allocation of 33,000 acre-feet to zero.
The project's "A" canal, which normally carries water to some 200,000 acres of farms in Southern Oregon and Northern California, will remain closed for the 2021 season. Deliveries were previously set to begin June 1, two months later than normal.
Agency staff were seen lowering concrete bulkheads into the canal's headworks early Wednesday morning, cutting its fish screen off from Upper Klamath Lake and preventing any water from entering the canal, the Klamath Falls Herald and News reported.
"The first water delivery from the A Canal was in 1907. This is the first year ever it will deliver zero water," Paul Simmons, executive director of Klamath Water Users Association, told the newspaper.
Reclamation also announced that a Klamath River surface flushing flow for salmon will not be implemented this year. Agency officials said hydrologic conditions have worsened since the initial allocation was made; a May 1 Natural Resources Conservation Service forecast for Upper Klamath Lake inflow at 85,000 acre-feet below what was reported on April 1.
Related: Newsom expands drought emergency to three key watersheds
Office of Gov. Gavin Newsom
"This year's drought conditions are bringing unprecedented hardship to the communities of the Klamath Basin," said Reclamation Deputy Commissioner Camille Calimlim Touton. "We have closely monitored the water conditions in the area and the unfortunate deterioration of the forecasted hydrology. This has resulted in the historic consequence of not being able to operate a majority of the Klamath Project this year.
"Reclamation is dedicated to working with our water users, tribes, and partners to get through this difficult year and developing long-term solutions for the basin," Touton said.
A troubled region
The shutoff is just the latest saga for a region that has endured endless water conflicts in recent decades, as farms, endangered fish, local American Indian tribes and downstream fishing businesses vie for limited supplies.
Dry conditions have spread rapidly throughout the West this spring amid what the National Oceanic and Atmospheric Administration has called the most significant U.S. spring drought since 2013, affecting an estimated 74 million people, after much of the region endured its second straight drier-than-normal winter.
Related: Klamath Basin faces more water cutbacks amid drought
Reclamation's announcement came two days after California Gov. Gavin Newsom on Monday significantly expanded his April 21 drought emergency proclamation to include Klamath River, Sacramento-San Joaquin River Delta and Tulare Lake Watershed counties. He initially declared a state of emergency in Mendocino and Sonoma counties due to severe drought conditions in the Russian River Watershed.
In total, 41 counties in the Golden State are now under a drought state of emergency, representing 30% of the state's population.
To help mitigate the impacts of this year's historic low water supply, Reclamation has previously committed $15 million in immediate aid to project water users through the Klamath Project Drought Response Agency, the bureau notes. An additional $3 million in technical assistance will be available to tribes for ecosystem activities in the Klamath Basin. These efforts supplement additional funding provided by Reclamation and other Department of the Interior bureaus.
The distribution of drought relief funds is expected to begin next month, officals said. The USDA has also previously announced funding for Klamath Basin drought relief efforts.
The Klamath Project 2021 Temporary Operations Plan is available at https://www.usbr.gov/mp/kbao/.
Subscribe to receive top agriculture news
Be informed daily with these free e-newsletters
You May Also Like
---