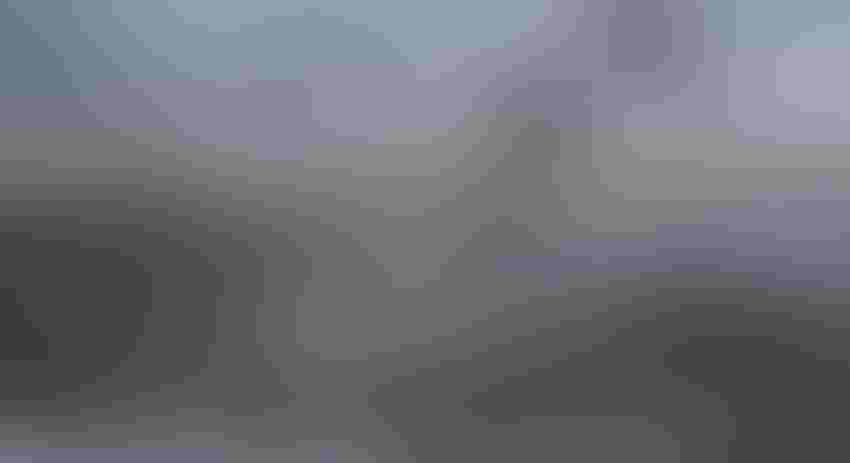 Junipers on a hillside are controlled through chaining.
Nate Long
Western juniper is a native shrub that grows to tree size, thriving in the Great Basin, which spans most of Nevada, much of Oregon and Utah, and portions of California, Idaho, Wyoming, and Mexico.   
In recent decades, hardy junipers have been dominating vast areas, crowding out other plant species.  Large populations of juniper can negatively impact sage grouse habitat and diminish sustainability of grazing land.
The goal of many rangeland managers has been to restore ecologic balance.  Juniper removal on the Modoc National Forest in California, for instance, is part of an effort to improve sage grouse habitat, but there are many other ecological benefits resulting from removing the encroaching juniper stands.
These trees pull more water from the ground than the surrounding vegetation does, leaving less moisture for the other plants. With loss of understory vegetation in juniper woodlands, there is soil loss and erosion during intense rain storms. They outcompete most other plants; with their efficient root system they consume a lot of water that would have helped the survival of other plants.
Effect on watersheds has been noticed; with increased demand for water by juniper, combined with several years of drought in Northeast California, many springs and streams have dried up.
Removal projects
Kyle Sullivan, District Manager, Soil and Water Conservation District, Grant County, Ore., says there were government projects in earlier years to help ranchers remove juniper; there was funding for mechanical removal—sawing the trees, piling and burning them.  "Logging crews brought equipment to take out the trees, with hand-labor follow-up for the smaller trees," Sullivan said.
Loggers piled the trees, and after they dried out the landowners burned the piles during winter when there was no risk of fire danger.
"Our Soil and Water Conservation District received grants to try to control juniper with herbicide.  A dozen years ago we did an experiment, cutting incisions into the trunk with a chain saw, then squirted herbicide into the trunk with a spray bottle. But juniper is so bushy that it is difficult to get to the base of the tree," he said.
The crew tried different herbicides and different concentrations. It was effective for killing the trees, but the time and labor involved didn't pencil out, economically.  The Forest Service preferred that method, however, because it left the dead trees standing and didn't tear up the ground or disrupt surrounding vegetation.
A landowner might choose this method, to kill some of the larger trees and keep them from reproducing, but dead trees on the range might be fuel for wildfires.
"If standing trees are limbed high enough, a grass fire might quickly burn through underneath, but many junipers have low branches under the duff which could raise the fire higher off the ground and into the tree itself," said Sullivan.
Junipers proliferate
"We left a few trees on the landscape to provide shade for livestock and wildlife, but they had to be trees with no berries (seeds).  Juniper trees have genders, and some can have both male and female characteristics.  If a tree isn't producing berries it doesn't spread seeds," he explained.
"We also learned the importance of maintenance after trees are cut/piled/burned, because the seed source is still there."  The seeds are viable for years, to produce new seedlings.  The problem will re-emerge if you don't keep after it.
"After you cut them down you may get a new flush of young trees in 7 to 10 years, but you can do periodic controlled burning or remove the young ones, or use herbicide and eventually get rid of most of them."            
Junipers are tough and hardy, with high survival rate.  If they take over a range or watershed, they can be detrimental.  "Research is still ongoing in central Oregon, looking at the effects of hydrology, and how a canopy of juniper can keep snow from coming to the ground.  This watershed study is providing new information; we realize what an aggressive root system they have.  If there is a high population of junipers, they have a negative effect on the watershed," he said.
Herbicide pellets can be used for juniper control. Wilburn Ranches in Oregon started using chemical control of juniper invasions on their range pastures a few years ago, with good results. They took photos of trees afterward, showing how it killed them.
Label directions suggest putting one tablet on the ground in the drip zone of the juniper if it is 3 feet tall.  For every additional 3 feet, you add another tablet-- up to about 10 feet of tree height.  The pellets can be applied when moisture is sufficient to dissolve them.  The smaller trees tend to die all at once and the larger ones die by degrees until they completely brown and dead.
Cost per tree for this method is lower than using chain saws or heavy equipment, but the herbicide pellets may need to be repeated every 3-4 years to keep juniper contained.  This is another option for people who don't want to mechanically remove and then burn them.  Ranchers can hike around and distribute the pellets, or do it from horseback while checking cattle, tossing pellets around the outside edges of the junipers. 
Chains and excavators
Sullivan said one method still used in some parts of the West is chaining.  An old ship anchor chain (with huge, heavy links) is secured between two big Cat tractors to mow down the trees.  The heavy chain pulls on the trees and uproots them.
Another method is to tip the juniper tree over with the boom of an excavator.  The machine can then grab it, pick it up and shake the soil off the roots so the trees can be piled easier.  It costs more for this method but has the advantage of uprooting the trees without much damage to the surrounding terrain.  "A machine can also be used to pile them and clean up the area afterward.  This way you get some of the smaller branches that are underneath the soil; they pull up with the tree roots," he said.
"This is probably one of the more expensive alternatives but leaves a cleaner site.  Depending on your goals, budget, and equipment, one method may be more attractive than another."
In his region many ranchers use chain saws and cut down the larger trees, then go back later to get the little ones—and pile them all up with machines. 
"We try to keep abreast of research that keeps evolving on the impacts of these plants, and how to deal with them.  Oregon State University has published a number of guidelines with advice on managing western juniper," Sullivan said.
Subscribe to receive top agriculture news
Be informed daily with these free e-newsletters
You May Also Like
---