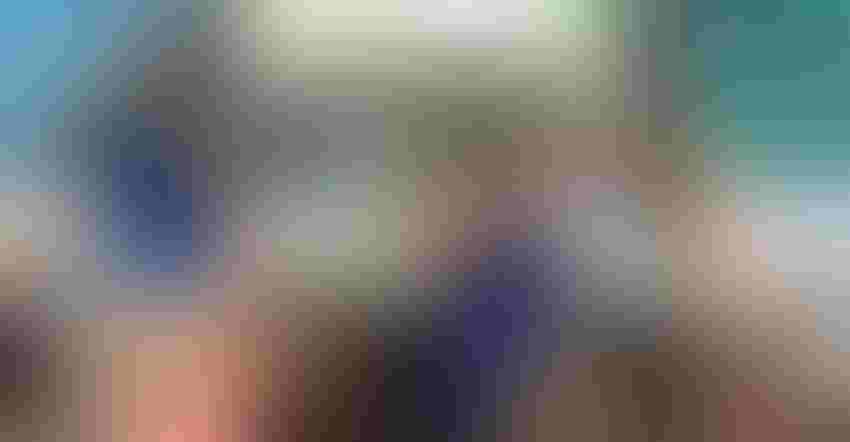 ROAD SHOW: Ann Staudt developed the Conservation Station trailers, which bring visual learning to kids in schools, as well to farmers at field days throughout the state.
Iowa Learning Farms, the award-winning statewide conservation and water quality education and outreach program at Iowa State University, celebrates 15 years of service to Iowa in 2019.
Established in 2004, ILF is building a Culture of Conservation by encouraging adoption of conservation practices.
Farmers, researchers and ILF team members are working together to identify and implement the best management practices that improve water quality and soil health while remaining profitable.
Ann Staudt, ILF assistant manager
Ann Staudt joined the Iowa Learning Farms team in 2009 and continues to be an integral member of the organization and its leadership. Staudt has been instrumental in the creation, development and growth of the Conservation Station trailers, as well as contributing her musical skills to various video projects and the award-winning Water Rocks! youth education and outreach program. Here is a recent interview of Staudt, conducted by the ILF staff.
What has been your role with Iowa Learning Farms? My involvement with ILF has evolved and grown over time. Immediately after joining the team, I was tasked with "doing something exciting with this new trailer." It was truly a blank slate! From this broad plan, I applied my background in science, engineering, art and education to help create the Conservation Stations.
I certainly didn't do it on my own, but as the team brainstormed new ideas and suggested different elements, I shaped things from proverbial lumps of clay into what I think is an effective, unique and visually engaging learning and teaching tool for natural resources and water quality education.
As a part of the ILF management team, I wear a lot of hats, from coordinating the internship program and field data collection, to producing visually engaging infographic-style publications and managing communications with ISU Extension. You'll also find me out and about speaking at conservation field days across the state, covering topics ranging from bioreactors to cover crops and earthworms (I've been dubbed "The Worm Whisperer" on more than one occasion).
What is the mission of ILF? ILF provides a structure and mechanism to create and curate conversations on the ground with and between real farmers and landowners, bringing key parties together to build bridges between technical approaches, scientific research and farmers operating their businesses.
Our field days and workshops provide an excellent opportunity for farmers and landowners to learn from one another about the best ways to integrate soil health and water quality practices into their day-to-day farming operations.
How did you change the program, and how did it change you? One of my favorite contributions to ILF was the idea for The Conservation Pack, using dogs to tell conservation stories. Through The Conservation Pack, we deliver messages about conservation and water quality in a way that's fun and accessible for kids, to get the next generation excited about the amazing natural resources around us. It provides ways for children to get involved, and we even created a special display in the Conservation Stations centered on the conservation dogs.
Whether working on the Conservation Stations or working with the team to develop messaging and content, I like to bring the creative out-of-the-box approaches to how we communicate issues, practices and solutions. The Conservation Stations are a key example of developing a comprehensive approach to communicating conservation topics and issues. Integrating visual arts and music into projects has afforded me the opportunity to bring my love of these media into our work as well.
I like to think my enthusiasm for teaching and learning comes through in all our efforts, whether that be with farmers at a field day or with fifth-graders in the classroom.

RAINFALL SIMULATOR: Today three Conservation Station trailers are equipped with displays to help ILF staff explain water quality and conservation issues, and illustrate best management practices.
Between 2009 and 2012, ILF received a growing number of requests for youth programming [school presentations and outdoor classrooms], while at the same time, Iowa's soil and water conservation district commissioners were asking, "Who is educating the next generation on these issues?" The plan for Water Rocks was hatched, funded and executed at this time, and is now Iowa's premier youth water education program, in great demand across the state.
Through ILF, I've had the pleasure of working with an amazing group of farmers, partners and experts, learning about what they are doing and why. Seeing the learning going on, and being a part of change, has had an impact on my life and career, and helped me reconnect with my family farm roots. Learning and seeing others learn has been a great inspiration that I attribute to being a part of ILF.
What are your fondest memories of working with ILF? It's hard to pick one. It's a work in progress and every day could bring a new favorite, but there have been some exciting milestones.
Launching each of the three Conservation Stations have been significant points of pride for me and the program. With the launch of the Conservation Station "On the Edge" in 2018, I felt we took a huge step forward in diversifying our educational reach in direct response to Iowa's Nutrient Reduction Strategy and the push for specific practices to address nitrate loads and water quality.
I also learned so much and loved working with Cecilia Comito on the Hope for Iowa mixed media murals and messaging in the relaunch of the Big Conservation Station in 2018.
Something that refuels my energy each year is seeing the growth and transformation of our summer interns. Watching these college students learn — watching the lightbulb come on in their eyes — and seeing their ability to communicate their knowledge grow with each encounter fills me with hope for the future of ILF, Water Rocks and Iowa.

REACHING YOUTH: Staudt (center) came up with the Water Rocks! program to help educate the next generation on conservation and natural resource issues.
Why are water quality and conservation outreach important to you and to Iowa? Outreach is critical because we can't change hearts and minds with science alone. Outreach puts a human face on the science and helps people absorb the message and understand their role in promoting and driving change. Iowa has amazing natural resources and it's important to help every person — rural or urban — understand they can have a positive impact on the environment.
The state must also continue to nurture and maintain its natural resources to attract and retain Iowa's human capital. Parks, rivers and streams, and clean water are key contributors to quality of life in both urban and rural communities.
If you could look 15 years into the future, what one thing would you like to see as a result of ILF activities? Ultimately, I'd like to see tangible and substantial strides toward our Iowa Nutrient Reduction Standards targets. There has been progress in the first five years of the strategy, but I'd like the achievement of the standards to be the legacy of ILF. We may not be all the way there in 15 more years, but I hope we will have really moved the needle, and ILF was instrumental in inspiring people to do so.
Source: ILF, which is responsible for the information provided and is wholly owned by the source. Informa Business Media and its subsidiaries aren't responsible for any of the content contained in this information asset.
Subscribe to receive top agriculture news
Be informed daily with these free e-newsletters
You May Also Like
---