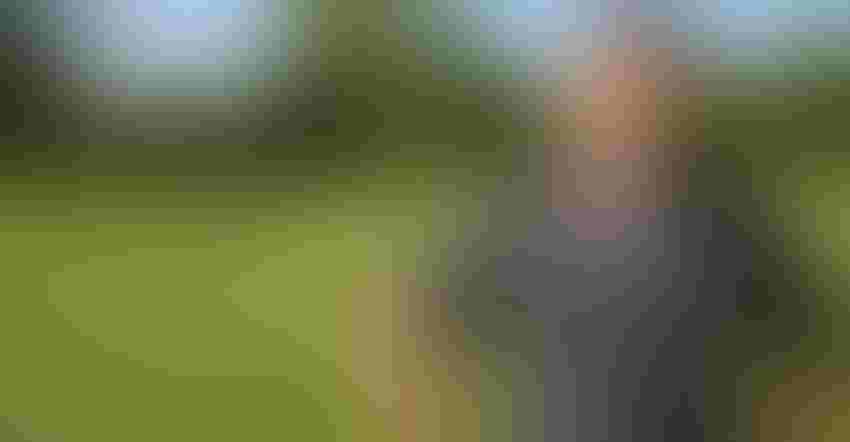 GETTING A RETURN: Adam Brown says his family's pasture isn't as useful as it was in the '80s, when they raised livestock. By converting 3 acres into pollinator habitat as one of his Conservation Stewardship Program practices, he nets $1,078 a year over five years from NRCS.
Austin Keating
Adam Brown wasn't sure about cutting back fertilizer on his family's 1,000-acre farm in Decatur, Ill. Without local data, that was a gamble.
But it turns out, there's a less risky way for him to get that kind of data. Last year, Brown enrolled his entire farm in IL Corn's Precision Conservation Management program. In both 2019 and 2020, he cut nitrogen rates according to University of Illinois' calculator for maximum return to nitrogen, or MRTN.
Farmers in the program who switched to MRTN were saving money on fertilizer bills while achieving similar yields.
The PCM data entry service is provided to farmers in 16 Illinois counties, paying them $500 their first year and $250 their second year for supplying data that is then anonymized and analyzed to help improve the bottom line of Illinois producers. No financial information is required, as PCM uses Farm Business Farm Management county averages for financials. PCM issues reports based on the now 6,000 corn and soybean fields that have joined the program and how they compare with a farmer's enrolled fields.
Brown himself cut his N application on corn down by about 30 pounds an acre to 200 pounds in 2019, saving $17 an acre while still averaging 219 bushels. B&B Farm's three-year average production history leading into 2019 was 216 bushels per acre.
"That was a huge cost savings for our farm operation. It started us on a journey," Brown says. "With $3 corn, it would probably make sense to pull it back even further. But we have to analyze all the factors and take a look at what input costs are like next year. We didn't want to make too extreme a change in one year."

PRIORITIES: Adam Brown cut his nitrogen application on corn by about 30 pounds per acre, saving $8,500 every year. In 2019, yield still averaged 219 bushels per acre. The farm's three-year average production history leading into 2019 was 216 bushels per acre.
Before joining PCM, Brown had already been no-tilling ahead of soybeans for 15 years and recently started reducing tillage ahead of corn to one pass — both strategies PCM data shows are popular on Illinois' most profitable farms. Brown says removing three tillage passes ahead of planting soybeans — stalk shredding, chisel plowing and field cultivation — saved him at least $30 an acre on fuel and equipment fatigue.
Brown says the most valuable part of PCM is in helping him trim costs. "Given the farm economy, and my role buying out my uncle and my father recently, I have got to pinch pennies anywhere that we possibly can," he says. "I was essentially willing to try anything so long as we focus on survival of the farm enterprise, so PCM seemed like a good fit."
Following MRTN
PCM tracks efficiency scores for farmers, and PCM specialist Clay Bess says he works with growers to raise them. Bess serves Coles, Douglas, Edgar, Ford, Vermilion and Champaign counties. He also is a precision conservation specialist at the Champaign County Soil and Water Conservation District.
"I'll talk with some guys, and if they're not being efficient with their nitrogen, I'll say, 'Here's this one field that's been bad for three years in a row. Let's drop it there 10 to 15 pounds and see if we can get that efficiency score up.' And they're usually willing to do that," he says.
"I've got growers who are only putting on 175 pounds of nitrogen, and they're raising 220-bushel corn, which is incredible," he says, adding efficiency scores are calculated by taking the amount of nitrogen applied and dividing it by bushel per acre. He says the standard 1.2 pounds of nitrogen per bushel of corn promoted in agronomics decades ago is outdated.
"I will say, some farmers are reducing rates on their worst field, but I'll let them increase rates on their better field, if it's not going to hurt much, just for them to see the data and where their own experiments lead them," Bess says.
Matt Foes, a farmer in Bureau County who holds a master's degree in weed science, says he uses a rate higher than the one MRTN recommends, with 0.85 pound per bushel of expected yield. He says he'd use more if he front-loaded his corn with anhydrous ammonia, but since he applies 75% during sidedressing, he doesn't have to account for the losses from early spring rains.
"I use timing and placement to get away with a lower rate, but my overall rate is higher than what they would suggest for soybean stubble, just because my yield goals are higher," Foes explains. "I tried to go down to 0.8 before and started noticing my corn running out of nitrogen. There's still weather where we don't know what's going to happen after sidedressing. So you have to have a little bit of cushion, and 0.85 pound gives me that cushion."
Opening doors
Brown says while money he got from PCM was welcome on his farm, more significant returns come from the savings PCM has opened his eyes to.
"It turned out, it was saving us a lot more than $1,000," Brown says. "It's more paperwork, for sure. But by getting into PCM, you get better analysis of what you're up against and where your threats and opportunities are for your farm." He adds that joining PCM in 2018 helped him line up all the details he needed to enroll in the Conservation Stewardship Program with PCM's partner, the Natural Resources Conservation Service.
"I've heard of a lot of enrollment hassles with CSP. And I definitely lived through it myself," Brown says, referencing two failed attempts at enrolling in 2017 and 2018 because he didn't get critical paperwork in by the due date. Enrolling in PCM ensured he had all the right paperwork in time for applying again for the 2020 season.
He has continued with some CSP activities, where he is paid for adopting practices such as tissue sampling for potential sidedressing applications early in the season. CSP also pays for cover crops on a portion of a farmer's acreage, leading Brown to start a 40-acre trial with winter-killing cover crops that netted out to almost zero cost. He's also put 3 acres of pasture into the pollinator component of the Conservation Reserve Program as one of his five required practices through CSP.

MILKWEED: Adam Brown scouts his pasture-turned-pollinator-habitat with his kids and dogs when he can. He says dozens of milkweed plants are getting ready to flower this season.
"I just put in 25 applications for first-time CSP guys when the deadline hit. That's one of the goals here — to get farmers from PCM to CSP eventually," Bess says.
Counties along the Illinois River are emphasized in PCM thanks to the availability of funding to improve water quality there. Other areas with grain elevators whose buyers have adopted conservation and sustainability goals are also represented in central Illinois.
Incentives such as a $10 reward per acre for first-time cover crop users in certain counties, as well as a $30-an-acre strip-till bar for trialing on a portion of a farmer's acreage, are offered through partners like Pepsi, ADM, NRCS and The Nature Conservancy.
Dave Fulton, PCM specialist for Piatt, Macon and DeWitt counties, says the program shows no-till is the most cost-effective strategy for low-performing soil in Illinois, while highly productive fields achieve the best profit, minus expenses, when strip tillage is deployed.
"The biggest barrier for strip till is that it's a big investment," Bess says. "That's why working through CSP and having a custom applicator do that on one of your fields, or using our strip-till bar if you're within a 50-mile radius of Ivesdale [Ill.], can be a good entry point for a farmer. And PCM will keep track of that field's progress against your other fields, as well as everyone else's."
Brown says that through contracting with Nutrien, he's sampling his soils and applying variable rates of diammonium phosphate, or DAP, and potash fertilizer,
"That's saved some money. We're putting less on, but we're putting it where it needs to go," he concludes.
Subscribe to receive top agriculture news
Be informed daily with these free e-newsletters
You May Also Like
---