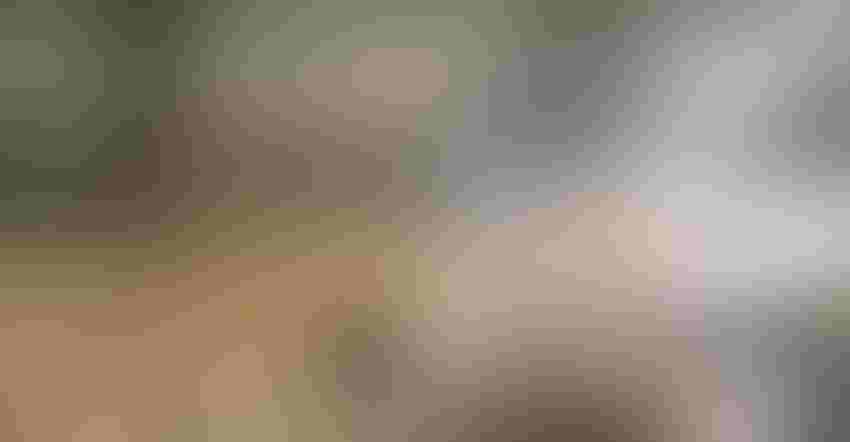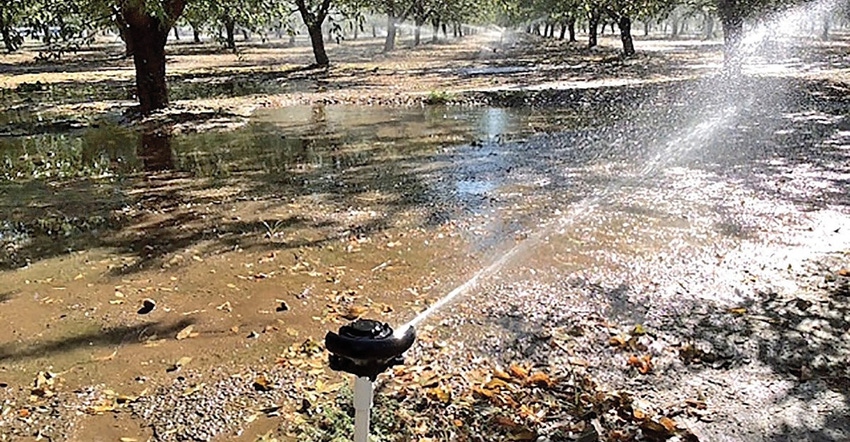 Growers can adjust their strategies for irrigating orchards based on available water supplies.
Blue Diamond Growers
When English poet Samuel Taylor Coleridge penned the Rime of the Ancient Mariner in 1798, the line "water, water everywhere, nor any drop to drink" referred to an ocean with too much water.
In California's 21st century agriculture, that line requires a massive revision as water is now categorized as not enough of it and too expensive when you can find it.
But find it they must in order for growers to keep tree nut orchards healthy and productive.
Among the archives of David Doll [The Almond Doctor] are numerous references of the importance of slaking nut tree thirst. Among the articles is one that notes: "After the hustle of harvest, post-harvest irrigation is critical for maintaining next year's yield." Backed by three decades of research, the post-harvest period (identified as August-November, weather-dependent) has been identified as the primary development period that impacts the following year's crop."
That particular report on Post-Harvest Management of Water Demands cited research showing "the first eight inches of water applied during the post-harvest period is the most critical water applied to maintain orchard yields." There's factual back-up that water shortages during almond floral bud differentiation leads to less energy being directed at creating next year's flowers and that means less in the way of both flower quality and quantity leading to an overall reduction in crop load.
"From a survival standpoint," Doll reports, "almonds are relatively tolerant to drought (although) both in-season and future yields are impacted when water applications are reduced.
"While nut set is unaffected, in-season reductions result in minimal growth, increased shrivel, and reduction in kernel size and weight. Moderate-to-severe deficits will also affect next season's crop loss. Field observations suggest that water shortage in a given year will have a greater impact on crop yield the following year — in the ratio of a one percent reduction in Year One water application representing a 2% reduction in Year Two crop. And it will take two years of full irrigation to return to the orchard's production potential."
Management suggestions
The University of California also offers a few suggestions concerning irrigation management for almond trees under drought conditions. Included in their summary of research on the subject is development of a deficit irrigation strategy that includes soil-stored moisture, in-season rainfall, and applied irrigation water.
Using the southern Sacramento Valley as an example, they report: "Conventionally-spaced mature almond trees use between 41-44 inches in an average year of unrestricted water use, more perhaps in high-density orchards of those with cover crops. In the southern San Joaquin Valley, normal use is even higher, between 50-54 inches."
Keeping that factor of 'tree stress' in mind, the UC researchers suggest that there are various approaches growers can take to manage limited water supplies depending on what types of irrigation are in use. They call them a moderate water stress strategy, followed by a more severe strategy, concluding with a "Staying Alive" drought strategy.
In the moderate category, you use what you've got, running irrigation time and/or intervals to obtain the desired percentage of irrigation reduction in applied water with best results achieved when applications occurred at a uniform deficit rate. Deficit irrigation rates of 70% and 85% reduction showed little yield loss across the season. Recommendations included using pressure chamber readings to irrigate when midday stem water potential reached a pre-determined threshold stress level.
The more severe strategy involves reduction of seasonal tree water use by 50% and imposes early stressors as well as mid-to-late season, i.e., early spring irrigations are withheld until trees reach a midday stem water potential of 12-14 bars.
The 'Staying Alive' strategy is seldom used and only to keep trees alive with about a foot of applied water.
The most universally used method involves praying for rain.
About the Author(s)
Subscribe to receive top agriculture news
Be informed daily with these free e-newsletters
You May Also Like
---