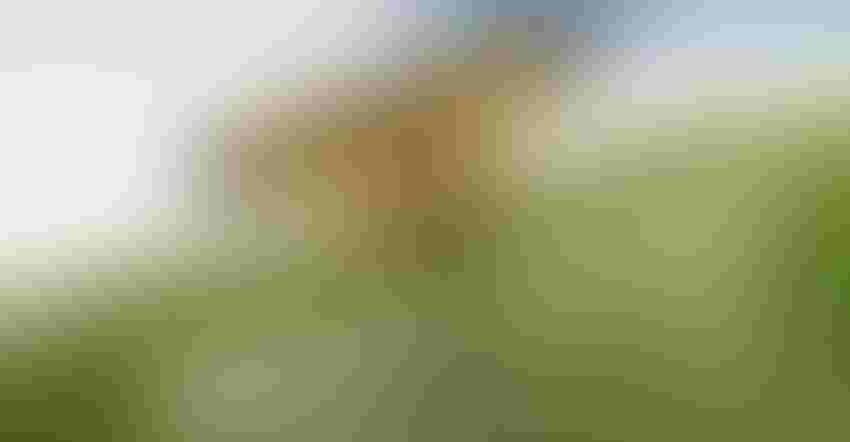 PRECISE DRONES: One area Fall Line Capital has invested in is drone sprayers, and in particular, developing precision drone application technology to eliminate applications in sensitive areas.
Maciej Frolow/Getty Images
Scott Day, agronomist, farmer and director of capital for Fall Line Capital, has his finger on the pulse of top trends in innovative and sustainable farming methods.
He is also a partner at Treelane Farms, his family-run grain farm in Manitoba, where he spends half the year. During winter, he works at Fall Line Capital in San Mateo, Calif.
Day describes Fall Line Capital as an organization that "implements innovative, sustainable, and profitable farming methods and management on various agricultural properties across the U.S. In addition to acquiring and managing farmland in the U.S., Fall Line also invests in and supports leading ag technology startups across the globe."
The private equity firm owns or manages farmland in the Pacific Northwest, the South and Wisconsin, "mainly because that is where we found the best opportunities. We do not invest in farmland outside the USA, but we can invest in ag technology anywhere on the globe," Day says, adding that at any time the firm is working with 70 to 80 different farmer-partners.
So what trends in the regenerative and sustainable ag space does Day see in farm country? Here's what he had to say:
Regenerative agriculture can mean a lot of things to a lot of people. What regenerative ag principles or practices is Fall Line Capital investing in?
We have a long history with conservation ag and maintaining topsoil where it's supposed to be. Whether those fit regenerative or sustainable, that's great, but it's not as important as to what we're actually doing: managing or putting together management plans for farms that manage the topsoil. Regenerative agriculture came about as a practice through the groups in South Dakota, but with the diverse landscape and environments we're working in, you have to take pieces of what makes that successful and apply it. Regenerative agriculture isn't a term we use a lot ourselves as it's an evolving definition.
What on-the-ground trends are you seeing on farms you are working with?    
We did see a great interest in cover crops, which is tapering off. We're looking at different plants to plant through winter that you can make money off. Canola, winter peas and other winter crops work well. The biggest obstacle has been market opportunities. It will be a chicken-and-egg thing.
There is a future where the land would sit idle. These crops are harvested early and will have less impact on the summer crops. We're trying to work through where we market these crops. I see these having a significant opportunity. Having a cover crop that makes you money would be a huge improvement.
The other trend of reduced till or no-till has plateaued, but you have some new advancement in seeding or implements where it wasn't adopted where it could work with vertical tillage and better penetration. When I was first involved with no-till. we had reduced till, but we weren't no-till.
Are you working with any farms in the Northeast or the mid-Atlantic?
No. Our fund is to purchase farmland, develop it to its full potential and lease to local growers. We don't lease farmland for ourselves. We've looked at farms in upstate New York and Pennsylvania, but it's hard to make a cash flow work. It's hard to buy a farm and make a return on investment compared with the other areas. In heavy population areas, you have a lot of urban pressure, industrial use pressure. That's why we focus on areas not near large urban centers.
What on-the-ground practices show future promise?
We've invested in drone sprayers. If you're going to preserve border trees or sensitive areas, it's hard to do with an aerial application. Mud and so on don't always work for a ground application. A precision drone application where you can eliminate application to sensitive areas, that's important to us. It can be a very efficient way to apply sprays.
There are a number of new possibilities for pesticides to be created from proteins that are relatively inert in the environment. We're investing in a company that's making pesticides with protein peptides. These will be pesticides that are very effective on their targets and will have no impact on anything else.
You can kill a Colorado potato beetle with their first product without any impact on other insect. With peptides' unique proteins, they could be developed for fungicides. You're going to see a revolution as to how crop protection products are created and how they interact with the environment.
The trend is crops that have distinct health benefits that didn't exist before and can be developed relatively quickly so it's not expensive. You're silencing genes that are a problem or expressing genes that offer a positive attribute. It's much more specific and targeted.
We've invested in Ukko in Israel. They've discovered a way to make safe gluten, so if you eat bread made from safe gluten, it has the wonderful sensation of regular wheat, but no sensitivity for those with gluten allergy or celiac disease. It's done through Crispr, so there's no introduced genetic material.
We have also invested in Benson Hill that has a (ultra-high-protein) line of soybeans. That will help with some of the plant-based food requirements that are just exploding, and in the aquaculture world where fish need a lot of protein.
We've invested in Mazen. They've created a vaccine for PED virus in swine that is grown within corn. It's GMO corn, but the corn itself is the vaccine. This is their first disease they're targeting where we led the investment to get this to market. It's just corn. You don't have to refrigerate or inject it. The sow passes the immunization on to the piglets. The sky's the limit for this new way to modify corn to create antigens.
Sergeant writes from central New York.
About the Author(s) Deborah Jeanne Sergeant writes for the American Agriculturist from central New York.
Subscribe to receive top agriculture news
Be informed daily with these free e-newsletters
You May Also Like
---