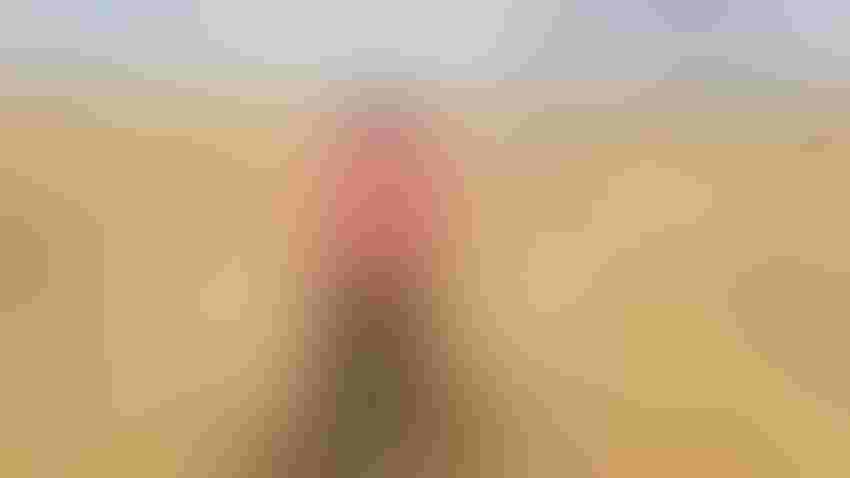 Atef Swelam stands in a raised-bed wheat field in the Nile Delta of Egypt, where he developed and researched innovative irrigation techniques.
Atef Swelam/UCANR
In the fields around the Egyptian city of Minya Al-Qamh, "port of wheat" in Arabic, a boy rubbed his eyes wearily as he helped his father irrigate their crops at 2 a.m. – when they could access the scarce water that reached their farm, located at the tail end of the canal. The family, which had been farming the land around the village of Sharqia for many generations, barely had enough water to sustain their wheat and vegetables.
Swatting in the darkness at the incessantly biting mosquitoes, a young Atef Swelam made a vow.
"I said: 'I will do my best to not let anyone suffer like I have suffered, like my father suffered – I will help to improve the lives of others,'" recalled Swelam, who went on to become an irrigation engineer improving water-use efficiency.
During the World Food Forum (Oct. 16-20), Swelam was recognized by the United Nations' Food and Agriculture Organization as a "Water and Food Hero" for developing irrigation techniques that save water and boost yields across the Nile Delta and beyond.
Swelam started on Aug. 10 as director of both the Kearney Agricultural Research and Extension Center in Parlier and the West Side REC in Five Points. Both facilities are part of a network of centers operated by University of California Agriculture and Natural Resources.
"Our organization, and more importantly the communities we serve in the Central Valley and across California, are so fortunate that Atef has joined our team," said Brent Hales, UC ANR associate vice president for research and Cooperative Extension. "He brings not only a record of truly impactful research and innovation but a genuine passion for learning the needs of people, working with them and developing collaborative, science-based solutions."
Making a difference
After earning his master's degree in land and water management from the Mediterranean Agronomic Institute of Bari in Italy, Swelam returned to Egypt for his Ph.D. in agricultural engineering at Zagazig University. There, he advanced to become a professor of irrigation and drainage engineering in 2019; he was also a senior scientist and research team leader with the International Center for Agricultural Research in the Dry Areas (CGIAR-ICARDA). Most recently, Swelam was the agricultural research officer of the U.N.-FAO's Office of Innovation in Rome.
Swelam explained that the mandate, function, mission and vision of UC ANR's research and extension network – and its strong reputation for making an impact through co-creation with clientele – attracted him to this position in California.
"I'm always looking to make a difference on the ground and in the lives of people," he said. "If you look at the locations where all RECs are located, they are inside the communities themselves, and in the heart of the farming system."
Swinging between Kearney and West Side RECs, Swelam said he feels he works in an empowering environment, created and supported by the leadership as well as by the staff at both centers – "a dynamic is which hard to find elsewhere."
Darren Haver, recently named director of the statewide system of RECs, said he will work with Swelam to explore ways to secure the resources that the Kearney and West Side teams need.
"Atef brings a wealth of experience in conducting research as well as working to elevate and amplify the research and outreach of others," said Haver, formerly the director of South Coast REC in Irvine. "He clearly is committed to making a difference locally, nationally and globally and we are excited to support him as his vision for these two RECs evolves."
Being a farmer and a scientist, Swelam feels he is on the same wavelength with both of the RECs' clientele groups – researchers and growers. In his first months on the job, Swelam said he will get to know the needs of the grower community and the researchers at the RECs.
"What I like most about this job is that the REC system, with its research for development approach, supports the scientists, who are in turn supporting the farmers and communities that are on the front line in achieving food and nutrition security," he explained.
When tailoring solutions to meet local conditions, Swelam added that it's essential that community members are involved so they feel a sense of ownership and are committed to sustaining its impact beyond the time limits of a research or extension project.
Innovative irrigation technique
A prominent example of Swelam's community-based work is his long-term mechanized raised-bed (MRB) irrigation program, the technology for which he has garnered numerous international honors.
While he was a researcher at the CGIAR-ICARDA, Swelam led several projects between 2010 and 2020 to study new soil and water practices at farm level. Through a project at his home village, he developed a cost-effective, small-scale machine to enable growing wheat on raised beds. This was in contrast to flat flooded land – the traditional, labor- and resource-intensive method that produced irrigation inefficiencies and caused shortages for downstream farmers like his father, Haj Ibrahim.
With MRB, precisely placed trenches between the raised beds would hold exactly the amount of water the adjacent crops need and thus leave more water for all. And while the technique seemed promising, Swelam had to convince skeptical farmers to adopt the practices – including his neighbors and his own father.
"He was very resistant to me in the beginning, because this was the first time ever in Egypt using raised beds for wheat cultivation…he even tried to convince people not to follow me," Swelam said, with a chuckle.
So father and son divided their fields, with one half planted and irrigated using traditional methods, and the other using the raised-bed approach. Gradually, as MRB began to prove its worth, Haj Ibrahim warmed to the technology and became an active collaborator on the research – even helping the scientist when he was puzzled by experiment results.
"My father was my mobile library," Swelam said. "He was illiterate – he had never been in a school – but his thinking and knowledge about the real agriculture and farming system were much better than those of a professor like me!"
After the initial research trials produced successes in his village and the larger governorate (a political division within Egypt), the technique was replicated in other governorates across the country – which then attracted the attention of other nations and international organizations.
Overall, Swelam said, the technology helped the growers reduce applied water by 25% and cut farming costs by 25%, while boosting fertilizer use efficiency by 30% and increasing yield by 25%.
Today, MRB is applied by more than 2 million farmers in the Middle East and North Africa to a variety of crops and is recognized as a good agricultural practice by the U.N. Food and Agriculture Organization.
"The biggest recognition and reward for me out of this impactful innovation is seeing the smiles on the faces of farmers," Swelam said.
Spreading best practices
Swelam said he hopes to see similarly positive results for farmers here in California with a wide range of innovations. He and other researchers at Kearney and West Side RECs will continue to make sure that the science and knowledge generated at the centers reach farmers. He added that partnering with local growers to optimize their on-farm practices is crucial on a host of issues, from pest management to water conservation.
"Whatever we do to improve supply management at system level, if the water is not used efficiently at farm level, then we lose everything we had achieved at that macro level," he explained.
Swelam added that investing intensive time and effort in developing practical, cost-effective solutions will pay off in the long run as they become naturally adopted across the grower community.
"Farmers are very clever and skilled with their farming systems," he said. "When they see or get benefits from something, they promote it among themselves."
Swelam's father was one example. After leading the resistance against mechanized raised beds initially, he eventually became its most vocal proponent.
"He became the biggest promoter for this technology; he even promoted it on local and international TV and radio programs," Swelam said. "I was proud of my father."
Haj Ibrahim died in 2017 and Swelam continues to pay tribute to his father through his life's work on research and extension – inspired by their long struggles to bring water to their crops, and the shared triumph of their new techniques.
Source: University of California Division of Agriculture and Natural Resources
Subscribe to receive top agriculture news
Be informed daily with these free e-newsletters
You May Also Like
---