Farmer stops erosion on highly erodible land
Farmer stops erosion on highly erodible land
Seven years of water-quality monitoring have intensified the Bragger family's commitment to conservation. "We have to be aggressive in farming — we have families to support," Bragger says. "But at the same time, we have to take care of our land so the next generation can farm. If we run it down, wash it out, destroy it, it won't be there for future generations."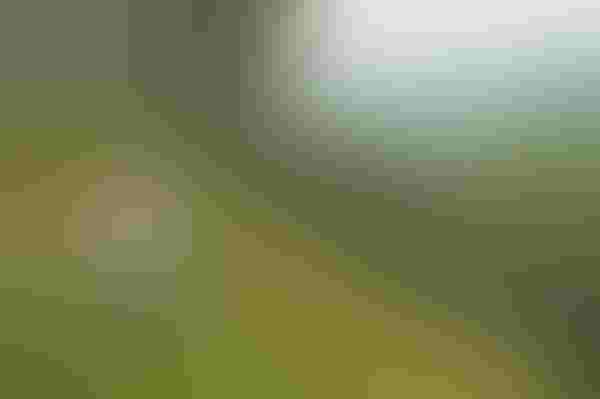 Not everybody would care to drive a tractor across a cornfield with a 30% grade. Some might even say, "You'd have to be crazy to farm these slopes!" says Joe Bragger, a dairy farmer from Independence, Wisc.
Bragger and his family raise crops and livestock on the steep hills and narrow, stream-laced valleys of west-central Wisconsin's Driftless Region. His immigrant parents started a dairy farm here in the 1960s, drawn to a landscape that reminded them of their Swiss homeland.
Though fertile — in a good year the Braggers raise 200-bushel corn and 50-bushel soybeans — their clay-loam hills are very vulnerable to water erosion. It's the kind of terrain that some believe should not be cropped at all. Yet the Braggers farm this fragile land intensively, achieving high yields with little soil loss. Their award-winning conservation system is a smorgasbord of best management practices, including:
Extensive grassed waterways

Check dams and basins in the upper watershed

Perennials in the rotation

Stabilized and maintained stream banks

Wide grass buffers at stream inlets
"We can be very productive here," Bragger says, "we can farm intensively, and still maintain the water quality, soil and ecosystem."
In fact, the Braggers' farm overturns some common assumptions about runoff risk, says Dennis Frame, director of the University of Wisconsin's Discovery Farms — among them: "Farm setting is a good predictor of loss" and "high slopes equal high runoff rates."
Discovery Farms monitored edge-of-field nutrient and sediment losses in two watersheds on the Bragger farm from 2002 to 2008. "We chose the Bragger farm for monitoring because of the setting," Frame says. "We expected to see high rates of erosion, nutrient losses and runoff. Yet our data showed that their impact on the environment was minimal."
Averaged over the seven-year monitoring period, less than 3% of precipitation ran off their land, Frame says, compared to a statewide average of about 8%.
Annual phosphorus losses from cropland averaged 0.41 lbs./acre

Nitrogen losses averaged 4.2 lbs./acre

Sediment losses averaged about 700 lbs./acre/year — all well below estimated statewide averages, Frame says.
How do the Braggers do it? "It's their entire system," Frame says. "It's no one thing; it's all these things put together that make it work."
Hold soil in place
Continuous no-till is the foundation of the Braggers' soil-conservation program.
When Joe started farming in the 1980s, the family was still using a moldboard plow. "What got us into no-till was a cost share offer. We tried it and saw definite advantages in fuel and labor savings and soil." Over the years, he experimented with a variety of minimum tillage systems, including strip-till, finally settling on "'true' no-till — no coulters, just trash whippers in front of the planter and spiked closing wheels with a drag chain in back."
Cold, wet residue hindered planting this spring, "the toughest spring I've seen in 26 years of farming," Bragger says. "But it certainly helped hold the soil in place with all the downpours." Continually saturated soil made water runoff unavoidable, he says, "but erosion was kept to a minimum."
The Braggers' crop rotation plan is also designed to anchor the soil. The family grows corn for grain, corn silage, soybeans, winter wheat and alfalfa, plus cover crops. They also milk 300 dairy cows and raise poultry and brown trout.
On most slopes, they plant two years of corn followed by soybeans and winter wheat. The steepest areas are kept in continuous corn for maximum residue cover.
Near the dairy, they raise four years of alfalfa followed by a year of corn for grain and a year of corn silage. Immediately after chopping silage, they plant a cover crop — usually winter rye — broadcasting seed with a fertilizer buggy, then spreading liquid dairy manure over the top.
The surface application of manure coats and seals in the seed so it can germinate. "We get very good stands even in a dry fall." The cover crop takes up and stores nutrients from the manure, and holds the soil on their side hills. "The most important thing is to have something growing all the time."
In spring, the Braggers drill alfalfa into the living cover crop, then harvest it along with the first cutting of alfalfa. "The cover crop is a nice nurse crop for the alfalfa and we usually get an extra cutting of hay."
Protect water quality
The Braggers have also adopted water quality protection measures.
Grass waterways—6,000 feet of them--trap sediment and slow water flow through their sloping fields. In addition, seven earthen "check" dams high in the watershed temporarily hold water coming off steep woodlands before it reaches cropped fields. The water is slowly released into grass waterways.
"We've been having a lot of intense localized rain events in the last five or six years," says Tom Schultz, a conservation technician with the Buffalo County, Wisc., Land Conservation Department. In 2010, for example, parts of the county received 10 inches of rain in a few hours. "These structures have really been put to the test, and they've performed well."
The Braggers stabilized 13,000 feet of stream banks on their property, removing trees, and sloping and seeding the banks to permanent grass cover. They maintain the improved stream banks by burning them every spring to suppress trees and brush, which can shade out the grass and cause the banks to crumble.
At strategic places where concentrated surface water flows into the streams, they installed wider grass buffers. This practice allows them to farm safely within about 10 feet of stream banks, Bragger says.
No one-size-fits-all
Seven years of water-quality monitoring have intensified the Bragger family's commitment to conservation. "We have to be aggressive in farming — we have families to support," Bragger says. "But at the same time, we have to take care of our land so the next generation can farm. If we run it down, wash it out, destroy it, it won't be there for future generations."
The family continues to make conservation improvements. They've increased their cover cropping — all corn silage acres are now planted with cover crops after harvest. They quit baling cornstalks on the most vulnerable fields. They also combined some small fields to reduce the number of field roads, which were runoff conduits.
Today, "All our conservation practices are field- and site-specific."
 "Systems appropriate in one watershed may not be appropriate in another watershed," Frame says. "It comes down to individual farming practices and individual land features."
Bragger Farm busts common runoff assumptions
Farm setting is a good predictor of runoff rates. False! The Braggers' land slopes from 6% to 33%, yet the farm has minimal environmental effects on water quality, according to Wisconsin Discovery Farms.

High slopes equal high runoff rates. False!The farm's average runoff rate is 2.5% on cropped acres and 1.8% on grass and woodland acres.

Surface application of manure means higher P loss. False! "We don't incorporate manure to avoid soil disturbance," Joe Bragger says. "But we have to be very careful of rates and timing." Fall cover crops, seeded with manure immediately after corn silage harvest, take up nutrients and sequester them for the next crop.

Traditional "ribbon" buffers provide the best protection for small streams. False! Traditional 30-foot ribbon buffers are not practical in the Braggers' narrow valleys. However, grass buffers where runoff enters streams, along with meticulous annual maintenance of grassy stream banks, effectively protects the Braggers' small waterways.

Wooded areas contribute little runoff or sediment. False!Concentrated water flow carved gullies in the farm's woodlands. Seven check dams in the upper watershed, with temporary water retention areas, capture sediment and release water slowly, lowering its erosive force and protecting cropland below.
Bragger Family Farms, Independence, Wisc.
Farm operators: Joe and Noel Bragger; Dan and Mary Bragger
Setting: Hills and narrow valleys with small streams at the base of hills; slope ranges from 6% to 33%.
Acreage: 1,080 cropped acres
Crops: Corn for grain and silage, soybeans, winter wheat, alfalfa, fall cover crops.
Livestock: 300 dairy cows; 64,000 pullets; 55,000 broilers; 4,000 brown trout.
Conservation awards: Leopold Conservation Award,2011; Wisconsin Land and Water Conservation Board Conservation Farmers of the Year, 2002.
Leadership: Joe Bragger, 47, is past president of the Wisconsin Soybean Association and serves on the board of Wisconsin Farm Bureau Federation. He also serves on the University of Wisconsin Discovery Farms Joint Steering committee.
About the Author(s)
Subscribe to receive top agriculture news
Be informed daily with these free e-newsletters
You May Also Like
---