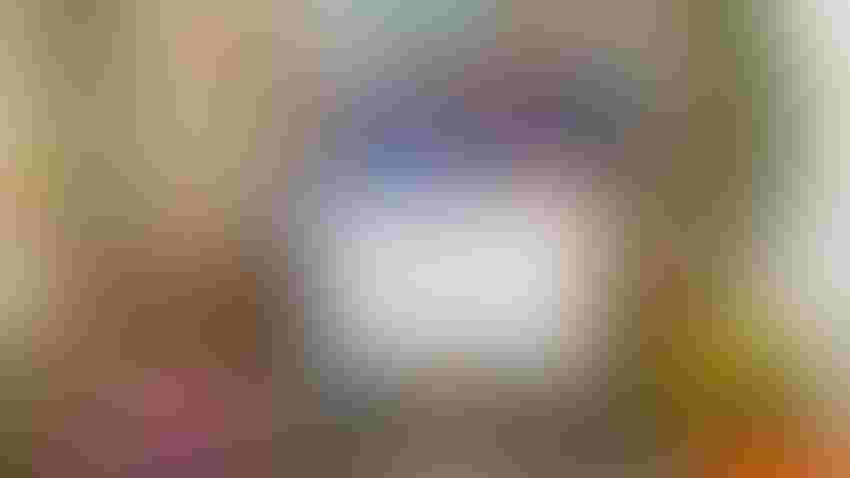 AWARD WINNERS: Robby and Shannon Dygert own and operate a 270-cow dairy farm and dairy processing operation, Dygert Farms Creamery, in Palatine Bridge, N.Y. They farm with their four children, Dylan, Olivia, Tucker and Cassidy.
Photo courtesy of New York State Department of Agriculture & Markets
Dygert Farms of Palatine Bridge has been selected for the 2023 New York Agricultural Environmental Management-Leopold Conservation Award.
This distinguished award honors a farm and its nominating Soil and Water Conservation District for their efforts to protect the environment through the preservation of soil and water quality.
Twelfth-generation farm
Robby and Shannon Dygert own and operate the 270-cow dairy farm and dairy processing operation, Dygert Farms Creamery. They farm 650 acres in Montgomery County.
Through collaboration with the Montgomery County Soil and Water Conservation District, the farm's planner and the state's Agricultural Environmental Management (AEM) program, the Dygerts have adopted many conservation practices to cycle on-farm nutrients for crop production, continually build soil health and protect water quality, while helping to ensure farm viability for future generations.
Like the family members 12 generations before him, Robby Dygert farms with an eye to the future. This is the farm's tricentennial year. Robby and Shannon farm with their four children, Dylan, Olivia, Tucker and Cassidy.
The couple bought the farm and their first 65 Holstein cows shortly after getting married in 2009.
Protecting resources
Robby and Shannon are the latest in a long line of Dygerts who are protecting this farm's soil and water resources. When Dygert Farms' first conservation plan was written more than 60 years ago — in 1962 — it provided a blueprint for crop rotations, contour strips, tile drainage and pasture renovation.
More recently, the Dygerts sought the support of the Montgomery County Soil and Water Conservation District to protect water quality with modern improvements to the farm's infrastructure.
Through participation in New York's AEM program, they received financial assistance to construct a manure storage facility and covered laneway between their barnyards. They also installed a system that collects and treats leachate from their silage bunk silos.
The farm works with a team of professionals to manage soil, water and livestock manure to maximize crop yields while protecting groundwater supplies. A custom manure applicator applies manure nutrients to fields in accordance with the farm's comprehensive nutrient management plan. A planner helps the couple regularly update their plan to reflect changes in crop rotation, livestock numbers, planned new practices and seasonal weather conditions.
All wash water from their milkhouse and milking parlor is collected and stored to be later applied to fields as a fertilizer.
Strip-cropping, which acts as a filter strip within fields, has been a staple at Dygert Farms for decades. Five years of hay followed by four years of corn is the preferred crop rotation. Minimal tillage is used on a few fields based on conditions, but most fields are managed no-till to increase soil fertility, retain moisture and prevent runoff.
The Dygerts also grow rye cover crops on 50 acres.  
Changing with the times
Sometimes sustainability in agriculture can mean simple economic survival. The Dygerts could have given up dairy farming when they lost a supplier to sell their milk to. Instead, they adapted to dairy's ever-fluctuating market and business climate by retooling in a nonconventional way.
They made the move to make, process and sell their own dairy products, opening the Dygert Farms Creamery processing plant in 2021. Their milk is sold in grocery stores and delivered to the front doors of area homes. It's a modern approach to dairy farming with a vintage twist.
Dygert Farms was recently honored at the state's 2023 Dairy Products Competition, winning gold in the chocolate milk category.
A unique mix of new and old is to be expected at Dygert Farms. Its farmhouse sits on the original 50 acres that was deeded to the Dygert family in 1723 from the Queen of England. Its owners are young farmers using conservation practices to benefit the environment and their bottom line.
About the AEM-Leopold Conservation Award
Given in honor of renowned conservationist Aldo Leopold, the Leopold Conservation Award recognizes farmers, ranchers and forestland owners who inspire others with their dedication to land, water and wildlife habitat management on working land. The award is presented to landowners in 27 states.
New York's long-standing Agricultural Environmental Management Award joined with the nationally recognized Leopold Conservation Award program in 2020.
Source: New York State Department of Agriculture & Markets
Subscribe to receive top agriculture news
Be informed daily with these free e-newsletters
You May Also Like
---