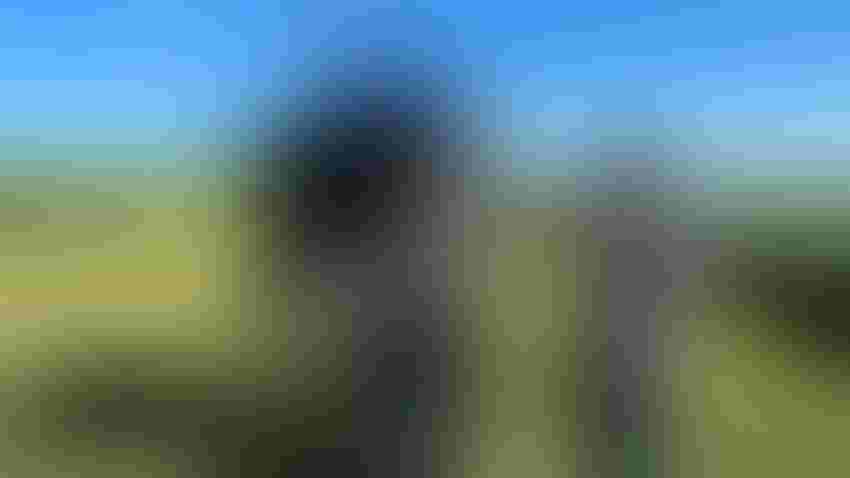 HIGH-TECH DRAINAGE: Tim Radatz (right), Discovery Farms coordinator, and Scott Matteson, Discovery Farms hydrologist with the Minnesota Department of Agriculture, explain the technology behind the controlled drainage project at Farmamerica during a field day.
Kevin Schulz
Drain tiles are nothing new for farmers across Minnesota, and controlled drainage is gaining traction.
Farmamerica, Minnesota's Agricultural Interpretive Center near Waseca, is home to a drainage water management project that is led by Minnesota Agricultural Water Resource Center, along with partners from Discovery Farms Minnesota and the Minnesota Department of Agriculture. The intent of this project is to quantify what is happening with water levels in the soil, with the potential to improve water quality, soil health and farm sustainability.
The system was installed last fall on a parcel of land close to 128 acres, with that parcel divided into four individual sections. Water quality and quantity are sampled and data collected by the MDA, as well as weather and field conditions. Data logging occurs daily, year-round in 15-minute intervals, and minute by minute when precipitation occurs. Water samples, tested at Minnesota Valley Testing Laboratory in New Ulm, Minn., are analyzed for total suspended solids, total phosphorus, soluble orthophosphorus, nitrate plus nitrite nitrogen, ammonia nitrogen, total Kjeldahl nitrogen and chloride.
In addition to the ability to test the water being drained from the fields, this system will also allow controlling the amount of water that remains in the soil: releasing more water when farmers want to get in the field for planting or harvesting, and preserving the soil moisture for when the crop needs it. This drainage flow is controlled by adding or removing valves in an Agri Drain Corp. structure.
"I think the potential benefit of controlled drainage is where we have more control of what water is moving off that field through tile," says Tim Radatz, Discovery Farms coordinator. "There may be certain times through the year where we can shut off that tile drainage and try to hold some of that water back, and then, in turn, reduce the amount of water leaving the field — but also reduce the amount of nutrients that are contained in the water that is leaving that field."
Discovery Farms Minnesota has a number of core farm partners across the state, as well as other special project sites in addition to the Farmamerica research. Visit Discovery Farms Minnesota for more information.
Warren Formo, MAWRC executive director, says in this first growing season, data of water and nutrient flow are being measured, but "What we are not doing [this first year] is, we are not controlling the levels; we're letting all four systems free flow."
In subsequent years, two of the systems will be controlled and two will remain free-flowing, to allow for comparison between the two approaches.
Check out this video for more information on this project:
Gain understanding
Formo adds that this project "will help us better measure and understand exactly how much water leaves the landscape" allowing for comparisons between controlled drainage and conventional drainage. "Those systems can function anytime there's excess water in the soil profile, but also it'll help us understand better, typically in Minnesota, how many days your tiles do not flow, that's really important."
The Farmamerica field drains to the LeSueur River Watershed, which Scott Matteson, Discovery Farms hydrologist with the MDA, says is one of the highest nitrogen-loading streams in Minnesota.
"So, the concern for tile drainage typically is the quantity of flow and nitrogen," Matteson says in a video on the Discovery Farms website. "And with controlled drainage, you're kind of addressing both of those issues. If you can reduce the amount of water or drainage from the farm field, you're also going to reduce nitrogen load."
According to the Discovery Farms website, the goal of this project is to increase adoption of drainage water management in southern Minnesota by focusing on demonstration, education and outreach to farmers, agricultural contractors and conservationists on this specific best management practice.
Interested parties can check out data collected from this site, as well as other Discovery Farms locations, at mda.onerain.com. Users can also check data collected from a variety of other projects conducted by the MDA.
Subscribe to receive top agriculture news
Be informed daily with these free e-newsletters
You May Also Like
---