Cover crop goals define mix
Cover crop goals define mix
Think DifferentThere is no single recipe to determine the right cover crop mix for a particular field, much less an entire farm. You need to know each field, set goals and set a budget that makes sense. Are the primary concerns to retain and build nutrient levels for the coming crop, managing moisture, compaction or simply building soil health? Is grazing a potential income source? Which cover crops match the post-harvest-to-freeze interval in your area? Do you want to deal with pre-plant burn-down or do you prefer letting winterkill do the job?Talk to your agronomist. If he or she doesn't have the information you need, seek out other sources. Start small and simple. Experiment with application methods and timing as well as type and number of cover crops in the mix. Learn and adjust as you go.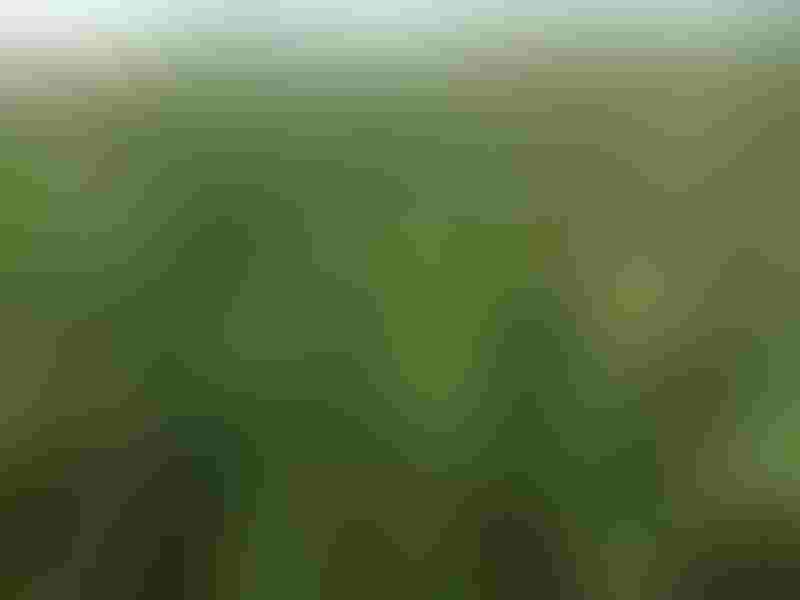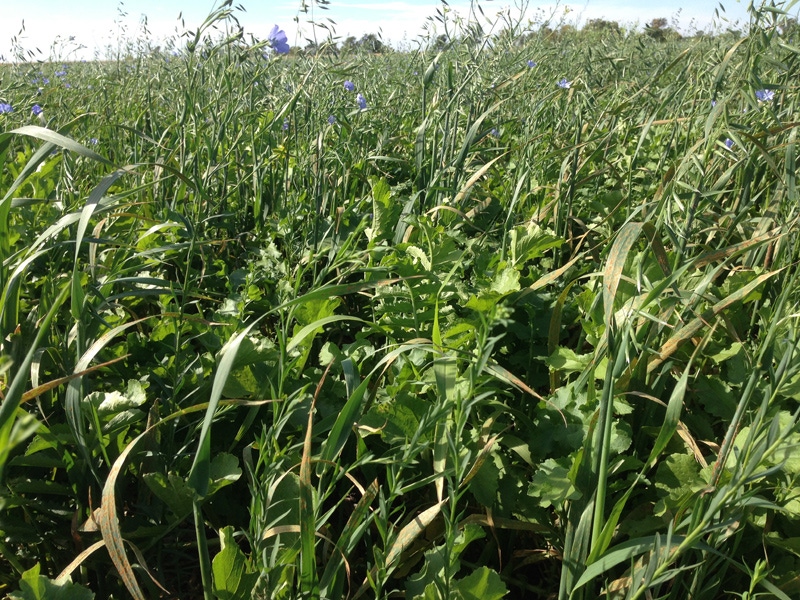 Nathan Trapp knows that cover crop mixes are almost limitless. Last summer, for example, the Flora, Ind., no-tiller top-dressed wheat stubble with urea and seeded crimson clover in mid-July. Once the clover was growing, he knifed in hog manure and drilled annual rye and radish.
"Those acres are the best corn we've got this year," Trapp reports. " We are getting improved aeration and structure, and earthworms are four times what they are in no-till only acres. The cover crops are capturing nutrients from the previous crop and the hog manure in the upper profile, and they even seemed to absorb some of the odor versus knifing into bare ground."
Trapp is in his third year with cover crops. He has worked up from simple, winter-kill species such as radish and oats to two- and three-way planting of radish and rye or ryegrass. He now plants soybeans into standing cereal rye with a post-planting burn down.
"The rye falls down into a mat and suppresses weeds, but the soybeans grow right through it," Trapp says. "I only have to spot-spray weeds, while beans with no cover crop require two full applications. I have a lot of ideas for future mixes and am overwhelmed with alternatives, but I'm taking it one step at a time."
Watch your costs
Although he believes cover crop cocktails are the future of cover crop management, Hans Kok, Indiana Conservation Cropping Initiative coordinator, endorses starting out slow, watching costs, and building confidence with two- or three-way mixes such as radish and oats.
"I've seen cocktails with extremely exotic species and costs above $50 per acre," says Kok. "We can easily design cocktails that break the bank. The guideline for total seed costs is not more than $30 per acre, except for special situations."
He points to cereal rye. When planted at 40 lbs./acre for nutrient uptake and erosion control, he estimates the cost at around $20/acre. "If you want weed control, such as for glyphosate resistant marestail, the rate and cost may double," says Kok. "An acceptable price depends on what you expect to get out of it."
Start slow, compare yields
Kok advises starting with an off-the-shelf, experienced cocktail mix from a reliable seed company. "Start slow with a simple mix, and if you want to go more exotic, study up on the components and try it on a few acres or in a strip in your cover crop plot," he says. "The quickest way to figure out if a cover crop mix pays is to do strip plots at least a combine's width wide where you plant cover and where you don't. Get a comparison of extra inputs, and let your yield monitor tell you if they pay."
Kok admits that soil building and nutrient benefits can be hard to put a dollar value on, especially in the short term. And while much is to be learned from experienced cover crop users in other areas, he emphasizes the importance of local economics and agronomics.
"For most farmers in the Midwest, we are talking about cover crops going in just before or after the harvest of corn and beans," Kok says. "If grazing is an option or if you work wheat into the rotation, many more options open up."
Ray Ward, Ward Laboratories, Kearney, Neb., has seen the impact of cover crops on his own farmland. He made the transition from one or two species to an 11-way mix last fall, followed by soybeans in the spring. "It looked like kind of a mess, with all different sizes," he notes. "However, this 'trash' farming, like no-till, is getting to be expected and respected."
Improve soil health
Ward has been involved in soil testing for most of his 50-plus-year career and is excited about the transition from soil quality to soil health. Along with standard soil tests, his company now offers two soil health tests, the Haney (Soil Health) Test and a phospholipids fatty acids test for microbial diversity. He has used all of them on his own fields.
"We took samples about Nov. 20th on the 11-way mix, and soil health and microbial diversity were both rated as excellent," he says. "Different plants exude different compounds, and the more diverse the plants, the more diverse the microbial population."
Ward relies on Aurora Co-op agronomist Jody Saathoff for his cover crop recommendations. With eight years of experience working with cover crops in western Nebraska, Kansas and eastern Colorado, Saathoff starts by identifying customer expectations and goals.
Identify your goals
"If grazing, I may recommend 10, 12 or 14 different seeds in a mix," Saathoff says. "If the field will be going into corn, we'll throw in a legume and produce 80 to 90 lbs. of nitrogen. If soybeans will follow, we want to starve the soil for nitrogen. There isn't one diverse mix that fits all."
With around 10,000 acres seeded to his recommended cover crops, he has seen the impact they can have on yields and cropping choices. "We have guys producing 72-bushel soybeans in a wheat/soybean rotation and dropping corn," says Saathoff. "With cover crops, we percolate more moisture down deep. The beans send their roots down 6 feet, while the corn runs out of steam at a 4-foot depth."
Saathoff also watches cover crop budgets carefully. However, he notes that even $3.50/lb. radish may be worth it to fight soybean cyst nematode. He shoots for a $25-30 mix with $15-20/acre seeding costs, projecting benefits for the following three to five years and adjusting the mix for local conditions and cropping patterns.
Diversity in cover crops is an essential ingredient. Recently, Saathoff has pushed forbs such as buckwheat, lentils, camelina and other early flowering plants – even sunflowers – especially if grazing is planned for his mixes, in part to help pollinators. He selects a mix that spreads flowering out over the growth cycle, provides variety of rooting depths and structures and gives the appropriate carbon/nitrogen ratio to the following crop. His selection also considers any allelopathic impact on the following crop and prospective weeds.
Justin Fruechte, forage and cover crop specialist at Millborn Seeds in Brookings, South Dakota, looks to nature as he designs cover crop mixes. "In a corn/soybean rotation, a lack of diversity above ground leads to a lack of diversity below ground," he says. "When Mother Nature works on a native prairie, there are dozens of species growing together and thriving off of one another. When I look at cover crop fields with one or two species versus multiple species, the more diverse field is always more productive."
Fruechte notes that for most growers, the biggest challenges with cocktail mixes are seeding method, time of seeding and lack of seed selection knowledge. He likes to match seed sizes and time the seeding to when a species thrives. He also warns against planting too early, resulting in a cover crop going to seed and creating weeds the following year.
About the Author(s)
Subscribe to receive top agriculture news
Be informed daily with these free e-newsletters
You May Also Like
---