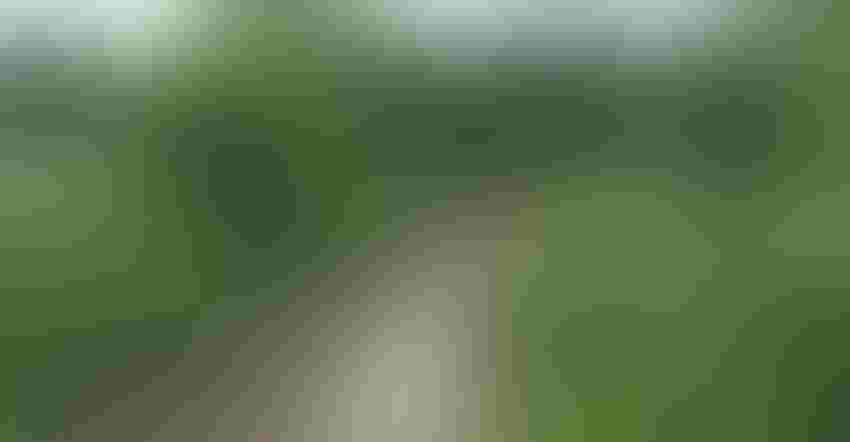 CLEANUP: Since being listed as an impaired waterway in 2006, Shell Creek now is healthy enough to support aquatic life.
Shell Creek made history earlier this summer when Gov. Pete Ricketts announced that the cleanup and reduction of atrazine in the creek improved water quality so much that it now can support normal aquatic life.
Until now, no such cleanup has occurred through a water management plan. For the farmers and cooperators in the watershed, this was no small task.
Shell Creek, covering almost 110 miles through five counties, drains nearly 305,000 acres from Petersburg to Schuyler, before draining into the Platte River. The cleanup entailed a concerted effort over the past 19 years by 240 landowners applying up to 340 different conservation practices along the creek and partnering with public agencies and businesses.
Impetus was added to the efforts in 2006 when the creek was added to the U.S. Environmental Protection Agency's list of impaired waters for atrazine, with tragic negative impacts on aquatic life around the stream.
The fact that everyone pulled together is the big reason for this historic cleanup success, says Matt Bailey, farmer, agribusiness owner and co-chair of the Shell Creek Watershed Improvement Group (SCWIG). Bailey of Schuyler has been involved in the effort since the beginning. He grew up on a farm just a quarter-mile from the creek, so he and his siblings spent a lot of time around Shell Creek.
"Probably the biggest reason for myself as well as most others being involved in the group was the flood of 1990," Bailey says. "As a kid at the time, I can remember getting everything out of the basement and watching an airboat go by the mailbox."
Bailey is quick to list numerous best management practices that helped clean up the creek, including no-till, cover crops, filter and riparian buffers, sediment basins, and terracing. Many of the practices came about through cost-share agreements.
Group effort
One practice that stood out was everyone along the creek working together to make things happen. "To me, getting Shell Creek off the list of impaired streams for atrazine means we moved the needle in a big way," Bailey says. "This means that everyone in SCWIG — all the producers, all the government agencies and all other cooperators — did something together that not one of us could have done on our own," he notes. "It was always a thrill to see cost-share contracts for no-till or cover crops come through with neighbors' names on them. I think that made SCWIG feel like we were doing our job."
Partnerships were a big part of the effort. Along with farmers, it also included joint work between Lower Platte North Natural Resources District, Nebraska Department of Environmental Quality, USDA Natural Resources Conservation Service and EPA. The group even partnered with science students at Newman Grove Public Schools to help educate the public on water quality and to help establish a monitoring system along the watershed.
Melissa Foreman served as the Shell Creek Watershed project coordinator for eight years before taking a full-time position with NRCS. "This group works together well," she says. "If the group did not have everyone on the same page, it would probably be a different story, and the successes they have had would not have happened."
No-till adoption in the beginning was an obstacle for many landowners. "That has turned out to be one of the biggest successes," Bailey says. "We started with informational meetings with help from Nebraska Extension. From there, we got enough grant funding to offer some cost-share to add incentives for producers to give no-till a try," he says. "I believe there was $25 per acre at the time, as well as additional funding for non-invasive nitrogen application and crop scouting for those interested."
At first, farmers weren't onboard with no-till. "Some of the first meetings were pretty quiet," Bailey recalls. "However, a few landowners signed five-year contracts, gave no-till a fair shake and made it work. That led to another and another. This then led to a change in mentality toward no-till as well as conservation in the watershed." The no-till led to filter and buffer strips and grassed waterways, which led to several other best management practices, including cover crops.
"While we still offer the BMPs, we are partnering with a few counties to stabilize the banks of Shell Creek near county roads or bridges, as well as preventing tons of soil from sliding into the stream," Bailey says. "The group has put a focus on improving streambank stabilization," Foreman says. "In the last two years, they have completed two projects along the stream to stabilize the banks. They are hoping to move up the stream and find some other problem areas to address that could benefit from bank stabilization," she says.
"It's hard to say exactly which one practice did our watershed the most good. Every one of them was important. Every landowner had a different situation," he adds. "A payment on 1 or 2 acres of native grass might not be much to most, but to the right person that suddenly sees a pheasant fly up out of that grass for the first time in a few years, that might be something huge. Several small victories like that just kept our group marching forward."
This delisting takes the effort to the next level. "Everyone in the watershed turned some heads at a national level," Bailey says.
Subscribe to receive top agriculture news
Be informed daily with these free e-newsletters
You May Also Like
---