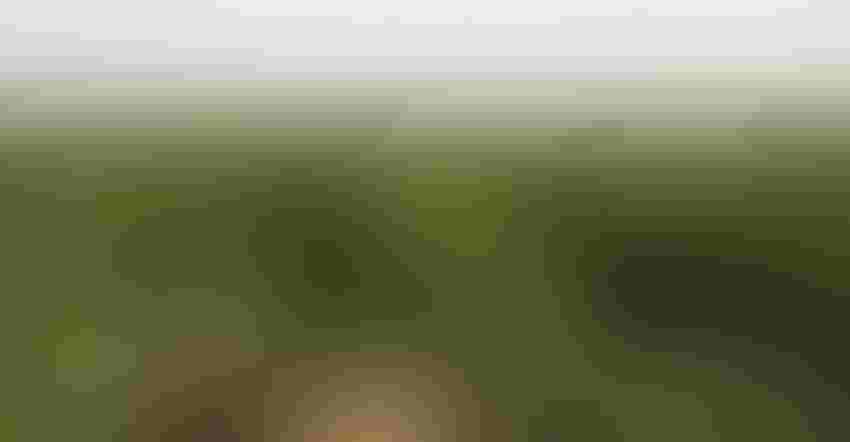 WORKING TOGETHER: Tenants working with their landlords can use cover crops and other conservation practices to help improve profitability on rented land.
ICGA
Non-operating landowners trust their tenants to keep the soil productive for generations to come. That is one of the conclusions of a survey of Iowa landowners by American Farmland Trust, which also revealed landowners maintain, on average, a 16-year relationship with tenants. Landlords overwhelmingly said they view their farmer-operator as an important source of conservation information. 
For tenants, treating rented land like their own by caring for its soil health can create opportunities to grab landowners' attention. The same survey showed that 84% of landowners indicate maintaining soil productivity is a very important quality for a farm operator. 
Since more than half of Iowa's farmland is owned by non-operating landowners, it's important that tenants help landowners make decisions that make economic, agronomic and environmental sense.  
Start with a conversation 
Farming in Crawford County in western Iowa, farmer Doug Gronau is not surprised by the survey results. He owns three-quarters of the land he farms and uses conservation practices like no-till and cover crops to improve soil health. On the land he rents, he discusses benefits and results of conservation practices with landowners to increase the adoption on rented land. 
Gronau explains to landowners why his system of farming would be the right thing for the rented land. With one landowner, he knew it would be important to explain why the land wouldn't be black in the fall after harvest. 
The following year, he and the landowner visited the farm. "We had a 5-inch rain in early June. The land near this rented land had a disk run through it in the fall and spring, and then field-cultivated," Gronau says. "The field was severely washed out and eroded by the rain. The damage to the field was devastating and the debris even plugged a large culvert. But on our field, the crop and soil did not erode." 
When the landowner saw the difference, he became a believer in no-till. "Not adding conservation practices on rented land can be devastating. Landowners don't want to see the soil washed away. That's why I believe doing something is better than doing nothing," Gronau says. 
Keeping landlords updated 
A trusted adviser to landlords, Stu Swanson, a farmer in Wright County in north- central Iowa, agrees that building trust with landowners is crucial. He rents the majority of the land he farms. He keeps landlords updated regularly on cost-share programs, and he shares data like yield maps and soil test results to start discussions about where conservation practices are needed on rented land. 
Swanson manages relationships with 14 different entities — either individuals or groups — and stays in regular communication with them all on topics such as farm programs, farming practices and technology. He uses these discussions as an opportunity to present options to landowners regarding practices and management to protect soil productivity. 
Swanson believes these conversations have resulted in long-lasting relationships that help him maintain acres in his operation. "I use yield maps to start conversations about adding filter strips to control runoff and taking marginal land out of production," he says. "Grid soil sampling results are shared to demonstrate that we only apply nutrients where they are needed. All of these things matter to landowners and keep them engaged." 
Farming by example in Benton County in eastern Iowa, Lance Lillibridge says having the courage to try something different with a determination to make it work attracted the attention of farmers in the area. When he was asked to explain strip tilling to a neighboring farmer, it led to a discussion about renting ground. "We discussed my farming system and I explained my dedication to adding conservation practices like strip till to protect the soil from erosion while maintaining an upward yield curve," Lillibridge says. "If you can protect the soil from erosion, it gets landowners' attention." 
Explain how benefits add up 
Since this experience, other landowners have approached Lillibridge about renting their ground. "I've been able to make this system work for my acres, and that has helped me rent more ground," he notes. "I take advantage of conversations like this to talk about the soil health benefits of conservation practices, as well as the economic benefits." 
Lillibridge added cover crops to his farm a few years ago and now discusses the benefits he sees with landowners, and explains the cost-share programs that are available. "It's hard to put a value on conservation practices, whether it's using cover crops or switching tillage systems," he says. "One thing I've learned is that people are watching me, and that has enabled me to grow my operation. In my opinion, that's a pretty good return on investment. 
"When talking to a landlord, I acknowledge the importance of taking care of their investment. I want to be the farmer that landowners say does a nice job of keeping the soil productive," Lillibridge says. "I know I wouldn't have the opportunity to have a conversation like that without doing something different. People start to notice when you do something different, and it gets them thinking about doing something better to protect the soil." 
Landlords open to lease changes  
The Nature Conservancy says according to a suite of work it has done, Iowa's tenants largely hold informal lease agreements with family trusts or have long-term relationships with a landowner. However, they have determined landowners are receptive to changing the terms of their lease to support tenants' efforts of adding conservation practices on rented land. 
Gronau and Lillibridge do not have conservation practice requirements in their lease agreements, but Swanson has a written agreement with some of the rented land that's in a conservation program. Annual leases have advantages and disadvantages for both parties. Every landowner is different, but trust does develop over the years despite year-to-year leases. 
Help is available to start conservation discussions. To foster discussions on rented land, the Iowa Corn Growers Association has compiled helpful resources. This includes downloadable guides that help start and facilitate discussions with landowners about conservation practices, as well as information that can be added to lease agreements to protect Iowa's soil and natural resources now and in the future. Visit iowacorn.org/rentedland. 
Subscribe to receive top agriculture news
Be informed daily with these free e-newsletters
You May Also Like
---