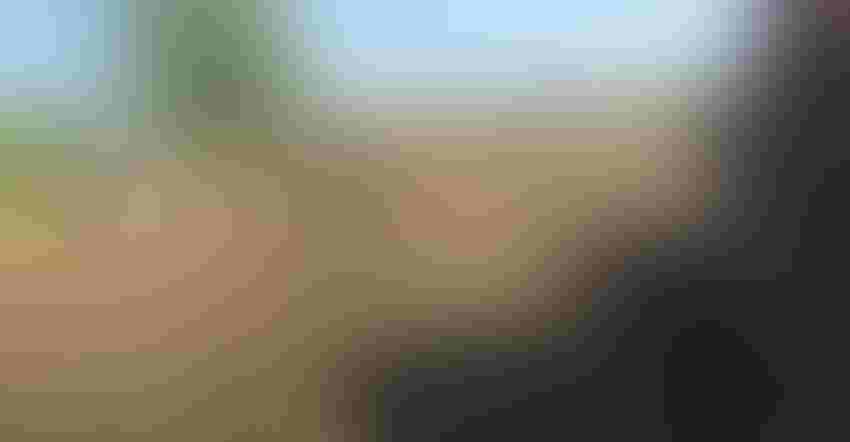 BIOREACTOR: A woodchip-filled trench covered with soil is in a grassed buffer where tile drainage leaves a field. A bioreactor can reduce nitrate levels 15% to 60%.
What will it take to get cleaner water in Iowa? What will it take to get 6 million acres of cropland treated by bioreactors? Seven million acres treated by nitrate-removal wetlands? That is one of the scenarios suggested by Iowa's Nutrient Reduction Strategy.
There are 950 acres treated by bioreactors and roughly 42,000 acres treated by wetlands across Iowa. In mid-February, Iowa Learning Farms hosted a group of 12 farmers in Ames to discuss these questions and other issues surrounding edge-of-field practices and nutrient reduction.
Overwhelmingly, the group believes when it comes to edge-of-field practices it is critical that the practices are targeted to specific locations where they would provide the most water quality benefits.
As Tim Smith of Wright County said, "There are dozens of practices, and not every practice is going to work everywhere."
Put right practice in right place
To target edge-of-field practices through government cost share, you need to work with the local soil and water conservation districts. Several of the farmers in attendance also serve as SWCD commissioners and agreed that it is the district's responsibility to help target these practices rather than distribute the funds on a first-come, first-served basis.
"If you're not targeting as commissioners, then you're not doing your job," said Dennis Carney of Cerro Gordo County, an SWCD commissioner and current vice president of Conservation Districts of Iowa.
Rick Juchems, a Butler County SWCD commissioner, said they tried to target conservation practices in their county but farmers weren't interested. "We can target and send out the letters, but they still have to want to do it."
Another barrier to implementation was also seen as a benefit. Many of the farmer-leaders thought practices that took the least amount of land out of production were more likely to be adopted. On the other hand, they thought that those practices weren't very visible and would have limited public support. This is when the conversation turned to nitrate-removal wetlands.
Artificial wetlands
Many in the group thought wetlands had many other benefits to the landscape beyond water quality improvements. They saw wetlands as a highly visible way to draw positive attention to conservation efforts while providing benefits to the community by creating recreation areas and increasing wildlife habitat.

WETLANDS: Shallow in depth, wetlands allow surface runoff water to slow down and deposit sediment. On average, wetlands can remove 40% to 90% of nitrates from water.
Some of the farmers were interested in wetlands because they would improve the overall beauty of the landscape while offering a large water quality benefit. Others saw it as a good way to take row crop acres out of production that were underperforming.
Greene County farmer Chris Henning has seen an improved average yield after converting 10 low-producing acres into a wetland. "Wetlands get a lot of attention and nonfarmers are applauding it as 'regenerative' farming," she said.
The group was also introduced to some of the newer technology being developed related to drainage systems in the Midwest. Iowa State University professor Matt Helmers shared with them findings from Transforming Drainage, a multistate collaborative project focused on increasing the resiliency of drained agricultural land through controlled drainage, saturated buffers and drainage water recycling.
Controlled drainage
While many of the farmers believe saturated buffers might work well in areas of the state where there was a lot of tile drainage, they were less convinced that controlled drainage and drainage water recycling could work in Iowa.
SATURATED BUFFERS: Tile drainage water is directed into lateral drain tile installed parallel to a riparian buffer. Water moves across the length of the buffer removing nitrates. Saturated buffers can remove 50% of the nitrates in subsurface flow.
Seth Watkins of Page County was intrigued by water recycling. However, he said, "As a livestock person, irrigating out of our lagoons is a normal management practice, so I think it could be a viable concept for our area."
Helmers acknowledged that controlled drainage and drainage water recycling had a lot of potential for some areas in Iowa, but there were still a lot of questions to be answered.
Removing land from production
Overall, many of the farmer-leaders agreed that taking land out of production was one of the biggest barriers to implementing edge-of-field practices. Practices like saturated buffers and bioreactors have minimal land impact and might be more readily adopted in comparison to practices such as wetlands and prairie strips.
A larger takeaway from the discussion was that, despite having made some progress toward Nutrient Reduction Strategy goals, there is still much to be understood about edge-of-field practices to meet those goals. A lot more outreach, education and research is needed before we can hope to see voluntary large-scale adoption of these practices.
Watkins even questioned whether large-scale adoption of edge-of-field practices could be achieved through voluntary compliance. No one in the group had an answer to that question.
For more information about edge-of-field conservation practices, or if you'd like to find out more about the Iowa Learning Farms, contact us at [email protected] or visit the Iowa Learning Farms website at iowalearningfarms.org.
Source: Iowa Learning Farms
Subscribe to receive top agriculture news
Be informed daily with these free e-newsletters
You May Also Like
---