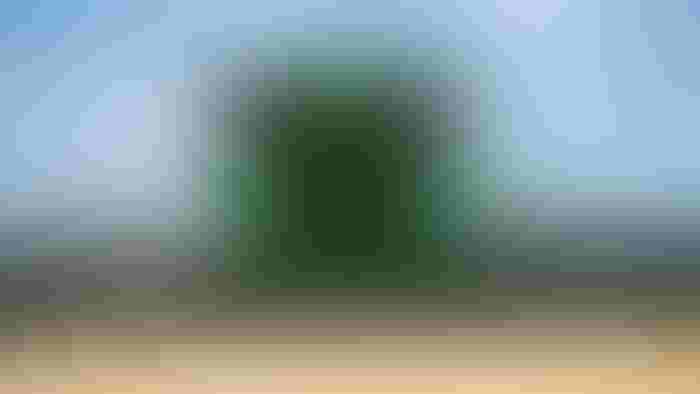 Slade Schiurring harvests rice on the family's 3S Ranch near El Campo, Texas.Lance Cheung, USDA
Since 1910, four generations of the Schiurring family have harvested rice on the 3S Ranch near El Campo, Texas, in Colorado and Wharton counties. The family grows approximately 1,500 acres of long grain rice annually. 

(Photo by Mary Smith, Wharton SWCD)
J. Brent Schiurring, the third Schiurring generation, was one the first farmers in Texas to grow organic rice and helped start the organic rice program in Texas.
The family sells their long-grain rice through a rice marketing association – American Rice Growers Inc., which is the broker for most of the rice farmers in the Gulf Coast. During the past several years, most of the rice has been sold and shipped to buyers in Mexico. 
Along with rice farming, the family provides waterfowl hunting on the ranch dating back to the late 1940s. They helped pioneer the start of commercial waterfowl hunting in their local area of Texas. 
"Rice farming and duck and goose hunting go hand-in-hand together. What is good for rice, is also good for ducks," said owner and fourth-generation rice farmer, Slade Schiurring. "There is no better food source for waterfowl other than rice. We flood about 1,500 to 1,800 acres a year for the hunting operation. Tens of thousands of wintering waterfowl including ducks, geese and sandhill cranes, roost and feed on our farm and neighboring farms each year."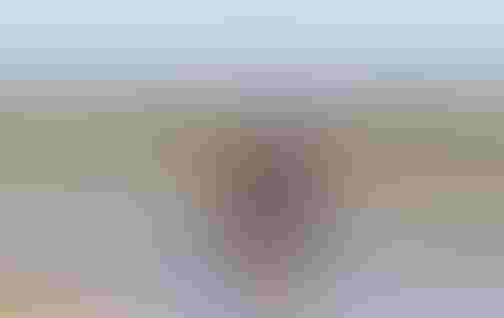 Slade Schiurring with his dad in a rice field. (Photo by Linda Schiurring) 
Slade considers himself lucky to have carried on his family's history of rice farming and the waterfowl-hunting operation, alongside his parents, since he graduated from Texas A&M in 2016. He has served on the Wharton County Soil and Water Conservation (SWCD) board since 2019, the local Ducks Unlimited (DU) board since 2010, serves on the Wharton County Wildlife Management board and is a member of Texas and Southwestern Cattle Raisers. Wharton County SWCD recognized Slade for his conservation efforts in 2019, naming him the Outstanding Farmer of the Year.
Conservation Programs
The Schiurrings use conservation programs to improve their rice fields, production and waterfowl population while increasing their efficiency and reducing fuel costs.
The family received conservation technical help and financial assistance from the USDA Natural Resources Conservation Service (NRCS) through the Environmental Quality Incentives Program (EQIP) to implement land leveling for efficient use of water on irrigated land.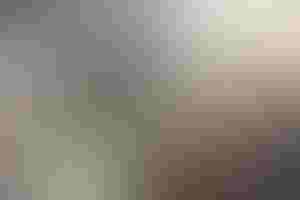 Slade Schiurring, right, visits with David Daniels, NRCS district conservationist, at the Wharton office. (Photo by Mary Smith, Wharton SWCD)
The family also created additional wildlife and environmental benefits through the Regional Conservation Partnership Program - Conservation Stewardship Program (RCPP-CSP) through a partnership between NRCS and DU. 
"Without NRCS and DU, land leveling and improving our rice farms would be nearly impossible due to the cost of building the infrastructure on our fields and farm for rice production," said Slade. "Each bench levee we construct has two to three aluminum water control structures to help control water levels in each bench cut. Land leveling and installing these permanent water structures not only saves on water usage and the overall cost of water, but also on labor and time as well. We now can use rainfall better than ever because we can hold more rainfall due to bigger and better levees and not having to deal with blowouts causing water loss on conventional levees adding to our advantage saving on all of the above."
Fields were leveled with laser accuracy and each terrace is progressively two inches lower than the adjacent field, allowing water to flow and distribute evenly for maximum water efficiency and soil erosion protection, which allows plants to grow more uniformly, and farm equipment is supported better by the soil. This process also reduces the number of terraces and curved edges that the farm equipment must navigate.
After harvest is complete, Slade also leaves crop residue, which helps protect the land from wind and water erosion but also provides food for wintering waterfowl. The residue aids in conserving soil moisture, increasing water infiltration, and improving soil tilth. 
Slade's goal is to have underground irrigation pipelines installed through the EQIP and RCPP programs for irrigation wells. These conservation practices are key because they help eliminate evaporation water loss and save on the cost of fuel used to flood the canals and the overall acre feet of groundwater pumped out of each of the irrigation wells.
"We have done a lot of work with DU, NRCS, and Texas Parks & Wildlife through the Texas Prairie Wetland Project  (TPWP) for waterfowl habitat," said Slade. "The TPWP program is a key program for waterfowl conservation alongside the larger Rice Stewardship Program that is helping to create and restore the loss of wintering waterfowl habitat on the Gulf Coast of Texas." 
The TPWP, established in 1991, partners with private landowners to restore, enhance, and protect shallow, seasonally flooded wetland habitat on private lands in 28 counties along the Texas Gulf Coast. The availability of this critical habitat enables migratory birds to return to their northern nesting grounds in the spring in peak physical condition, thereby increasing their reproductive potential. Because more than 95% of the remaining wetlands are located on private land, the key to the future of our waterfowl resource lies in the hands of private landowners, according to the TPWP recognition by Texan by Nature.
Successional habitat
The Schiurrings also created wildlife habitat for species requiring early successional habitat. Some fields are flooded in early September to create early habitat for migrating teal. The rest of the rice fields are flooded immediately after they finish harvesting their second rice crop in late October to early November. 
Beyond wildlife habitat, wetlands also provide ecosystem services such as carbon sequestration, stormwater retention and flood prevention, and water filtration. These small wetland basins are important to regional water quality because they are great tools for preventing excess contaminants and sediments from entering local waterways.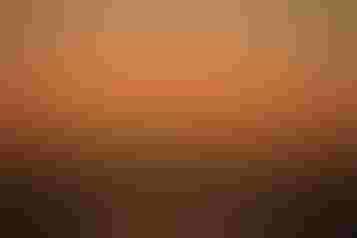 (Ducks at sunset on 3S Ranch. (Photo by Savanna Smith)
Shallow water developments were created to provide habitat for wildlife such as shorebirds, waterfowl, wading birds, mammals, fish, reptiles, amphibians, and other species that require shallow water for at least a part of their life cycle.  
"The Schiurrings are one of more than 75 Texas rice farming families voluntarily participating in the RCPP partnership between Ducks Unlimited and USA Rice through our close partnership with USDA-NRCS," said Kirby Brown, conservationist outreach biologist for DU. "Through these partnerships, we are able to target Farm Bill Program funding on-the-ground to producers to enhance conservation that directly benefits water quality, water quantity, nutrient and pest management as well as water and crop management enhancements for waterfowl, shorebirds, wading birds, raptors and many other wildlife species. These valuable USDA conservation incentive programs are a win-win-win for rice producers, NRCS, the public, and particularly our wetland wildlife."
Slade said one day he hopes to pass the rice farming operation onto the fifth generation of Schiurrings. He, along with his ancestors, knew taking care of the land is the best way to ensure this family's legacy continues.
Source: is USDA NRCS , which is solely responsible for the information provided and is wholly owned by the source. Informa Business Media and all its subsidiaries are not responsible for any of the content contained in this information asset.
About the Author(s) Public Affairs Specialist State Earth Team Coordinator, USDA-Natural Resources Conservation Service (NRCS)
Subscribe to receive top agriculture news
Be informed daily with these free e-newsletters
You May Also Like
---