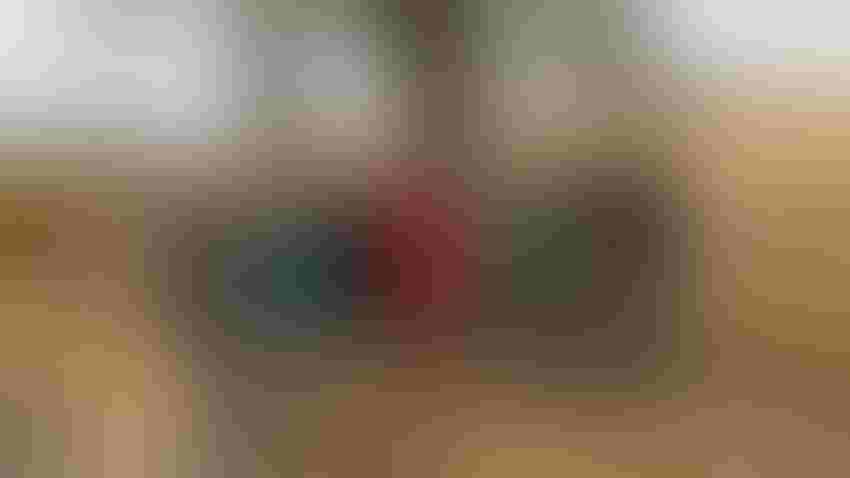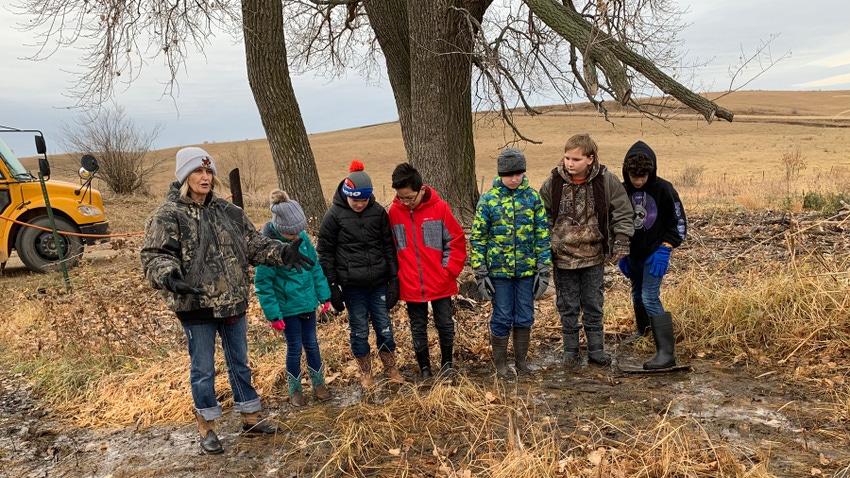 WATER HEALTH: Students walk out on to an artesian fen fed by groundwater that is somewhat alkaline. The peat ranges in depth of 16.5 feet to 19.5 feet thick.
Photos courtesy of Water Rocks
by Alena Whitaker
Each year, fifth and sixth grade students across Iowa's Buena Vista County spend 10 days learning about soil and water health through a program sponsored by the county's Soil and Water Conservation District. Colleen Schwanz, conservation assistant with the Buena Vista County SWCD, has been working with teachers for about 17 years to provide hands-on learning about these important topics using a series of daily lessons capped off with a field trip to see firsthand all the things they cover in the classroom. Since 1994, more than 10,000 students have participated in the program, and Schwanz has worked with some 4,200 of them since she started.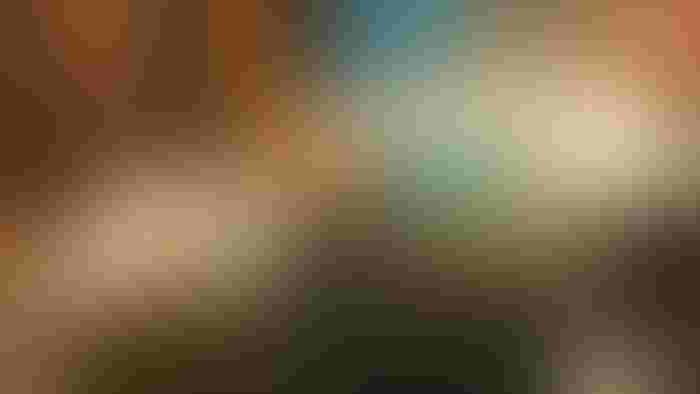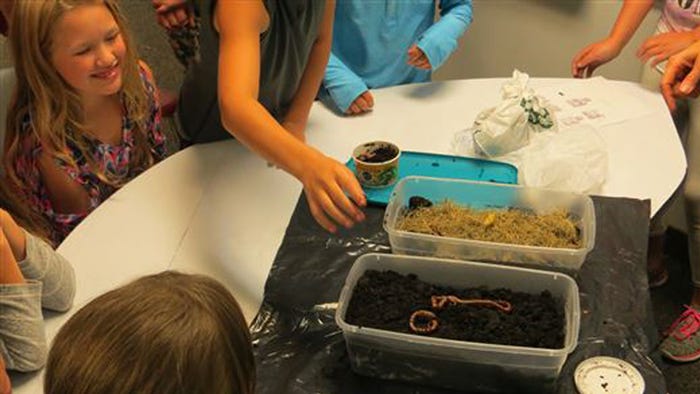 EARTHWORM CONTRIBUTIONS: Students prepare two soil ecosystems to observe the changes to the soil created by the movement of the earthworms and learn all the contributions earthworms make in creating healthy soil.
"Youth education has been a top priority for our commissioners for as long as I can recall," Schwanz says. "This program provides context and relevance to all students, whether they live in rural or urban areas, and helps meet the objective of helping the next generation have a good understanding that they can have a personal impact on soil and water health."
Providing information and education that reinforces the positive contributions farmers are making to the environment, the program also addresses the geologic history of Iowa and how it contributed to the state's fertile soil, conservation farming practices, biodiversity and habitats, and water quality concerns and remedies.
Schwanz relates the importance of providing students with interactive and highly engaging learning opportunities. "When I was asked to fill in after the previous teachers retired in 2006, I made a quick decision to take the program from a lecture base to a more hands-on approach that let the kids feel the dirt and dive into the water," she says. "At the time, I thought it was going to be a one-and-done thing; but once I got rolling, the commissioners liked the changes and asked if I could keep going. Now, 17 years later, I'm still doing it and having a great time with every classroom I enter."
Hands-on learning
The program runs in nine consecutive school days with Schwanz conducting a 45-minute lesson each day. It is capped off with a glacial landform field trip on which students see firsthand the impact the glaciers had on the Iowa terrain some 13,000 years ago, and to get outside the classroom and see a kettle hole, prairie remnant, fen, kame and glacial lake in real life.
"The last stop on the field trip is the Arnolds Park amusement park, which has installed a rain garden around its sign at the edge of the parking lot," Schwanz says. "I use this to illustrate that every person and business can contribute to conservation and encourage the kids to go look around for things like rain gardens, pervious [porous] pavers and other 'hidden-in-plain-sight' conservation practices around town."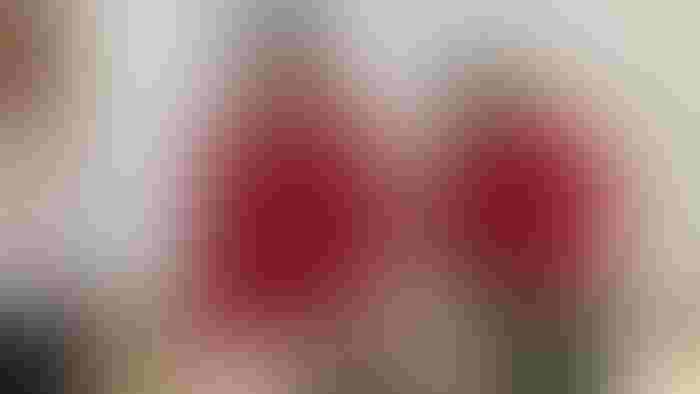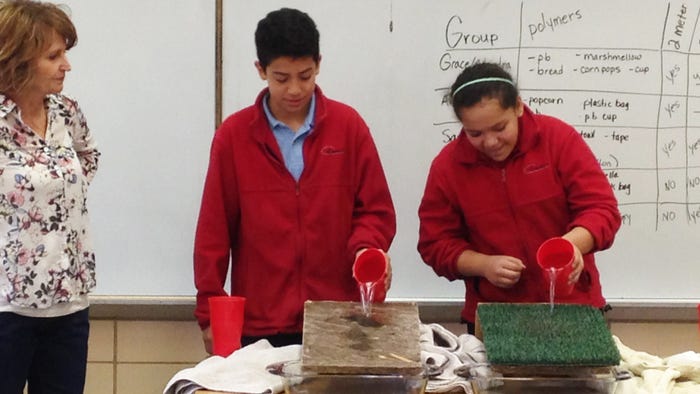 CREATING RAINFALL: Students get ready to make it rain on their farm fields. One field represents unprotected soil while the other will allow the water to travel through a filter strip.
Teachers are eager to work the program into their lesson plans, and many will bookend the visits with relevant subject matter. Teachers also appreciate the alignment with the Next Generation Science Standards that many schools use as guideposts.
"Before a recent visit to Sioux Central Elementary School, the class had been working on ecosystems," Schwanz says. "It was a great opportunity to build on that foundation and discuss the soil and water ecosystems that surround us."
Schwanz uses several activities and lessons from the Water Rocks! program, including Biodiversity Jenga, We All Live in a Watershed, Habitat Hopscotch and the ever-popular Dog Poo Relay Race. "The Water Rocks curriculum and activities have been tremendous resources that have helped me engage with the students in ways that stick with them long after they leave the classroom," Schwanz says.
Schwanz related several stories about planting the seeds of interest and the far-reaching impacts of her in-class lessons. "More than once, I've had farmers stop in the service center looking to learn more about filter strips or other conservation practices because their child told them they should be doing more," Schwanz says. "And purely by chance, a father was visiting his child's classroom on a day we did the slake test to compare the soil adhesion properties of no-till and conventional tillage soils. He was not only amazed at the results, but he was also excited to learn more."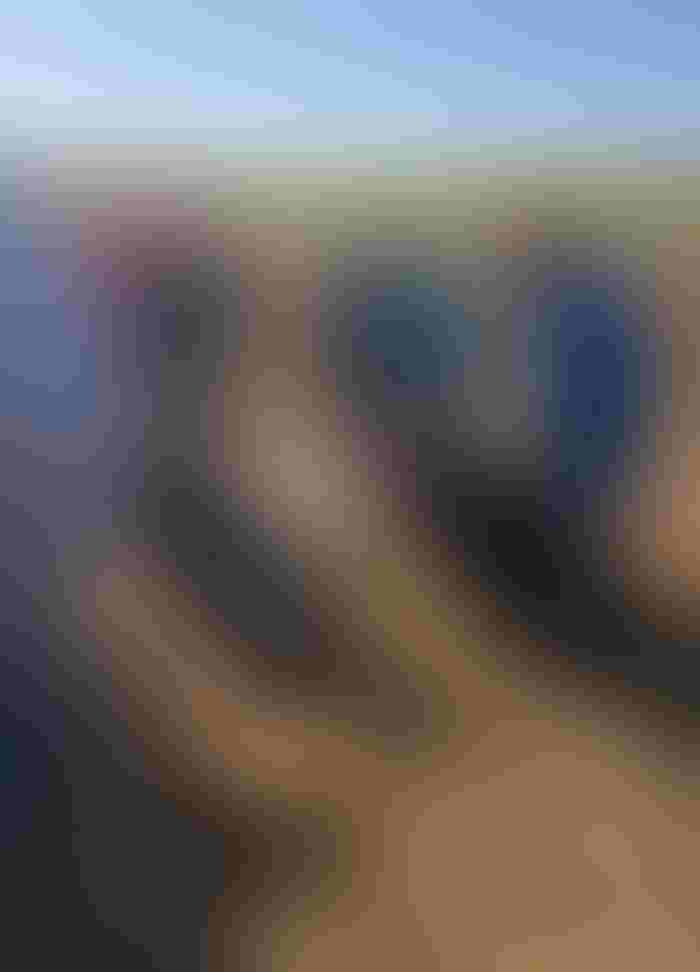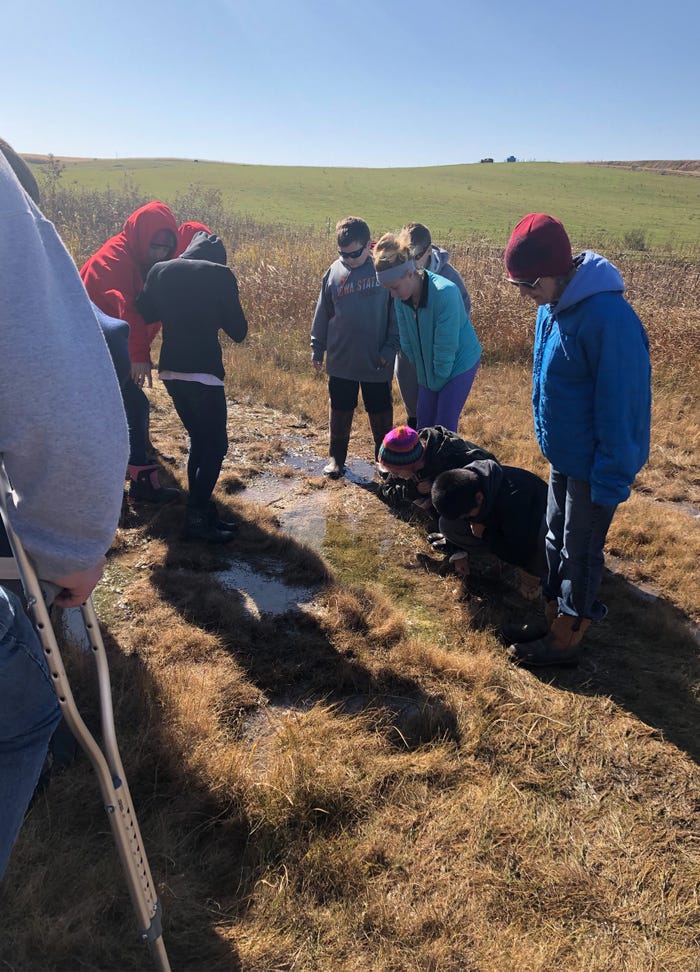 FEN ECOSYSTEM: Students take a closer look at the ecosystem of the Silver Lake Fen.
Over time, Buena Vista County has seen a demographic shift encompassing an increase in urban populations. Schwanz and the SWCD view this shift as an opportunity to elevate understanding of the natural world — and the fact that farmers are a key part of helping to make soil and water healthier for everyone. "We reinforce the importance of conservation practices on farms, but also make certain that the kids in the city see and understand that there are conservation practices all around them, and that they can each make a difference," Schwanz says.
"I don't know how many more years I will be doing this, but the rewards of seeing the lightbulbs come on and the excitement of empowering kids to make a difference definitely make it enjoyable and uplifting," Schwanz says.
Whitaker is a water and natural resources specialist with Water Rocks and Iowa Learning Farms.
Subscribe to receive top agriculture news
Be informed daily with these free e-newsletters
You May Also Like
---