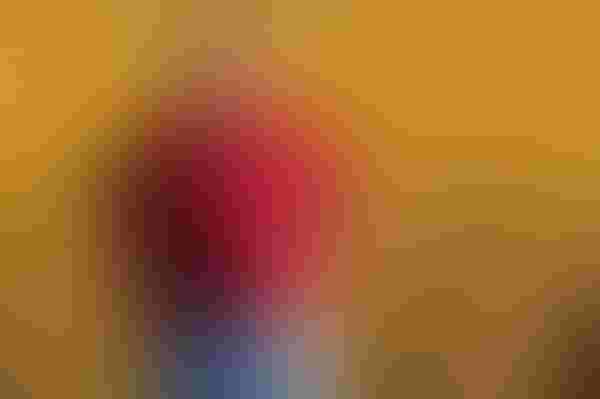 Soil residue made the difference for Ryan Speer during the long, parched summer of 2011. Lack of rainfall in south-central Kansas teamed up with 52 days of 100-degree or higher readings to devastate crops nearby. But he got a first-hand look at how protecting the soil can pay dividends.
"We were able to keep the soil surface cool so the soil's biological life could remain active and create organic matter, helping make these soils more productive even in the middle of a terrible drought," he says. "The residue on the soil surface is what allows that to happen."
After 100 years of tillage on soils in his area, Speer says the level of organic matter has been dropping, in some cases falling to 1.5% or less.
"The soil has been degraded, and my hope is to slowly build it back up into a more sustainable state," he says.
"I hope to accomplish this through the use of no-till techniques and cover crops. In time, these techniques will increase the organic matter in the soils and increase water-holding capacity, improve nutrient availability and improve soil structure. There has been damage to the soil that we are trying to reverse, and it is a long, long process. But it is important to us to leave the soil in a better condition than when we found it."
Speer began as farm manager and is now a partner in Jacob Farms, a family farm near Sedgwick, KS, founded in 1896 by Irish immigrant Samuel Jacob.  "There have been three generations since Samuel Jacob started the farm," Speer says. "I am the first non-family member to be a part of the organization. The other partners are Steve and Terry Jacob."
Jacob Farms operates more than 3,500 acres, of which about half are irrigated. Crops include soybeans, corn, wheat, milo and alfalfa. The farm also backgrounds about 150 head of cattle during the winter months.
There's also a variety of cover crops grown each year on the farm, and Speer teams up the use of cover crops with a commitment to long-term no-till in order to build that protective layer of residue on the surface.
"Cover crops fit into our no-till system perfectly," he says. "Cereal rye and radishes before soybeans has increased our yields by lowering evaporation, controlling weeds and recycling nutrients for the subsequent crop."
Jacob Farms is headquartered between forks of the Arkansas River, and even though it's fairly flat, these sandy loam soils need some extra protection, Speer says.
 "We're fairly sandy in this area, so any kind of tillage opens the soil up to wind or water erosion.
"Before this drought, we seemed to have frequent heavy rains," Speer says. "The cover crops and the residue help to keep that moisture on the fields where it needs to be, not washing down through the ditches. We don't like to leave the soil unprotected; if there is enough moisture to plant, the field will be double-cropped back to a cash crop, or it will be put into a cover crop."
Cover crops are not only a major part of rotations at Jacob Farms, they're also the focus of continuing on-farm research. Speer has replicated cover-crop strip trials over the past three seasons as he searches for the ideal mix of species to fit into the farm's crop rotations.
"We seed 20-foot-wide replicated plots, looking at various mixes of species as well as different seeding rates," Speer points out. "We have planted a number of different species, such as cowpeas, radishes, sunn hemp, pearl millet, German millet, sterile corn, sunflower and quite a few others as well."
             Speer takes biomass samples of these cover-crop cocktails. He calculates various parameters such as the carbon:nitrogen ratio, as well as making observations about the  different mixes, noting  which ones grow better together. "We typically come back and plant corn into these plots," he adds. "The combine is set up with RTK, so we can compare the subsequent yield following each of the various cover-crop blends."
Sunn hemp is one of Speer's favorite cover-crop species. "In 2009, we were planting straight sunn hemp, and some of it grew up to 7 ft. tall," he recalls. "We estimate it produced about 130 lbs. of nitrogen in only 65 days.
"We've had good luck with cowpeas," he continues. "And we like to use radishes to break up compaction. Despite the drought, the cover crops remained green and growing this year, while a lot of the monoculture crops died out early. There is something to these cover crops; they can flourish out here when our cash crops can't handle it."
Jacob Farm is quick to adopt new equipment and the latest management strategies in order to get the most from inputs, while protecting the environment and conserving resources.
"We use a lot of technology," Speer says. "We use irrigation scheduling and variable-rate fertilization, as well as grid soil sampling and swath control on the sprayer and planters. The combination of these practices has cut our irrigation use by 30%, reduced our herbicide use, reduced seed overlap and reduced fertilizer applications."
Since the farm primarily manages sandy loam soils, there is an emphasis on spoon-feeding fertilizer to the growing crops. "We do very few blanket applications," Speer points out. "Multiple applications throughout the growing season help prevent leaching or denitrification.
"We are getting higher yields with the same amount of fertilizer placed strategically throughout the field based on multiple-year yield data, grid sampling and satellite imagery," he says. "The synthesis of this information is used to make crop input decisions."
Building on that experience, the farm also uses variable-rate lime applications, and recently has begun to experiment with variable-rate irrigation. "We use moisture probes to monitor our soil depth to 48 in.," Speer says, "So we're not over-applying irrigation water and leaching nutrients down through our soils."
The farm is replacing its flood irrigation with pivots, which helps reduce water use, intensify crop rotations and reduce chemical applications. Although most fields are no-tilled, the flood-irrigated fields are managed with minimum tillage, using a homemade row-cleaning tool that clears residue from the beds of the furrows with minimum soil disturbance.
For the first time in 2011, Speer planted soybeans following a rye-and-radish cover crop mix on some of the flood-irrigated fields. "They showed a night and day difference all year," he says. "In everything from weed control and early season growth to plant height, the beans following rye looked better."
Yield-monitor results showed about a 13-bu./acre advantage for the soybean crop following the cover crop on flood-irrigated fields.
Jacob Farms takes a number of extra steps to help protect the environment. All pivot irrigation units have been fitted with approved back-flow preventers, and have been certified by the state. A metered bulk-oil distribution unit provides an accurate way for the farm to distribute oil to its machines while preventing spillage, and also eliminating plastic containers that would have to be discarded.
Waste oil goes to a bulk tank where it is stored until picked up by an independent contractor. All used batteries, cardboard boxes and chemical jugs are recycled.
In addition, all chemicals are stored on concrete floors, and fertilizer is only on site during application. It is stored at the field in portable cone-bottom trailers. Seed is purchased in bulk containers to eliminate waste from paper seed bags.
The farm also is active in spreading the word about modern agriculture, hosting several field days each year. Those events range from Kansas State University Extension corn and soybean plot tours to cover crop tours. And the farm also has hosted the National Festival of Breads farm tour, teaching urban people about wheat production.
Jacob Farms also fosters neighbor relations by holding an annual landowner appreciation dinner at the farm.
External communication efforts include a quarterly newsletter and a website with additional information about the farming operation.
Speer also shares his knowledge of cover crops and no-till with other farmers. He recently participated in an international tour to Brazil conducted by the No-till on The Plains organization.
No-Till on The Plains is devoted to providing landowners and producers with knowledge that helps them recognize the impact of farming techniques on soil health and the environment. "Our group now calls on Ryan as a speaker at regional events," says Brian Lindley, the organization's executive director.
Speer says protecting and building the soil resource is his focus when it comes to building his personal conservation legacy. "That soil is what  provides us income to take care of our families, so it is very important to us to take care of the soil," he says. "Conservation, to me, is maximizing crop output with the least environmental impact and least amount of inputs possible."
The long-term view has been a part of the culture at Jacob Farms since the beginning. "Conservation is an important part of keeping this operation sustainable," Speer observes. "Conservation gives us an advantage; we can provide things to landowners that others are not willing to. It is a big part of our organization, and where we want to be headed in the future."
Subscribe to receive top agriculture news
Be informed daily with these free e-newsletters
You May Also Like
---