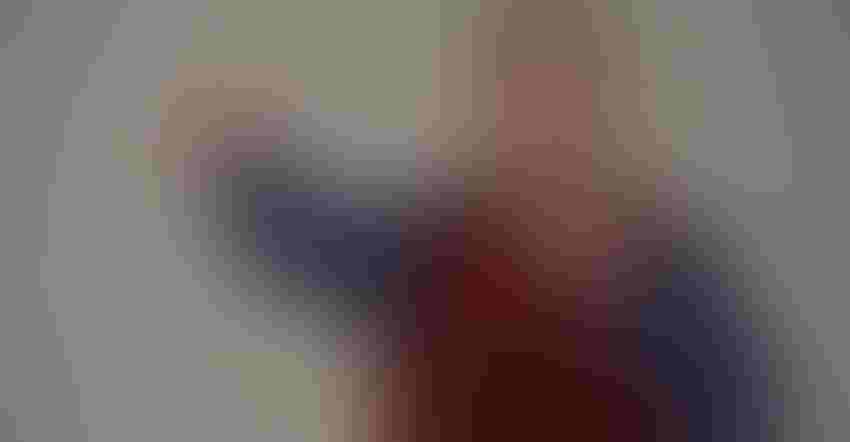 TELL HIS STORY: Johnny Hunter II didn't set out to no-till and grow cover crops, but he wound up there by necessity. Now he wouldn't do things any other way.
Johnny Hunter II came a long way to share with others what he learned in just over a dozen years of farming. He farms near Dexter, Mo., on flat, alluvial soils in the Bootheel, where furrow irrigation is a way of life. Until recently, no-till and cover crops weren't part of the equation, but they are now for Hunter. That's the story he shared at Mike Starkey's annual no-till conservation meeting, held on his farm near Brownsburg, Ind.
"We had a tough crop year in 2012, and I knew we had to make changes," he says. "I was ready to buy a ripper when I saw a banner ad for cover crops on the internet, and through a chain of circumstances, I wound up talking to Ray Archuleta of the Natural Resources Conservation Service."
Archuleta, nationally known for his work with soil health, is a retired NRCS agronomist who was based in Greensboro, N.C. He still travels and talks about soil health. Catch up with him at soilhealthconsultants.com.
"It started there, and we're still no-tilling with cover crops," Hunter says. "Plenty of people told me it wouldn't work, and some things haven't worked. Yet we've got a system that's helping us get good yields, so we're moving forward."
Life lessons
Along the way, Hunter has learned things he shares with other farmers, especially those who haven't tried no-till or cover crops. Here are 12 principles he passes on:
1. "Don't do what I do." This is the first thing Hunter tells fellow farmers. "I like to try things, and I go a lot by gut feel. You may be more into paying attention to data. What works for me or someone else might not work for you."
2. Put more dollars in your pocket. What practices will help you make more money? Hunter says 20-inch rows, no-till and cover crops are all paying off for him, even though they're not common practices in his area.
3. Keep your land out of the ditch. If farmland is $8,000 per acre or more, why let any of it wash away? "That doesn't make sense," Hunter says. "Water coming off my fields is clean now."
4. Consider the concepts of soil health, no-till and cover crops. "I've spent a lot of time studying and thinking about soil health," he says. "A big part of it for me is about soil biology. What can I do to promote soil biology?" Sometimes it may be not doing something you've been doing. One reason Hunter may move away from cotton in his rotation is because it requires lots of insecticides. He's not sure what they do to soil biology long term.
5. Soil health is a journey, not a destination, so pack for the trip. "Have a circle of people you can call for advice as challenges arise," Hunter says. Line up with a trusted seed adviser for cover crops. "You need good seed," he insists. "There are dozens of annual ryegrass species alone. Have someone help you find the right one."
6. Create your own system. Never borrow or buy a system from someone else, Hunter says. "If anybody tells you they have an already-made cropping system you can run with, they're not being straight with you," he says.
7. Plan your work and work your plan, but be ready to adapt along the way. "My biggest mistakes happen when I hold dead-set to a plan and don't change no matter what," he says. "When weather or conditions throw you a curve, you've got to adapt to it."
8. Take time to stand back and observe what's going on around you. You can learn a lot by watching crops and plants in the field, Hunter says. "Open your eyes and look around a little bit."
9. Stop talking and start doing. If you go to no-till and cover crop meetings but haven't tried these practices, why not? Don't fall into the "paralysis by analysis" trap, Hunter says. Sometimes you've got to try something and see what happens.
10. You will make mistakes; the size of them is up to you. Hunter acknowledges he's often an "all or nothing" guy. The transition to another cropping system may be less painful if you try, watch and learn, rather than jumping off the cliff.
11. Avoid the fatal words: "We've always done it this way." Despite challenges and plenty of naysayers telling him no-till, cover crops and 20-inch rows wouldn't work in his area, he's made them all work.
12. Know your "why." Be sure you understand why you're trying or doing something different. It goes to commitment. "My 'why?' are my two children," Hunter says. "They would be the fourth generation here. I want them to have the opportunity to farm good, productive land if they choose to farm."
About the Author(s)
Subscribe to receive top agriculture news
Be informed daily with these free e-newsletters
You May Also Like
---