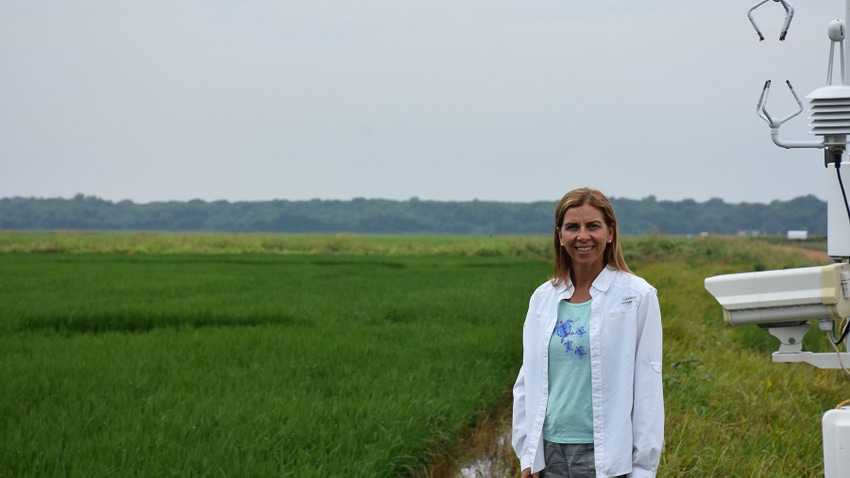 USDA research hydrologist, Michele Reba, stands in a rice field with equipment that helps farmers determine carbon sequestration.
Brent Murphree
March is Women's History Month and in the last several years the number of women leading ag-based companies has steadily increased.
The last ag census revealed that the United States had 1.2 million female producers, accounting for 36% of the 3.4 million producers in the U.S. Female producers are just slightly younger, they are more likely to be a beginning farmer, and they are more likely to live on the farm they operate than male producers, according to USDA/NASS.
The same report also showed that 56% of all farms had a female producer. These female-operated farms accounted for 38% of U.S. agriculture sales and 43% of U.S. farmland.
They farmed 388 million acres and were responsible for $148 billion in agricultural sales, says USDA.
We know how important women are to our industry, both on the farm, in related industries and in research.
Not only are women doing substantial work for ag, but they also bring a particular heart to that work.
I follow Tina Teague, entomologist with Arkansas State University, on Twitter. Her posts are not only informative but show a love for the subject matter. In person, you can tell she is excited about the research – and bugs.
I've spoken with Michele Reba, a research hydrologist and lead scientist at the USDA-ARS Delta Water Management Research Unit, who works with farmers on water issues and sustainability. She really likes her work and her interface on the farm.
Jill Forrester is the face of Whitton Farms, a produce and flower farm in Northeast Arkansas. I've never seen someone with so much dedication and a fervor for her operation. She beams with energy for the farm and what she produces.
I once tried several times to get Rebecca Thom, a cotton farmer in Lake Providence, La., on the phone. When I did reach her, she told me she was on the tractor getting done what had to be done. That was her priority.
These are just a few of the ladies I know that bring a dedication to their work that is more than just a job or source of their earnings. They love the soil and what it produces.
When I was 14, I met Temple Grandin. I told my mom, "She's really smart about this stuff (animal production), right?" Grandin has changed the way we think about how we process livestock.
For that matter my own mom was a principal in our farm operation. She was instrumental in pushing the use of technology and automation, working with the local university and new software companies.
Women like Larkin Martin, Courtland, Ala., and Donna Winters, Lake Providence, La., are farmers and outspoken advocates of the ag industry. They are both intelligent and speak to the issues in the farming community with authority.
Not only are women farmers, but there are also women gin managers, coop directors, and association leaders. It's not surprising that we find women in these leadership positions, but today they are more visible than in the past.
As a woman who runs her own business that includes a bit of food production once said, "It's a good thing."
Subscribe to receive top agriculture news
Be informed daily with these free e-newsletters
You May Also Like
---