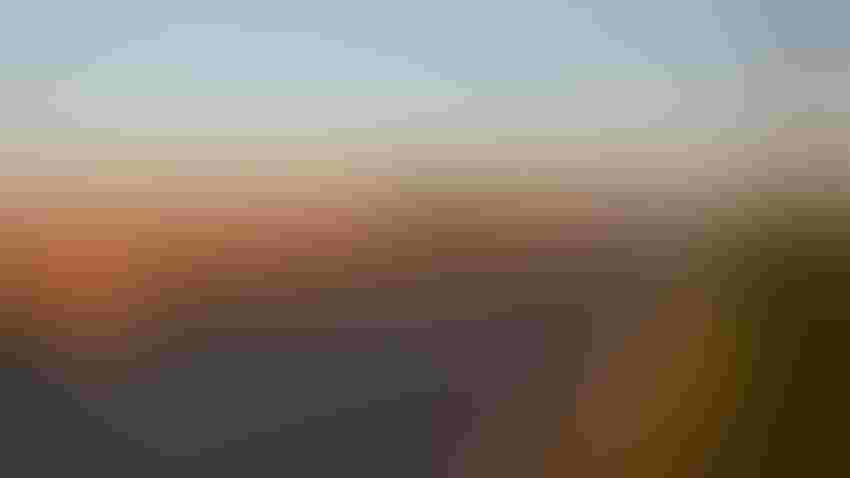 GONE: The land on the left side of the road where a warehouse now sits was once productive farmland in central Indiana.
Tom J. Bechman
My wife, Carla, cringes every time she heads off to either of the Interstate 65 entrances nearest our house. She must pass multiple new warehouses to get to them. This farm wife sees red, because she sees once-productive land that now only serves as a base for concrete edifices and blacktop parking lots.
That's why radio co-hosts of a popular Indianapolis Saturday morning talk show, "Home and Garden," didn't know what they were getting into in their next call a few weeks ago. Some favorable comments about development in the Indianapolis area prompted Carla to call.
"How can we help you?" one of them asked.
"When those houses or warehouses go up, that land will never come back into production," Carla said over the airwaves. "Farmers grow crops and food there. If we build on too much farmland, we may not have enough to eat someday."
Not one world
How did they react? Concerned? Respectful? No, in Carla's opinion, they were downright flippant. Almost chuckling, one asked the other, "Have you heard anything about running out of farmland?"
"No, I don't think that will happen," the other responded.
They ended Carla's call before she could offer a rebuttal, but the point was clear. Carla may consider loss of farmland a critical issue, but not everyone does. Obviously, some believe it's no concern at all.
Here's the real irony. A few weeks earlier on the same radio station, during a daily talk show, two different hosts invited guests representing farmers into the studio.
In fact, the guests own land in Boone County, Ind., where a project sponsored directly by the state of Indiana has tied up several thousand acres for future development, with construction already underway on a new facility for Eli Lilly & Co. They shared their concern, and the sympathetic hosts inferred that yes, this is a problem.
Moving toward debate?
Those who believe Hoosiers should be concerned about how many subdivisions and warehouses have sprouted up were encouraged when Kendell Culp, Rensselaer, Ind., a farmer, vice president of Indiana Farm Bureau and a state representative, authored two bills related to land use in this spring's Indiana General Assembly. Both passed. One requires the Indiana State Department of Agriculture to complete an inventory of farmland lost in Indiana over the past two decades and document its new use. The second bill created a land use task force, which has already held its first meeting.
However, Darrell Boone, a contributor for Indiana Prairie Farmer, attended a recent workshop about land use where Culp and others, including a developer and a conservation-minded leader, presented their views (see related story above).
You will learn that there appeared to be as much discussion about the need for development to keep Indiana strong as there was concern about losing farmland. The difference, however, was a strong desire to see smart growth, where no more land than necessary is converted to development.
Time will tell what comes out of the land use inventory and the task force. From where we sit, it appears the first goal should be reaching a consensus that loss of farmland vs. development is a critical issue that should be addressed — now!
Subscribe to receive top agriculture news
Be informed daily with these free e-newsletters
You May Also Like
---