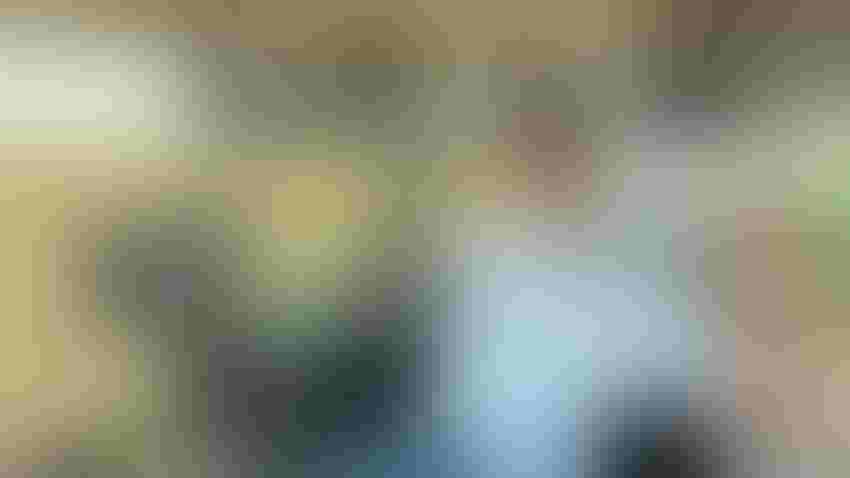 NO HANDS: Agco's Sebastian Jahnke demonstrates a prototype of the company's autonomous baler, part of Agco's stated goal of providing autonomous solutions for every season of crop production by 2030.
Holly Spangler
It's been a wild growing season on our farm in western Illinois. We planted in record time with perfect conditions. Then from May 7 to June 29, we got a tenth of an inch of rain. Then we got 4 inches in one hit. Then it stopped for another month.
The highs have been high, and the lows have been low. And it's not even harvest yet.
If that's not a metaphor for farming in general, I don't know what is.
It's part of why I asked Eric Hansotia for some good news earlier this summer. Hansotia is president and CEO at Agco, and we were standing on a farm in southern Kentucky, sweating and talking about technology. He didn't miss a beat.
"The world still doesn't have enough grain, and there's never been a more exciting time to be in agriculture," he began. World population hit 8 billion late last year, headed toward 10 billion. That's more people to feed, who want more meat in their diet — an easy multiplier of grain. And the world wants more biofuels.
"All these airplanes are not gonna run on batteries," he said, laughing. Airplanes are run by companies that answer to shareholders who want sustainability promises fulfilled, and the best way they can do that is with renewable fuels, powered by the oilseed industries. Farmer-grown fuels.
"Farmers are going to fuel clean energy conversion," Hansotia said. "So, you've got more mouths to feed, you've got the need for more biofuels — and all of those are demand generators."
Hansotia was excited and, despite the sweat, it reminded me why I should be, too.
Driving technology (without drivers)
It's also pretty exciting to see what's coming next. Agco spent a day showing off everything in development at the company, from electric tractors to autonomous grain carts and balers to sprayers that can scout better than you can. There's nothing like watching a tractor bring a cart across a field, marry up with the combine, catch a load and drive back to the corner of the field — all without a driver — to get you imagining a world where we're not yelling at each other on the FM.
Autonomy and clean energy are the economic engines driving Agco these days.
Hansotia said their work in autonomy is entirely driven by market demand. They don't see any regulations or incentives coming in that sector, and their goal is to increase profits for farmers by saving dollars and cents on the farm. They aim for a one-year payback, maybe two, on every automated feature — whether on a new machine or a retrofit technology that can be applied to an older piece of equipment.
"It's gotta be dollars and cents on the farm," he said, pointing to saved inputs, higher yields, less labor and more.
The driver on clean energy innovation is equal parts profit and regulatory impact. Hansotia believes that in certain applications, electric tractors will pay through fuel savings. Sure, they cost more. But if you're in a consumer-facing business — say, wineries or municipalities — an electric tractor also fills the need for a sustainable image.
"They're getting different kinds of value," he said.
And in some parts of the world, farmers will likely face regulation, either through incentives on the front end or restrictions that demand electric vehicles.
For farmers, either way is designed to make them more productive. Maybe make their job a little easier — in the highs and the lows.
Comments? Email [email protected].
Subscribe to receive top agriculture news
Be informed daily with these free e-newsletters
You May Also Like
---