A big chunk of my job involves being in front of a computer, whether it's writing copy, managing folks or doing interesting things like editing video. Anyway, we ag journalists do have one advantage over a lot of other high-falutin' jobs – we can go play outside.
After a long winter it's great to hit the road and see what you've been doing with equipment. Earlier as the frost left the ground (if there was much in some areas) I saw the familiar striping of injected anhydrous creating great patterns in the earth. In minimum-till and high-residue fields those stripes created a great picture in my mind of farmers planning ahead.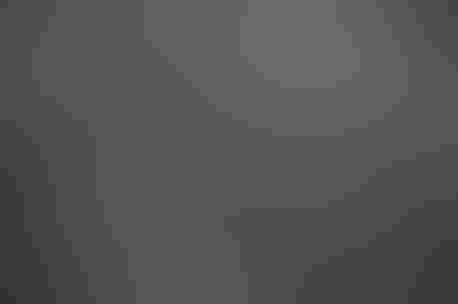 OFF TO A GOOD START: This population of seedling corn is in the demo field near Boone, Iowa, planted for the 2016 Farm Progress Show. Looks like a good crop for a field demo later this year.
But perhaps the most fun for me is now, when those tiny seedlings pop through the soil. Row upon row of tiny green corn gems bring color to brown earth. And seeing a field of same-size corn plants consistently planted shows that more farmers than ever are paying attention to planter setup.
The small seedlings are also a marvel of nature and technology. We know that seed companies have done their best to breed plants with vigor that will offer yield performance if the weather forces align just right. Add in the genetic engineering that allows you to control more pests with less herbicide and insecticide – it's truly a miracle of food production.
A few years ago I had the opportunity to emcee an event where Kip Cullers and Steve Albrecht were speaking. Both men push for higher yields. Cullers, who farms in Missouri, holds the soybean production record, and Albrecht, who farms in Texas, is always on the National Corn Growers Association Corn Yield Contest list somewhere. There was something they said back then, that I've started hearing a lot more of today.
When asked about corn emergence, they each commented that when they see the first plants break ground in a field, they want the entire field emerged within 8 hours. That's a big demand on the plant, but it also puts pressure on the two farmers too. For that kind of consistent emergence your planter has to be set just right, and seed depth has to be consistent across the field.
Since that day, I've started hearing more about consistent emergence, and the comment that a corn plant that comes up too late becomes a weed, not a productive part of the field. It goes back to making sure your machines are ready to go when planting time is right. As you read this you're probably on to soybeans (where the same may apply).
Now comes the time for taking stand counts and determining just how well you did. It's a checkup on your business, and an indication of how well that corn crop is going to do this fall. And it's a kind of miracle when you take that walk in the field to see the crop coming up.
Even when crop prices can be discouraging, the very nature of getting to work on a new crop can invigorate; and it sure keeps this ag journalist going. Good luck this season.
Subscribe to receive top agriculture news
Be informed daily with these free e-newsletters
You May Also Like
---