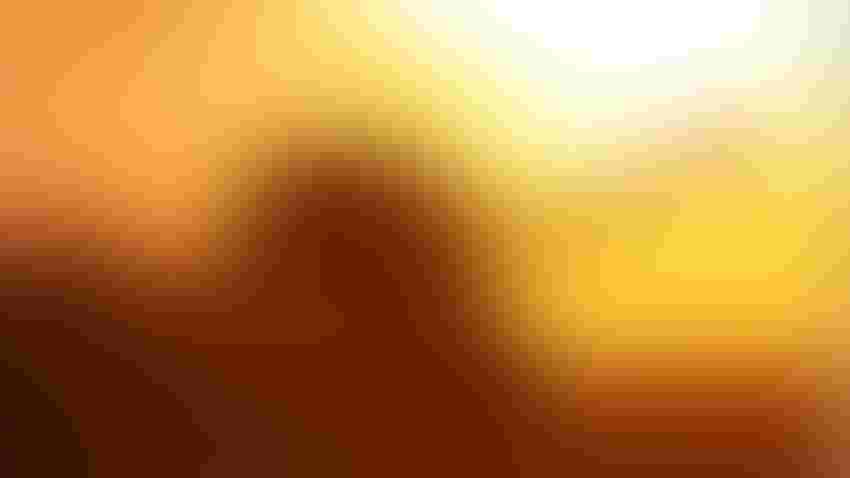 BRING IT IN: There is nothing like harvest for stress, but there is also thankfulness when the fruits of labor for the year are brought into the bin.
AlexanderNovikov/Getty Images
This time of year brings back many memories of harvest along West Bow Creek. I recently was sharing one of those memories with a colleague, about my first harvest season.
My dad had been diagnosed with severe bronchial asthma, so although he continued to help out on the farm and sneak out of the house behind my mother's back to pitch in, he wasn't supposed to be out in the field at all.
Over the years, combining was Dad's thing. He was either in the combine or hauling while our hired man ran the combine. That's the way it was while I was in high school and college. I helped haul, but Dad managed things.
Poor health
This changed when his health turned for the worse, and doctors told him that he would have to stay away from grain dust entirely if he didn't want to be in the hospital every few weeks treating his asthma.
I thought I had a few more years of training ahead of me, but that diagnosis changed everything for Dad and for me. He took a job off the farm, so he would help on the weekends and that was about it.
I suddenly was in charge of getting the crop planted, caring for it and harvesting — mostly on my own — with assistance from neighbors and good friends. It was a bit daunting for me, but I had done all of those tasks before, just not managed them. I did what Dad thought was right and didn't really make those decisions myself.
The first year I planted my own crop and borrowed my own operating money, we planted with an aged Farmall 706 pulling a four-row IHC 400 Cyclo planter. I'll admit that my rows were quite crooked that first year, so I got more seed in them. But harvesting that first crop of my own, with our IHC 915 with a four-row corn header, was what I recall most.
Tough harvest
It was a wet, windy, miserable harvest season. There was one day when I began combining corn under sunshine and 75 degrees F, followed by the next day with 40-mph sustained winds, sleet and snow flurries. You just never knew what to expect.
That year, I had flat tires on the truck and tractor; a day when I forgot to shut the door on the gravity wagon and poured a pile of corn on the ground; oil leaks; hydraulic hoses that broke; and weather delays … always weather delays.
Dad was having a difficult time adjusting to a new career as a people greeter at Walmart in nearby Yankton. He loved the people he was working with. But at the time, I didn't think about how challenging it was for him to be away from the farm, wanting in the worst way to help me out, and the adjustment for him to be away from harvest.
I'm sure it was extremely stressful for him, as it was for me without his help and guidance.
Close call
One night, I was combining late into the next morning in a field that had power lines and poles running diagonally across the field. I was quite aware of those poles, but in my tired state, I forgot about them.
I was going along and looked up only to see one pole passing within a whisker of my corn header. It was too late to swerve or even slow down. I inched passed the pole, and after I had passed, I stopped the combine and jumped out onto the ground, thanking God I hadn't hit it.
In that same field the next day, with gale force winds blowing and a spattering of rain in the air, I made my last pass of the season across the field and dumped my last load of corn that I had planted myself into the old truck.
I stopped, climbed down the ladder and knelt on the ground, thanking the good Lord for his guidance and assistance in bringing in the crop. It was a feeling of complete relief and pure joy. That was my first harvest, and it is one that I will never forget.
As you and your families work through harvest season this year, please be safe out there — and take time to be thankful for the crop, for your families and for our farming life.
Subscribe to receive top agriculture news
Be informed daily with these free e-newsletters
You May Also Like
---