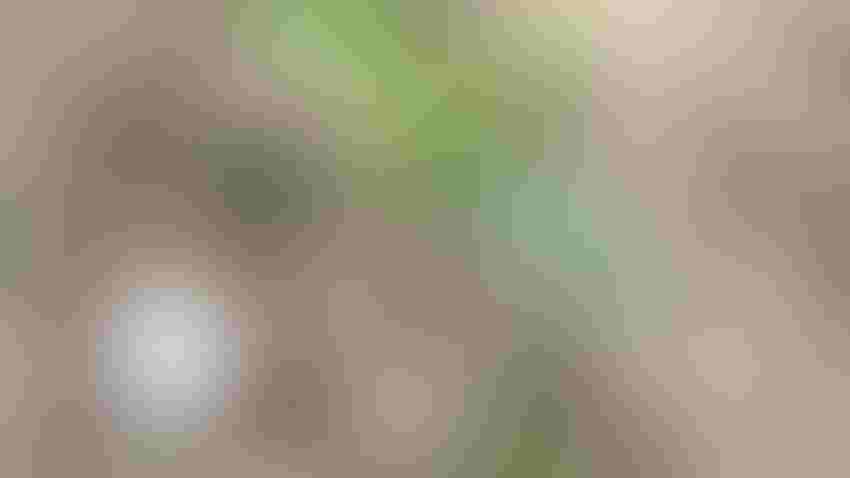 WHAT TO USE: Consider weed size, crop growth stage, herbicide use rates, rainfall requirements and other factors when making early-season herbicide applications in corn.
Courtesy of Dwight Lingenfelter
by Dwight Lingenfelter
For various reasons, timely herbicide applications in spring can sometimes be difficult to attain.
In some cases, the corn is already coming up, and no herbicides — including a burndown — have been applied. Or if soil-applied herbicides have been applied but were not properly incorporated with adequate rainfall, weed escapes can occur.
With many acres of corn that contain Roundup Ready (glyphosate) or Liberty Link (glufosinate) traits, there is more flexibility in how we manage weeds after emergence. However, we do not recommend application of Gramoxone/paraquat even if the corn is in spike stage. Also, be aware that few broad-spectrum control options exist in non-GMO varieties.
Watch the skies
All soil-applied herbicides require rainfall to incorporate them for effective weed control.
In general, rainfall should occur within seven to 10 days after application or before weed emergence. As a rule of thumb, a half-inch of rain is considered the minimum amount needed depending on soil moisture and the herbicide used. Three-quarters of an inch to 1 inch is ideal.
Less mobile materials — such as Prowl and Atrazine — need more rainfall for effective mobilization and activation into the seed germination zone to tackle deeper germinating weeds — such as yellow nutsedge, cocklebur, velvetleaf and ragweed. Thus, sometimes you may observe weed emergence before enough rainfall has activated the herbicide for effective kill.
If 10-14 days have passed without rainfall following a preemergence treatment and weeds are starting to break, start planning for a post herbicide rescue application. Where possible, consider using a rotary hoe or that old cultivator that you have been thinking about trying again.
Some "reach back" or "recharge" can be expected on small annual weeds, especially broadleaves, with some herbicides when rain finally does fall. In particular, the HPPD (Group 27) herbicides — such as Acuron, Balance, Corvus, Lexar and Lumax — tend to have better reach back potential then some other herbicides.
Group 5 herbicides — such as Atrazine, Simazine and Metribuzin — will also control small, emerged, susceptible broadleaves via root uptake.
Early post options
There are several herbicides, including residual products, that can be applied after planting up until corn and weeds reach a certain size or growth stage. The greatest risk of failure comes with trying to control annual grasses such as foxtail and panicum as they are emerging without including a foliar-applied herbicide.
Group 15 products — such as Dual, Harness, Outlook and Zidua — and Prowl do not control emerged weeds, so additional herbicides will need to be included in the mixture that control existing weeds.
In addition, several conventional corn products are available to control emerged grasses — such as Accent Q, Basis Blend, Capreno, Impact/Armezon, Resolve Q, Shieldex, Steadfast Q and a few others — and even more options are available for broadleaf weed control.
In most cases, these post or foliar-applied herbicides can be tank-mixed with residual products to provide several weeks of control. However, if residual herbicides were already applied at planting, be cautious of maximum-use loads per season.
For many products, do not apply in a liquid nitrogen fertilizer carrier if corn has emerged, or injury may occur. Refer to product label for specific details.
Maximum corn and weed sizes vary for early post herbicide applications in corn depending on the product. Here are some maximum corn growth stage-height parameters for commonly used corn herbicides that are broadcast applied:
before emergence: Axiom, Princep/simazine, Verdict

two-leaf (V2 corn): Basis Blend, Balance Flexx, Bicep Lite II Magnum, Corvus, TriVolt

four collars (V4): Anthem Maxx

8 inches (V5): Clarity at 1 pint an acre

11 inches: Acetochlor-containing products such as Degree (Xtra), Harness (Xtra and Max), FulTime NXT, Keystone NXT, Resicore and SureStart II

12 inches: Atrazine, Acuron, Bicep II Magnum, Cinch ATZ, Lumax EZ, Lexar EZ, Outlook, Resolve

18 inches (V6): Maverick, Perpetuo

20 inches (V6): Accent Q, Capreno, Liberty, Peak, Realm Q, Resolve Q, Shieldex, Steadfast Q, Python

24 inches: Resicore XL, Kyro

30-inches (V8): Acuron Flexi, Armezon Pro, Callisto, generic glyphosates, Halex GT, Impact/Armezon, Prowl H2O, Warrant, Zidua SC

36 inches (V8): Clarity at 0.5 pints an acre, Status, Yukon

40 inches: Dual II Magnum

48 inches: Cadet, Permit, Roundup products
Read the label
Keep in mind that when tank-mixing with other pesticides, follow the most restrictive product label.
Some herbicides can be applied later if applied with drop nozzles. Furthermore, be aware of maximum weed sizes for most of these products. Just because an herbicide can be applied later doesn't mean it will provide effective control if weeds are too big.
For a listing of additional herbicides and maximum corn heights, and information on maximum weeds sizes for these products, refer to Tables 2.2-10 and 2.2-15 in the 2023-24 Penn State Agronomy Guide and check the most recent herbicide label for specific use guidelines.
You can also get herbicide label information from the following websites:
Watch for herbicide injury
Remember, herbicide injury to corn is always a possibility, especially in the early season if the crop is stressed by cloudy, cool, wet weather while it's trying to metabolize herbicides that have been applied.
Certain herbicides (Groups 2, 3, 4, 15, and 27) and EC product formulations tend to be the most common culprits. But others can be at fault, too.
Lingenfelter is an Extension associate of weed science with Penn State Cooperative Extension.
Subscribe to receive top agriculture news
Be informed daily with these free e-newsletters
You May Also Like
---