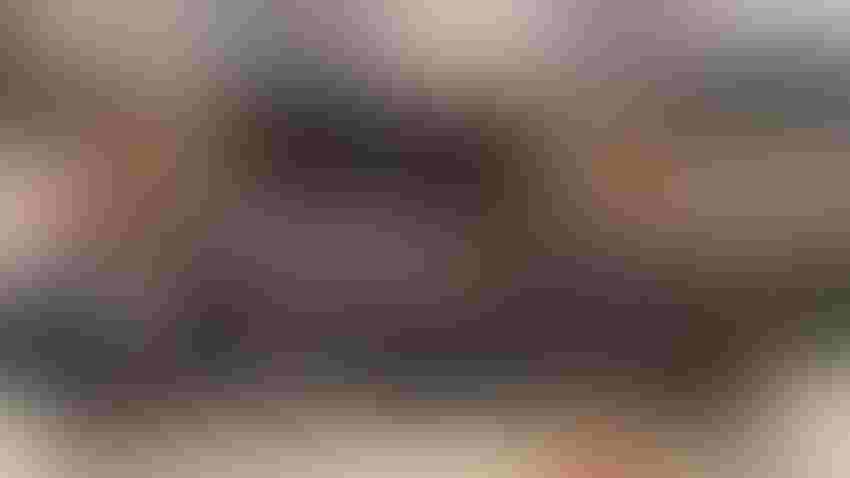 BELOIT FFA: Members of the Beloit FFA Chapter, Beloit, Kan., gather for a photo after a chapter event. The Beloit, Chapman and Udall FFA chapters were recognized as finalists in the Growing Leaders Premier Chapter category at the national level.
Courtesy of Kansas FFA
by Sage Toews
Cue the confetti, the lights, and the upbeat music. Let's celebrate the new heights reached by Kansas FFA, our members, and our chapters this fall.
From accomplishments in the Agriscience Fair and Proficiency Award areas to new milestones reached in both membership and number of agricultural education programs, the celebration of these successes is not just a moment of joy, but a way of reflecting in order to continue our positive growth.
The National FFA Organization is experiencing positive membership growth. New numbers were released that show that there are 945,988 FFA members and 9,163 FFA chapters in all 50 states, Puerto Rico and the U.S. Virgin Islands.
As we are quickly approaching 1 million FFA members across the country, we are seeing the trends of growth right here in our home state. Kansas FFA has experienced more than a 30% increase in membership over the past 10 years. With nearly 13,000 members and 226 chapters, there is certainly reason to celebrate.
National recognition
Not only is Kansas FFA growing, but we are seeing increasing amounts of success at the national level as well.
Five chapters from across the state have been recognized as Premier Chapters with innovative ideas. There are three categories: Building Communities, Growing Leaders and Strengthening Agriculture. In the Building Communities category, the Sedan FFA Chapter of the Southeast District was recognized as a finalist. The Beloit, Chapman and Udall FFA chapters were recognized as finalists in the Growing Leaders category. And in the category of Strengthening Agriculture, Oxford FFA was recognized as a finalist.
As our chapters across Kansas have been selected as finalists and await results that will be released at the National FFA Convention in Indianapolis, there have been 10 Kansas FFA members who have received news worth celebrating. Five members were selected as finalists in their proficiency areas. Proficiency awards recognize members for the time and effort put into their Supervised Agricultural Experiences (SAE), which give FFA members the opportunity to gain hands-on experience and develop skills that will aid them when they pursue a career.
Cecillia Newby, Labette County FFA, was selected as a finalist in veterinary science. Paola FFA member Augustus Wright is a finalist in vegetable production. Noah Wiley of Labette County FFA was recognized in grain production. Ella Pachta, Republic County FFA, was deemed a finalist in forage production. And Delaney New, Holton FFA, was a finalist in diversified livestock production.
Pachta noted that this achievement was the result of years of preparation and work in her proficiency award area.
"My SAE has prepared me for my future by giving me a better understanding of the production agriculture industry while also enhancing my time management, communication and decision-making skills," Pachta said.
These five members completed an extensive application and interview process showing and discussing with judges their experiences in their area during their time conducting the SAE.
Agriscience Fair
The Agriscience Fair finalist announcement gave us even more to celebrate. Five members received news that their projects had been selected to continue to the final round. The five finalists' projects fall into three divisions, as two of the projects were conducted by a team of two student researchers.
Finalists include Animal Systems Division, Maddie Weaber, Wamego FFA; Food Products and Processing Systems Division, Emma Hinds and Keiondrae Wilcox, Junction City FFA; and Environmental Services and Natural Resource Systems Division, Jory Ratzlaff and Garrett Maltbie, Canton-Galva FFA.
Ratzlaff said participating in the Agriscience Fair gave him insight into the experimentation process. "I presented my findings in the form of a research paper and as a discussion with peers," he said. "No matter what you plan to do in the future, being able to put things down into writing and to have an informative discussion about them will be vital to success."
Kansas FFA members and chapters certainly do have reason to pause and celebrate these milestones this fall as they head to the National FFA Convention in Indianapolis. But we can't forget that they have earned these recognition and honors through determination, hard work and the shared commitment to excellence all FFA members practice every day.
Here's to the journey ahead and the many more celebration-worthy moments yet to come.
Toews of Canton, Kan., is the 2023-24 Kansas State FFA Reporter and the Canton-Galva FFA chapter, is a freshman at Kansas State University, majoring in agricultural economics.
Subscribe to receive top agriculture news
Be informed daily with these free e-newsletters
You May Also Like
---