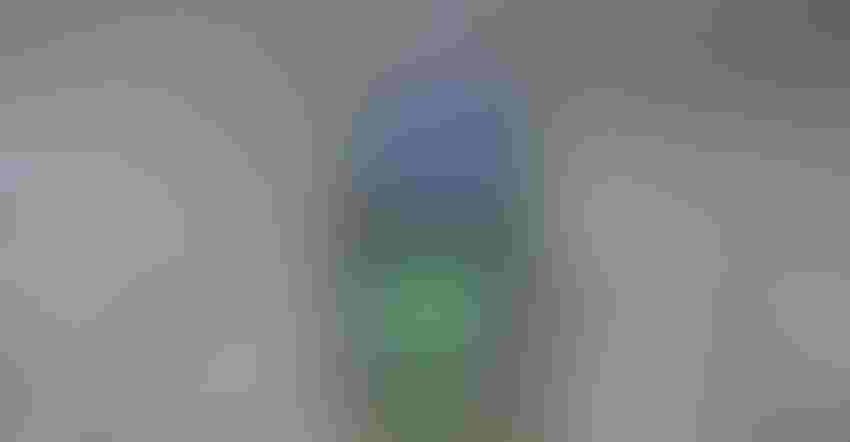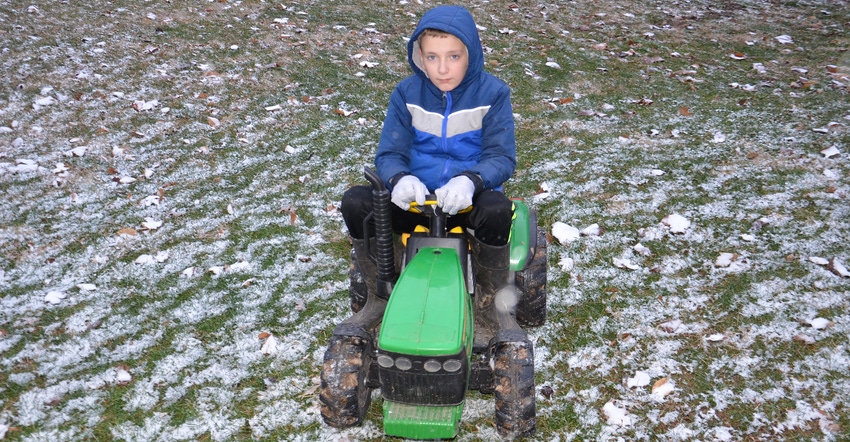 BIG GREEN TRACTOR: Graham and his tractor and trailer made an appearance in a skit at a local SWCD annual meeting.
When our grandson, Graham, was 4, we bought him a battery-powered John Deere tractor with a two-wheel trailer. I don't honestly remember what tasks we made him accomplish to "earn" it. Do you really need a better reason than "just because" if you're a grandma and grandpa?
He's put lots of hours on that tractor, and brought lots of smiles to his face and ours. Like the day he suddenly drove twice as fast and we weren't sure why. Turns out he figured out how to override the safety and get into the higher gear on his own!
At 10 and weighing in at 70 pounds, he's probably pushing the tractor's limits. It's got duct tape inside the grill, the hood doesn't fit snugly, the radio doesn't play, and the bed pops off the wagon occasionally. But he still enjoys riding it, especially after it sits in the barn out of sight awhile. It's like finding a new toy.
Wait a minute, is it really a toy?
We dug it out recently so we could use it in a skit that high school students were performing at the Johnson County Soil and Water Conservation District annual meeting. One young man's role was to talk about how he loved to drive his "big green tractor" up and down the road, especially with his girlfriend on board. Naturally, we played the song "Big Green Tractor."
At the end of this "not ready for Bargersville" performance, the young man's "dad" discovers he won't need the big green tractor any longer because he's going to no-till to save soil. Hey, what can I say? Who do you think wrote the script?
Grandpa and Graham engineering
Alicia Geesey, Franklin Community High School FFA advisor, thought it would be great if Graham drove his big green tractor down the center aisle at the conclusion of the skit with her daughter, Evelyn, 5, in the wagon and the song blaring over the microphone.
"Shame the radio on my tractor doesn't work, Grandpa. We could play the song," Graham said.
Yeah, right, Graham, it wasn't a real radio … was it?
The plan was to hook the tractor to Mrs. Geesey's toy hay wagon — only this sucker is a homemade toy twice as big as the tractor, with a real wood floor, metal frame and flat tires. Long before the meeting, Graham hitched up and Evelyn climbed aboard, but the tractor just sat there.
"Hey, Graham, get a red tractor," yelled the boy who played the part of the son.
"Ignore him," I mumbled. He's a red tractor fan. He wouldn't play the part until we told him there wasn't a song "Big Red Tractor."
So, we pushed the big wagon aside and hooked up Graham's trailer. Together, Graham and Grandpa fished baling wire thought the hitch and around the frame and tongue to make sure it stayed attached.
When the time came, Evelyn climbed in, I cued them, and Graham took off — in high gear of course.
They went right down the center, made a loop and came back, with the crowd laughing and cheering. It was quite the grand finale!
Memories, isn't that what childhood and toys are all about? If you can teach a few engineering tricks along the way, like using baling wire, it's a bonus.
About the Author(s)
Subscribe to receive top agriculture news
Be informed daily with these free e-newsletters
You May Also Like
---