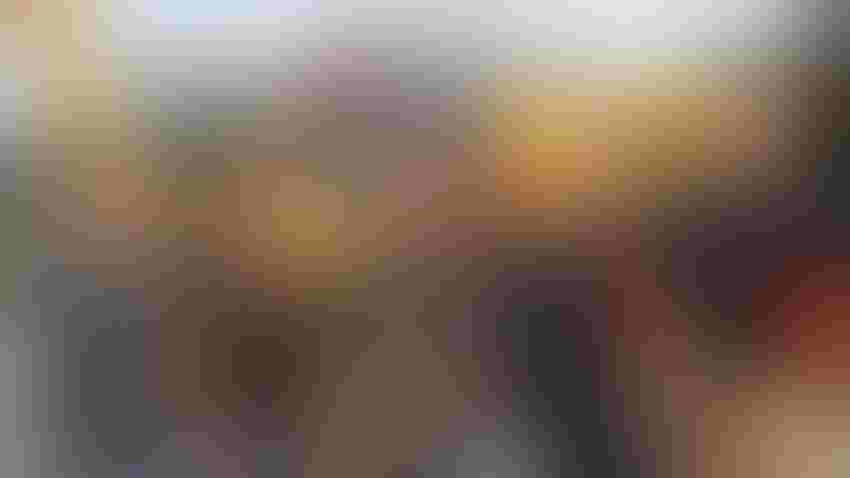 THE WHOLE CREW: Last year's HHD intern Elizabeth Hodges (left) poses with several of the editors on last year's HHD new products editorial team during the 2022 show. At this year's HHD, Hodges takes on a new role, not as an intern, but as a full-fledged member of that Farm Progress editorial team covering the 2023 show in Grand Island, Neb.
Curt Arens
Many Nebraskans have a tradition of attending Husker Harvest Days. For me, it started in high school when our FFA chapter would bring canned food for the food drive and head to Grand Island.
To be honest, it was initially a way for me to take a day off school and load up a 5-gallon bucket with free things. But HHD has changed for me over the years.
As many of you know, I interned with Nebraska Farmer and then went on to be the HHD intern. Last year's HHD really showed me how much work goes on behind the scenes to put on a farm show of this caliber. This year, I will be returning, but not as an intern. This time, I will be part of the editorial staff that helps showcase Nebraska agriculture.
Reflecting back
The HHD editorial staff truly leads in the ag journalism space. Not only did they show me how to cover new products at the farm show, but their expansive knowledge and passion for their line of work also fueled my drive to enter this career.
My favorite part of HHD is interacting with different farmers and ag business leaders the whole week. Don't get me wrong, I love capturing photos of people immersing themselves within the farm show and making those memories that we all hold fond. But making those connections with producers across the state is something I won't take for granted.
My role as an intern was to cover new products in my little corner of the farm show. Here I was able to learn about cutting-edge technology that different businesses were putting on the market. But another aspect was getting on the stage during Nebraska Farmer Hour to talk about new products and cover a story about the FFA state officer's interview with the governor.
Transitioning to staff writer
Now that I am truly on staff with Farm Progress during the show, my role looks a little different. I will still be covering new products, but now I will be able to cover more stories on-site.
Nebraska Farmer Hour will be a lot more special for me this year. I have the opportunity to interview the FFA state officer team, where my sister is a state vice president. My mom, an ag teacher at Johnson County Central, will also be in attendance, bringing FFA members. It really will be a family affair.
I am excited to have former Nebraska Farmer editor Don McCabe on our new products team this year. The legend of McCabe has been talked about often in the Nebraska Farmer space. I am looking forward to taking in all the advice not only from the editors that I work with now, but also from the retired McCabe.
If you see me at HHD this year, make sure to introduce yourself. It is amazing to see Nebraska agriculture at work at the biggest farm show in the state. I am blessed to be a small part of the 45 years that agriculturalists have gathered to improve agriculture across the state at HHD.
Subscribe to receive top agriculture news
Be informed daily with these free e-newsletters
You May Also Like
---