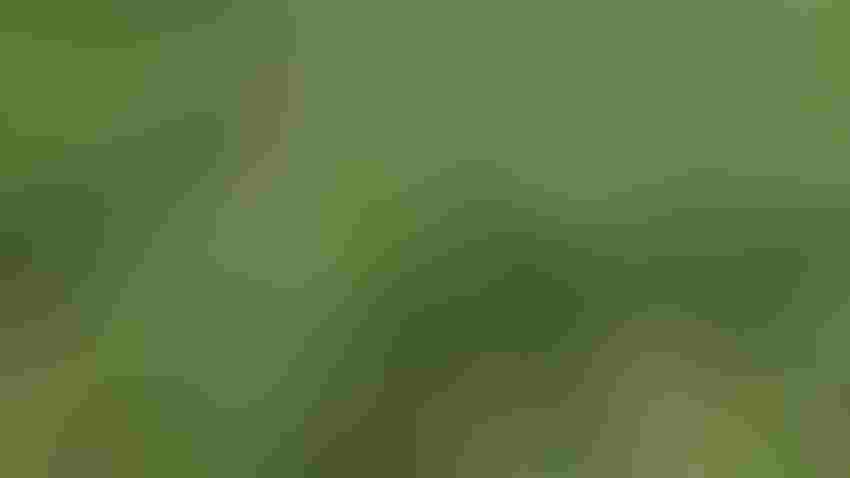 MILKWEED: The best way to control milkweed is applying 2,4-D, plus dicamba, Yukon or Crossbow.
Dwight Lingenfelter
by Dwight Lingenfelter
One of the most common weed management questions I get relates to perennial weed control in grass hay and pasture. 
Many people want to know when the most optimal time is to control perennial weeds such as Canada thistle, milkweed, hemp dogbane, horse nettle, quackgrass and others, and what herbicides are the most effective. The short answer: Late summer and fall with systemic herbicides, but there is more to the story.
Weed biology, herbicide timing
During autumn, these plants more actively transport carbohydrates and sugars to underground storage structures such as rhizomes, tubers and roots to enable them to survive winter and to provide the necessary energy to begin the next cycle of growth in spring. Systemic herbicides such as 2,4-D, dicamba, triclopyr, glyphosate and others are readily moved along with the sugars into the root systems, allowing for more effective control.
However, since many of these perennials begin to flower and set seed by midsummer, waiting until fall to spray herbicides can be challenging — especially if the goal is to reduce weed populations and stop reproduction. Therefore, we typically suggest mowing pastures a couple times to not only stop weed seed production, but also to "set up" the weeds for a more effective herbicide application in the fall.
The key is to time the late-season mowing to occur early enough to allow perennial weeds to regrow about 12-15 inches — usually about four to six weeks after cutting — before an herbicide application in fall. In general, the herbicide application window runs from early September through October, depending on where you are in the region and what weeds you are targeting.
Warm-season perennials such as horse nettle, hemp dogbane, common milkweed, smooth groundcherry, pokeweed, bindweed, poison ivy and brambles should be sprayed with a systemic herbicide — like 2,4-D, dicamba or triclopyr — from Sept. 1 to Oct. 15, or before a hard frost.
In general, applications by Oct. 1 may be more effective, but as long as the weeds have green leaf tissue and are actively growing, herbicide applications can be made later. Keep in mind that these suggested dates target central Pennsylvania locations, so adjust by a week or so depending on your location.
Canada thistle, quackgrass and dandelions can be effectively controlled after several light frosts, so an additional two- to four-week or more application window can exist for these species because of their cool-season habit of growth.
Spring herbicide applications are possible, but perennial weeds must be at least 12 inches tall for control. Spring applications must be followed by routine mowing and a fall herbicide application for best control.
Herbicide options
The most common herbicides used to control many of the broadleaf weeds in fall are 2,4-D and dicamba. However, other systemic products such as triclopyr (sold as Crossbow, Candor, Crossroad, Remedy Ultra) or metsulfuron can be options, too.
A combination of these products may be the best solution for a mixture of different perennial weeds. Here are your best bets:
smooth bedstraw: Crossbow
Canada thistle: Stinger/clopyralid or 2,4-D, plus dicamba

hemp dogbane: Starane Ultra, Yukon, 2,4-D, plus dicamba or Crossbow 
johnsongrass: Glyphosate spot spray or wick applicator

milkweed: 2,4-D, plus dicamba, Yukon or Crossbow 

multiflora rose: Cimarron Plus/metsulfuron, Crossbow

quackgrass: Glyphosate spot spray or wick applicator
Wiper applications
With this tactic, the herbicide is wiped across the leaves and stems.
Wiper applicators (weed wipers) are devices that use an herbicide-saturated sponge, rope wick or roller that will physically wipe a concentrated solution of herbicide directly onto the weeds by taking advantage of sufficient height difference between the weeds and crop canopy.
Since only the top several inches of the weeds are contacted with herbicide solution, a translocated herbicide such as dicamba or glyphosate is usually required for effective control. Repeat applications may be required to manage certain perennial weeds.
Keep in mind that university data have shown that wiper applications have not been as effective as broadcast or spot spray applications on perennial weeds in pastures. However, they can provide some necessary suppression of weeds, if spraying is not possible. Bidirectional application is recommended to provide thorough control.
Herbicides labeled for wiper application will usually provide specific application instructions on the label. In addition, research trials have shown that a 5% solution applied in a wiper applicator is somewhat comparable to a broadcast application rate of 1 quart per acre. Or, use a mix ratio of one-third glyphosate to two-thirds water in the tank, or this can be tank-mixed with Crossbow, 2,4-D or dicamba.
Grazing and haying restrictions
When using herbicides, make sure you follow any grazing and haying restrictions for each of the products. Some have no or minimal waiting periods between herbicide application and crop utilization. Others have periods of up to a month or more. Each product can differ depending on if the forage is being grazed or harvested for hay.
Furthermore, the restrictions can vary upon type of livestock and if they are lactating. Check the Penn State Agronomy Guide for more information.
Have patience
If perennial weed populations have been growing for many years in a field, it will take a few years or more to get them under control with these repeated measures. Effective control in grass hay or pastures is primarily based on routine mowing, timely systemic herbicide applications, a thick forage stand and not overgrazing. Over time, these tactics can drastically reduce or eradicate these weed populations.
Lingenfelter is an associate of weed science with Penn State Cooperative Extension.
Subscribe to receive top agriculture news
Be informed daily with these free e-newsletters
You May Also Like
---